Denise Steele with GrapevineGold World Adventures, LLC

An Independent Agency in the Avoya Travel Network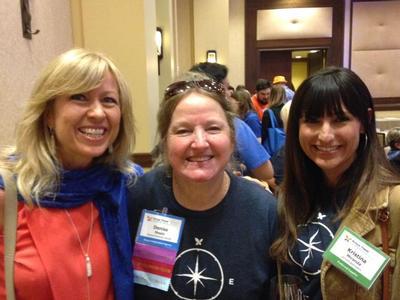 About Denise Steele
To me, travel has always been about DREAMS and MEMORIES. When I was young, I dreamed of going to Disneyland. For my 10th birthday, I was given the gift of travel firsts: first plane ride, first heliocopter ride, first hotel stay, first visit to Disneyland.

A great gift of MEMORIES with family I will never forget.

My parents were by no means, wealthy...but they saved and budgeted, and gave me and my brother a trip to be remembered.

Travel agents are "Custodians of Dreams" and "Guardians of Memories." If you can dream it, I will help you create it.

Office Hours: 8:00am to 6:00pm, Monday - Friday
Weekends: On-Call

Email: [email protected]
Direct, Toll-Free Phone: 1-844-269-0255
Emergency phone: Provided to booked clients
GrapevineGold World Adventures
"Discover Life...Discover the World!"
Awards/Certifications
Certified Travel Associate, The Travel Institute
Certified Club Med Specialist
Certified Sandals Specialist
Certified: Viking Cruises
Certified: Celebrity Cruises
Certified: Crystal Cruises
Member CLIA, Cruise Lines International Association
Member IATA, International Association of Travel Agents
Member ASTA, American Society of Travel Agents
Cruise Specialist: Celebrity, Princess, Viking River & Ocean Cruises, AmaWaterways, Crystal Cruises, Seabourn, Regent Seven Seas, Cunard, Silversea, Oceania
All-Inclusive Resort Specialist
...and so much more!
My Travel Adventures
After Disneyland, how could I beat that?

Through my career in marketing I had the opportunity to travel...stay in the best hotels and in homes of co-workers in Europe.

As publicity coordinator for a top video game company in Silicon Valley, it was my job to arrange trips and accompany the president and game designers to media appointments and events around the country.

With the advantage of working for a company with a huge travel budget, I was able to learn about lifestyles, customs and foods throughout the U.S. and other countries, as well as coordinating the travel arrangements and meetings for our groups.

The appreciation of travel encouraged me to pursue a career in travel sales...so now I am a PURVEYOR OF DREAMS & MEMORY-MAKING.

"Discover Life...Discover the World!"
Denise Steele Reviews
"My agent, Denise Steele was very helpful up to few days before our cruise she was sending messages and advise. She even called me wishing us a safe travel and good vacation. It's our first time with Avoya and we're planning another one next year. I'll call her sometime this week." ~ Leonora C.
"Very happy and pleased with Denise Steele for her professionalism and dedication to detail. I will certainly contact Denise with Avoya Travel, in the future. Ed Patin" ~ Edward P.
"Denise was flawless in her help. Every part she arranged worked well. Her exceptional knowledge was really evident from selection of airline seats to a hotel in an out of the way city and the cruise itself. Always accessible and committed to getting it right." ~ Sheldon W.
"Denise was fabulous and always available to help and answer questions. The agent makes the trip.... " ~ Sharron S.
"The Avoya representative provides excellent customer service and finally I booked the cruise of my dream. " ~ Susanna N.
"I've dealt with both Rico Singleton and Denise Steele for cruising and both have been extremely helpful and prompt. Denise was like dealing with a friend from the get-go!" ~ Phoebe M.
"Dennise is amazing! She took care of everything I asked for and was very reachable." ~ Sannah K.
"Our agent, Denise Steele was excellent. She recognized that we were not "tech" people and was very patient we us. She took the time to explore options for our trip. She understood our wants and our limitations. She is an Avoya agent....we would wish this service to all Avoya clients." ~ Christiaan A.
"Our agent was super friendly, easy to work with and knows her business." ~ Andrea K.
"Denise Steele, our Avoya agent couldn't have provided us better service. Denise is the type of agent that has your back. If we had any questions or concerns she handled all of them professionally and went the extra mile to ensure we were 110% satisfied. Even though I was the main contact for our 6 party Cruise, when one in our party came across an issue on board the ship the individual contacted Denise directly and the situation was resolved within the hour without my having to get involved. That to me is Superior Customer Service! Would I use Avoya Travel again - ABSOLUTELY! Would I recommend Denise to be the agent of choice... WITHOUT QUESTION MOST DEFINITELY! " ~ Steven L.
"Best ever agent!!!" ~ Karen L.
"Denise is the best travel agent I have ever used. Very intentive to my needs and wants. " ~ Douglas R.
"Denise made everything easy. She. Answered all our questions and make our first cruise easy to plan. " ~ Robert J.
"Denise was very helpful. This was our first cruise and she was very knowledgeable and helped us know so many details." ~ Kathleen J.
"Denise Steele-Lydston with GrapevineGold World Adventures was your independent agent representative. From the very first email and subsequent phone call I was amazed with how easy Denise is to deal with. I have been working on this cruise for nearly 2 months and in 3 short days she sorted things out, figured out the best programs and guided me to a decision. Best hand holding EVER without feeling I was getting a hard sell. In fact never felt that I was getting a sell - just lots of Help. She is the best. " ~ Douglas R.
"Denise is very responsive and got us extra perks - love her!" ~ Karen L.
"I am so impressed with Avoya and Denise Steele. " ~ Ruth P.
"My agent, Denise, was with me every step of the way. She was available to answer any questions or concerns that I had as well." ~ Lee A.