Gary DeSesa with Gary D Travel LLC

An Independent Agency in the Avoya Travel Network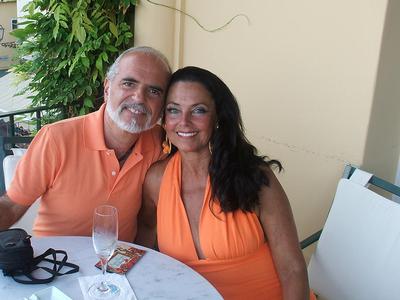 About Gary DeSesa
At Gary D Travel, the "D" doesn't just stand for our last name, DeSesa, but more importantly for "Desirable Destination Discounts."

Gary DeSesa and his wife, Kita are thrilled to have their Independent Agency in the Avoya Travel Network.

"We are delighted to be in the Avoya Travel Network, an award-winning American Express Representative for over 25 years. Avoya's reputation, credibility and integrity is unmatched and we strive to duplicate these qualities at Gary D Travel."

When you book with Gary D Travel, you get the same passion and attention to detail with which we book our own travel. We are here for you every step of the way - all the way! In addition, you have the benefits of an American Express affiliate agency and a professional support team.

We strive to get the best value for our clients' tour, hotel or cruise getaways. And remember you can't spell DeSesa without S-E-A-S!

GARY D TRAVEL REVIEWS:

"I can't let another day go by without writing just a few words to let you know that your planning and acute attention to detail made our Norwegian cruise a most memorable experience. The restaurant bookings, excursions, spa treatments, and accommodations, made our trip experience an absolute delight.

My husband and I wish to send you a sincere "thank you" for all your help to make our Cruise a flawless vacation.

Your professionalism and efficiency was extremely reassuring and we still talk to our families and friend about you because you deserve the recognition of a man that stands behind his word!

We look forward to vacationing again with you at the helm."

-Most sincerely, Andrew V & Alexandra T

"Our Trafalgar tour and hotels were booked by Gary D Travel and they did a fabulous job of making all our arrangements, from tours to hotels to transfers. Some may wonder why you need a travel agent to book your travel when you have the internet. Well, we found out why! A day before getting ready to leave hotel, we received an email from Ryan Air, saying that "Spanish baggage handlers in Madrid were on strike," and that we would be unable to take ANY checked baggage! Can you image?! We needed to get to Madrid the next day for a connecting flight to NY which we had already paid for. When we found it nearly impossible to communicate with Ryan from Majorca, we called Gary D Travel in the states. They were able to do some detective work and find out that it was not ALL baggage handlers in Madrid, as Ryan Air would have you believe, but just Ryan air handlers. Gary D Travel immediately found us another flight into Madrid which arrived in time to make our previously arranged connection to NY. We honestly don't know what we would have done without Gary D Travel. We highly recommend them for your travel needs."

-Mike and Mila B

"Gary D Travel made what could have easily been a disaster for us in coordinating our destination wedding travel and hotel details with all of our guests, a wonderful, smooth and stress-free process. Everything was planned and executed properly, efficiently and always with a positive attitude! This allowed my wife and I to feel very comfortable and able to focus on other important details for our destination wedding. We can't thank Gary enough for his attention to detail, extreme professionalism and friendly demeanor throughout the entire process. He went above and beyond the call of duty for us and we would never go to any other travel agent or company again!"

-Ellie and Gray D


"This past year we decided to go back to Jamaica and chose Gary D Travel as our travel agent. The booking process of our vacation package (air travel/ground transportation/hotel) was very easy.

Gary responded promply to our emails and as a result of his perfect planning we had a beautiful and restful vacation. We would highly recommend Gary to our friends and family."

-Barbara and Tony P

"Recently returned from a vacation trip planed by Gary D Travel. Our experience exceeded our expectations. We can honestly say that the preparation and attention to all the details made this celebration of our 20th anniversary very special. From curb side check in to our return home we experienced a very unique vacation and memories that we will treasure forever. Thank you Gary D Travel for all your efforts in making our anniversary the best. We would recommend Gary D Travel to any one considering travel & vacation."

-Eddie & Debbie B

"Last spring Gary booked a trip for me and a friend to St. Thomas. I had many questions before we decided where to stay and Gary was easy to contact, included details and made suggestions. The hotel was charming (somehow he found a place where I could have lobster every night at an all-inclusive!) and all airport connections went as planned. Gary is a kind, intelligent person and I highly recommend him to help plan your next great time."

-Lois P

OFFICE HOURS:
Monday - Sunday
from 11:00am EST - 12 midnight EST

Phone 516.300.9924 or 516.338.4420
[email protected]

On call all the time ~
Please call and leave a message
We will call you back ASAP - Thanks
Awards/Certifications
Gary is a Certified Royal Caribbean Cruise Line Expert in addition to being well-versed in Norwegian Cruise Lines. He is also a Certified Sandals Expert as well as an expert in Couples Resorts and Trafalgar Tours.
My Travel Adventures
Gary and Kita's passion for travel began with their Honeymoon, a 45-day luxurious auto excursion, exploring Switzerland, completely circumnavigation Italy -- including Sicily and concluding with a visit to Paris by train. Without the advent of the internet, every aspect and detail of the trip from air to auto to hotel to rail and excursions were planned using maps, guides, phone and fax. Since then, Gary and Kita have made several trips back to Switzerland, Italy and France, adding Austria, Lichtenstein and Russia to their travel repertoire -- each time planning their own travel, frequenting some of the best hotels and restaurants. In addition to these countries, Gary D Travel has booked clients to Spain and Greece. Gary and Kita also have traveled extensively to the Caribbean, particularly Bermuda, Bahamas, St. Thomas,the US and British Virgin Islands and Jamaica and have booked clients to some of these locations as well, including a large group wedding in Jamaica. Having been an entertainer aboard cruise ships to the Caribbean, Kita is very familiar with the ins and outs of sea travel.