Laurianne Manchester with Laurianne Manchester Travel

An Independent Agency in the Avoya Travel Network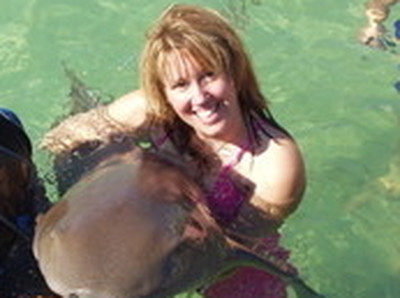 About Laurianne Manchester
My Agency is an Independent Agency in the Avoya Travel Network
Laurianne Manchester has been in the travel industry for over 20 years. Many of those with American Express and Carlson Wagonlit Travel. Her background includes numerous customer service awards and years spent traveling the globe.

Her favorite spot on earth is San Miguel de Allende, Mexico where she has lived and worked with the Humane Society. Saving animals and traveling are her two passions. Currently she lives on the Mississippi Gulf Coast and has a little travel agency/shop in Bay St Louis.
Awards/Certifications
American Express - Great Performer 1990
The Great Performer is the top customer service award each year worldwide given by American Express Travel

Cruise Line Specialist Certificates
Carnival
Royal Caribbean
Seabourn
American Express Vacations

American Express Customer Service Awards
1988 - 3rd quarter
2002 - 4th quarter

America's Vacation Center/Avoya Travel
Best of the Best - 2010
Best of the Best - 2009
My Travel Adventures
Having been a travel agent for over 25 years, my travel adventures are varied and numerous. I have spent time in Europe, the Caribbean, Canada and Mexico. I started working in Mexico as a tour manager in 1986 and fell in love with the country and its' people.

In 2003 I decided to start spending part of my year living in the beautiful mountain town of San Miguel de Allende. Technology has come so far that I can live and work away from "home" and be accessible to my clients at all times - amazing!

My motto is "Not all who wander are lost" and that really does describe my love of travel.
Laurianne Manchester Reviews
"Laurianne is a truly engaging, thoughtful, efficient and informative planner. She extends herself 100% plus to make the difference in a descent, well organized vacation. I believe she works for the best deal as she would for herself or her family. I enjoy working with her and plan to continue with Avoya Travel because of her ability and efforts." ~ Beverly A.
"I have worked with Laurianne Manchester previously and am working with her again as we plan our next trip. She is unbelievably responsive to every request. I can email or call her most any time of day or night (weekends included) and she either answers the phone or calls me back within a few minutes. She does the same with email. I don't know when she has time to sleep!! Laurianne is the reason I came back to Avoya Travel." ~ Tommy M.
"Our friends (3 couples) invited us to join them on an Oceania Alaska cruise, and we then contacted their travel agent, Laurianne Manchester. She was great to deal with, explaining everything needed, answering all of our questions, and if she didn't know the answer, she would find out and either call or email the answer within hours! She got all of us extra shipboard credit, and helped with arranging our Denali excursion, with one of the other couples. She handled everything." ~ Kerri B.
"Laurianne always finds the best deals for us and does everything possible to find the best vacation for our family. She seems to be available 7 days a week for our planning. We rely on her for all our vacation needs." ~ Robert H.
"Very friendly and personal service. Her service and recommendations for extending trips have been great!" ~ Barbara L.
"Laurianne listened to what we wanted, suggested alternatives, additional packages, information on land excursions and was responsive immediately. She also is pleasant to speak with. This is our second trip planning experience with her and she just seems to take care of everything we need to do or send or submit with little effort on our part. (She had us get travel insurance already). Patty Cardinale" ~ Patricia C.