Tulip Time River Cruises: What You Need to Know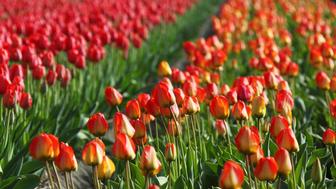 Get ready to stop and smell the tulips! With Spring almost upon us, it's the perfect time to book a Tulip Time river cruise, where you can savor all the magic this colorful season has to offer. On a Tulip Time cruise, be prepared to explore breathtaking tulip-filled gardens, historic villages, lush countryside dotted with windmills, medieval cities, and more! You'll experience all the wonders of Belgium and the Netherlands via Dutch and Belgian waterways that will take you to some of the most charming places in the world. Before you book your Tulip Time river cruise, here are a few things you should know!
The Best Time to Go
Flower season lasts from the end of March to mid-May, so be sure to book your trip within those dates! Although these dates are when all the flowers typically bloom, the exact timing varies depending on the weather. A colder Winter means they might bloom a little later, and a mild Winter means they'll bloom earlier. For tulips specifically, the best time for viewing is usually anywhere from mid-April to May. However, we recommend researching the weather beforehand to see when the peak bloom time is for the year!
What You'll See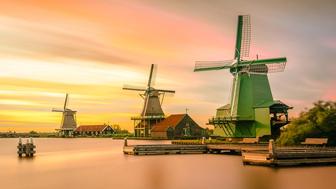 On a Tulip Time cruise, you'll see plenty of tulips, of course, but you will also see many different types of flowers such as hyacinths, daffodils, crocus, and orchids. The Keukenhof Gardens are the most spectacular of them all, which has more than 7 million bulbs in bloom and over 800 varieties of tulips! Flower lovers will be in heaven biking or strolling through rows and rows of brightly colored tulips in the Spring sunshine. In the stunning countryside of Kinderdijk, you'll find 19 UNESCO-designated windmills built in the 18th century that were used for water drainage in this below sea level area. They are still in working order today, so you can experience a true piece of history!
Where You'll Go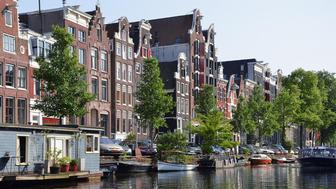 The Netherlands and Belgium are full of quaint villages and charming cities that will make your river cruise an unforgettable one! Amsterdam is full of distinctive architecture, exciting nightlife, incredible museums, and of course its many distinctive canals. Rotterdam, the second largest port in the world, is also full of rivers and canals, and is home to stunning modern buildings. Bruges is another canal city, and is filled with cobblestone streets, medieval houses, castles, and lots of chocolate! There are more than 50 chocolate shops in the city to satisfy any sweet tooth. Enjoy dining on traditional Belgian specialties in Antwerp and exploring its many museums and works of art. You're sure to love each city more than the last!
Our Favorite Tulip Time cruises:
Avalon Waterways
Avalon's "Tulips of Northern Holland" river cruise begins and ends in Amsterdam, and is filled with incredible excursions such as a harbor cruise in Rotterdam , multiple tulip viewings, special local cheese tastings, and a visit to the picturesque town of Enkhuisen! Book your next Avalon cruise adventure here!
AmaWaterways
On AmaWaterways' "Tulip Time Cruise" you'll discover Amsterdam via an intimate canal cruise, bike through the Renaissance architecture of Antwerp, explore stunning tulip fields, and dine on Belgian waffles and chocolate. Book your next AmaWaterways adventure here!
Uniworld River Cruises
Uniworld's 'Tulips & Windmills' river cruise will whisk you away to places such as St. Bavo's Cathedral in historic Ghent, the incredible Van Gogh museum, and of course the stunning Keukenhof Gardens! Book your next Uniworld adventure here!
A Tulip Time cruise is an amazing way to kick off your Spring travels, and will expose you to some of the most intriguing cities and sights in Europe during one of the most enchanting seasons of all—Spring! Let a luxury river cruise take you through historic canals and waterways that cannot be accessed any other way. Whether you're looking for well-known sights or off the beaten path excursions, there's a little something for everyone on a Tulip Time river cruise.
Insider Tip: If you think Spring is too soon to travel on a river cruise vacation, don't worry! There are plenty of incredible 2018 river cruise deals available right now for you to take advantage of, so if you're not ready to travel this Spring you still have all year to plan!