3 Brand New Cruise Ships You Need to Know About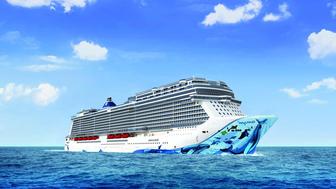 Are you ready for a bigger and better than ever cruising experience? Look no further than Celebrity Cruises' Edge, Norwegian Cruise Line's Norwegian Bliss, and Royal Caribbean's Symphony of the Seas. These brand new cruise ships from your favorite cruise lines will set sail in 2018 and are sure to blow you away with their incredible designs and revolutionary new features. Each ship will offer the newest and best in cruising technology that will raise the bar for cruising today. No matter what your destination is, you're going to have the trip of a lifetime on any of these modern marvels! Read on the find out the details of each ship…
Celebrity Edge
Celebrity Edge is the first in Celebrity's new Edge Class of ships, and is pushing the cruise industry forward with its game changing new features. One of the most exciting features onboard this visionary ship is the Magic Carpet, a floating platform that changes function depending on where it docks. It serves as either a breathtaking open-air dining experience, extension of the pool deck, or incredible exclusive venue. Sitting at thirteen stories above sea level, it will offer sweeping ocean views and allow guests to feel as though they are soaring over the open ocean! Celebrity Edge also offers a new Rooftop Garden full of greenery and sculptures, and an expansive pool deck with two story hot tubs and luxurious cabanas. Staterooms are larger and feature Infinite Verandas that allow open air access to the sea whenever you wish, bringing you closer to the ocean than ever. Accommodations also include brand new Edge Villas, two story luxury residences that offer breathtaking views and a blending of indoor and outdoor space. With forward-thinking Nate Berkus as Design Ambassador, it's safe to say that all spaces onboard are going to be beautifully designed! Celebrity Edge surpasses all expectations of modern cruising, and will offer a cruising experience guests won't soon forget.
Book your next cruise vacation onboard Celebrity Edge!
Norwegian Bliss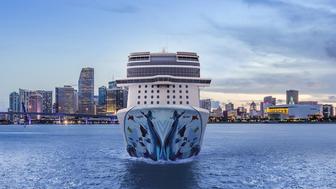 Bliss is everywhere onboard Norwegian Cruise Line's appropriately named brand new ship. Built to give you the most incredible cruise experience possible, Bliss features a revolutionary Observation Lounge that offers the most expansive views at sea. Whether you're surrounded by stunning Alaskan glaciers or crystal clear tropical waters, you won't miss one second of the spectacular views! Other cruising destinations include the Mexican Riviera, Pacific Coastal, Panama Canal, and Transatlantic cruises. Unwind in style in The Haven, the ship's deluxe accommodations hidden at the top of the ship, where 24-hour butler service will take care of your every need. All staterooms and suites will feature modern, stylish décor and thoughtful design, with all the latest innovations. It won't be hard for guests to find their own slice of heaven on this magnificently designed ship!
Book your next cruise vacation onboard Norwegian Bliss!
Symphony of the Seas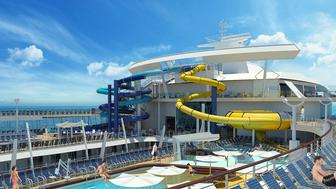 All the fun and adventure you could ever hope for is waiting for you onboard Royal Caribbean's Symphony of the Seas! This innovative ship is full of guest favorites such as the Ultimate Abyss, Flowrider, rock walls, and twisting waterslides, but will also debut brand new daring activities that will give adventure seekers a thrill. With multiple neighborhoods onboard, you'll never get bored! Spend the afternoon walking around Central Park, featuring over 12,000 trees and multiple pathways for strolling, have some fun (and cotton candy) at the Boardwalk, or get lost in shopping and dining heaven at the Royal Promenade. Guests will love the spacious, refined atmosphere of the new Royal Suites! Whether you're gazing out at the open ocean or taking in the view of delightful Central Park, you'll fall in love with your home at sea. Even rooms without a true view feature a real time virtual display of the ocean, so every room is a room with a view! Dine on sizzling steaks, Jamie Oliver's Italian delicacies, or traditional Mexican dishes—there's a restaurant to suit your every desire. Plus, even more new flavors and dining options await you on this brand new ship! From dining to accommodations to activities, there's an endless amount of memories to be made onboard Symphony of the Seas.
Book your next cruise vacation onboard Symphony of the Seas!
With each of these ships offering incredible new ways to enhance your cruising experience, you can't go wrong! Set sail to the destinations of your dreams onboard stunning, brand new ships that are built and designed for you.