As the originators of the all-inclusive vacation, Club Med knows how to deliver. Travelers can choose from several all-inclusive packages that include everything you need for an enjoyable trip, like accommodations, transportation, transfers, meals, and entertainment.
With so many vacation packages to choose from, it can be hard to know where to start. Here is a look at five all-inclusive Club Med escapes that we love for this year and into 2022...
1. Michès Playa Esmeralda
Michès Playa Esmeralda, All-Inclusive Resort, Dominican Republic
Located in the Dominican Republic, Michès Playa Esmeralda is an unspoiled paradise of beautiful palm groves and pristine beaches. A bit of a hidden gem, this luxury resort is part of the Club Med exclusive collection. It is composed of four individual boutique villages that each offer their own exclusive services, accommodations, and activities. Perhaps you'd like to stay at Archipelago, the oceanfront sanctuary, or in the tropical gardens of Caribbean Paradise. Families that love adventure will certainly have an amazing time at Explorer Cove, while the adults-only Emerald Jungle provides a tranquil refuge of wellness.
When it comes to dining, Michès Playa Esmeralda visitors have no shortage of delicious options. Seafood lovers have to check out the Coco Plum Beach Lounge, which provides views out over the water. The resort is also home to the luxury culinary restaurant Coal and Copper Steakhouse, the family restaurant Cacao & Co., and the main restaurant Cayuco, which offers something for everyone.
2. Club Med Punta Cana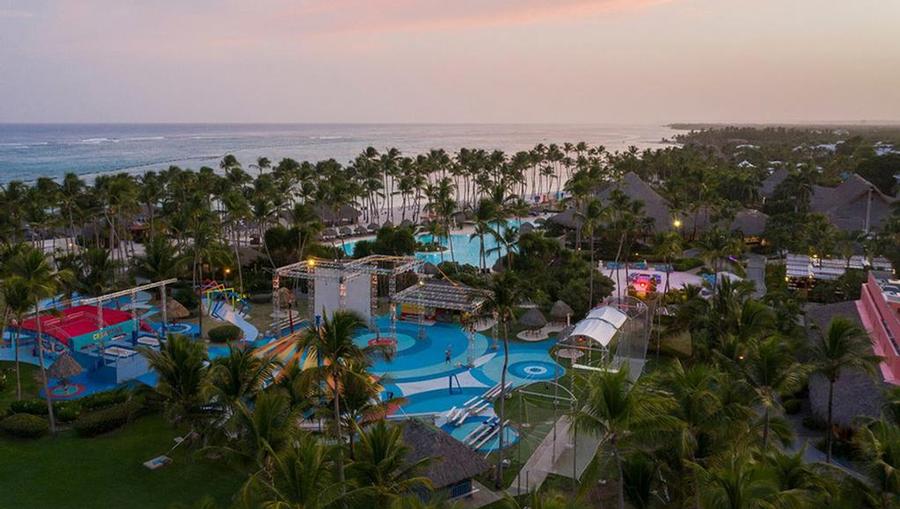 Club Med Punta Cana, All-Inclusive Resort, Dominican Republic
Club Med Punta Cana is an action-packed couple and family-friendly getaway on the island of Hispaniola. The 104-acre resort sits along a stretch of turquoise beach and has plenty of room for all visitors. An adult-only Zen Oasis is designed to bring you complete serenity and features an oversized lagoon pool, a spacious jacuzzi, and a large sundeck with private cabanas. For an even more exclusive experience with a host of upscale and personalized services, consider the Tiara Exclusive Collection Space. Club Med Punta Cana also includes 32 family suites with a separate kids' bedroom and bath, uninterrupted views, and modern design elements.
The dining options at Club Med Punta Cana are a real treat. Listen to the sound of the water and dine on international cuisine at Hispaniola, or try a mix of local and international fare at Samana. Indigo, Beach Lounge is the place to go for gourmet food and all-day drinks and smoothies by the ocean.
3. Club Med Cancun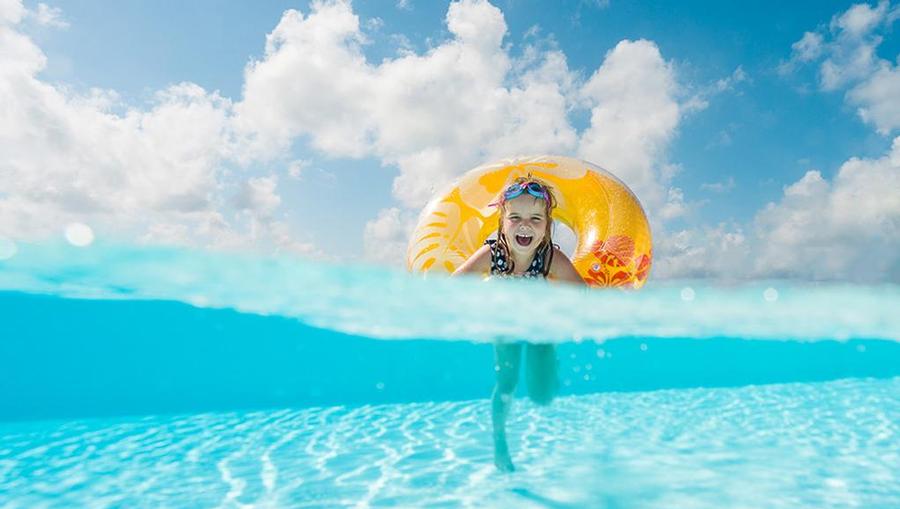 Club Med Cancun, All-Inclusive Resort, Mexico
Enjoy a family vacation amid the backdrop of Mayan Culture at Club Med Cancun. Fully redesigned, this all-inclusive family resort at the Riviera Maya includes three white sand beaches and the second-largest coral reef in the world. Try an extensive array of outdoor activities, both on land and on the water, and bring your younger explorers to Mini Club Med sailing, snorkeling, and flying trapeze! For an even more private and luxurious experience, stay at the Jade Exclusive Collection Space. This exclusive area comes with spacious luxury rooms and a redesigned pool and bar.
Club Med Cancun offers a number of different dining options for authentic Mexican cuisine. To check out some of the local flavors, dine in one of the five themed rooms at The Hacienda. Taco Arte, Beach Lounge also delivers the tastes of Mexico along the picturesque waterfront, and you have to try the world-famous handcrafted tacos. For something a little different, The Estancia is a fantastic spot serving up authentic Argentinian fare.
4. Club Med Québec Charlevoix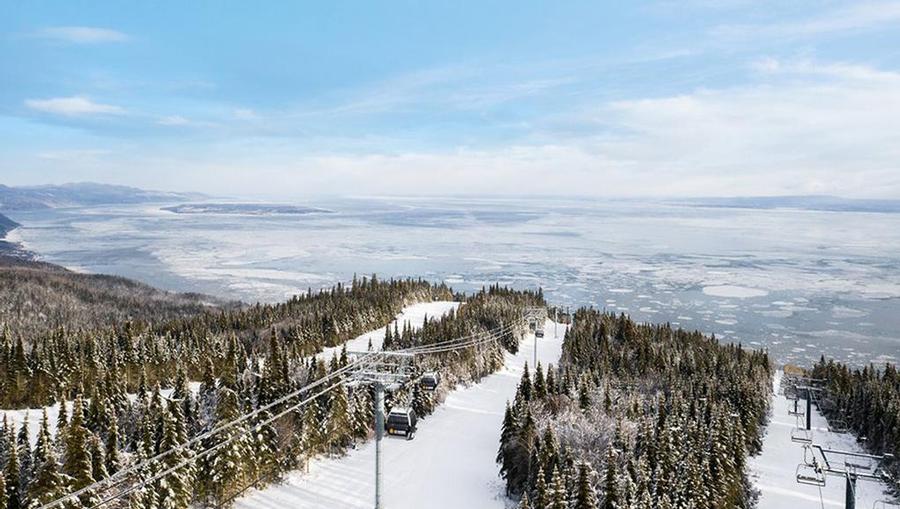 Club Med Quebec Charlevoix, All-Inclusive Ski Resort, Quebec
Club Med Québec Charlevoix is located in the gorgeous Charlevoix Region of Québec, which receives the largest annual snowfall in the country at 6.5m (21.3 ft). Book your dream ski vacation in this winter wonderland and enjoy a variety of runs for beginner and intermediate skiers, as well as plenty of challenges for experts. Extensive options for off-piste skiing are available as well.
When you aren't on the slopes, you can take in the stunning views of the St Lawrence river and sample some of the mouthwatering local cuisines. Delight in delicious cheese, bread, and meats, and visit the area's microbreweries and famous maple syrup. There are also many quaint villages to visit nearby, including La Malbaie and Baie St Paul.
An all-inclusive stay at Club Med Québec Charlevoix comes with ski passes and classes, all-day gourmet dining, after-ski activities and entertainment, and a children's club for kids four to 17 years of age.
5. Club Med Sandpiper Bay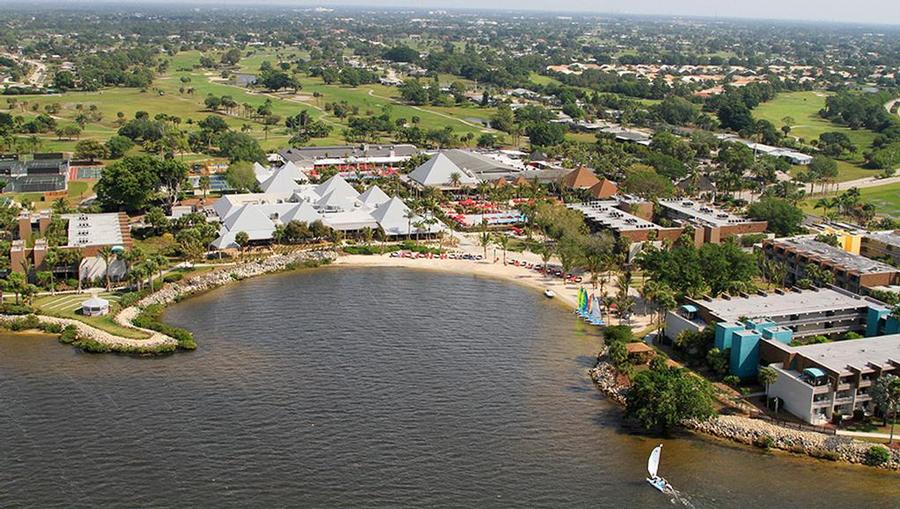 Club Med Sandpiper Bay, All-Inclusive Resort, Florida
Club Med Sandpiper Bay is an all-inclusive family resort situated along the St. Lucie River in Florida ideal for families who love to stay active. The lush location and tropical climate will lure you outdoors to play tennis, take a sunset cruise, try out flyboarding, and more. The highlight of Club Med Sandpiper Bay is no doubt its excellent access to several golf courses where you can practice your swing, including Saints Golf Course and Eagle Marsh Golf Club. The resort also offers access to practice facilities, swing coaches, and pro instructors.
When it's time to dine, take your pick from a selection of venues. Marketplace offers a range of international dishes from American, Mexican, Italian, and Asian cuisine along with views of the Saint Lucie River, while Lucky Lime is a shaded terrace perfect for late breakfast and late-night snacks. Club Med Sandpiper Bay also has two bars--The Infinity located near the adult pool, and Slice near the theater.
Discover more Club Med properties and speak to a Travel Planner in the Avoya Travel NetworkTM today to cash in on exclusives.