Loyalty programs offer cruise guests benefits to enhance their experience, and Oceania's past guest benefits are an industry standout. Known as Oceania Club, this cruise line's loyalty program delivers perks with points that add up fast.
Oceania Club members get a host of generous benefits and amenities, including onboard credit, exclusive discounts, pre-paid gratuities, air fee waivers, and much more. Take advantage of this incredible value in upscale cruising.
Contact a Travel Advisor in the Avoya Travel NetworkTM or browse here to see everything Oceania Cruises has to offer for your next vacation.
Explore sought-after destinations, including Sydney, Australia, onboard Oceania Cruises.
Oceania Club Highlight: Onboard Spending Credits
One of the most appealing features of the Oceania past guest program is the onboard spending credits, which begin at $100 at the Bronze level and increase substantially with each subsequent level.
The rewards structure is simple and straightforward and ensures that guests see the value in accruing more credits. Best of all, the onboard credits can be used as you see fit, from spa treatments and shore excursions to the perfect wine pairings with your meals.
How to Become an Oceania Club Member
Becoming an Oceania Club member could not be easier – you start accruing points with your very first sailing. Once you gain enough points for the first level, you are enrolled in the program automatically.
Another feature that makes the Oceania past guest program stand out is that guests receive most benefits at the beginning of the qualifying cruise rather than having to wait until their next sailing.
Oceania guests also do not need to requalify for the program every year. Points accrue indefinitely; once you reach a level, you never drop back down to the one below.
How to Earn Oceania Past Guest Cruise Credits
Cruise credits determine your rank in the Oceania Club program. The number of credits you earn with each sailing depends on the length of the cruise as follows:
Up to 24 days: 1 credit
25-34 days: 2 credits
35-44 days: 3 credits
45-54 days: 4 credits
55-64 days: 5 credits
65-99 days: 7 credits
100-157 days: 10 credits
158+ days: 15 credits
For example, a 7-night French Riviera cruise will earn you 1 credit, a 42-night Grand Voyage itinerary will earn you 3 credits, and you'll gain 15 credits for a 180-night World Cruise, which will instantly place you into the top half of the program's tiers.
Oceania Club Levels and Member Benefits
The Oceania Club program is made up of seven different reward tiers that correspond to your cruise credits amount. Each tier provides all the benefits from the tier below, along with a generous increase in perks.
Blue (1-4 Cruise Credits)
The Blue level automatically enrolls guests into Oceania Club. You also receive a membership pin, an exclusive cocktail reception, member-only offers, a subscription to OLife magazine, and 10% off Oceania Cruises logo merchandise. Starting at the Blue tier, guests are given advance notice on new itineraries as well.
Bronze (5-9 Cruise Credits)
After a few sailings, guests will reach the Bronze tier for a bonus of $100 in onboard credit. Additional benefits at this level include a complimentary cap and tote bag, a complimentary bottle of Oceania private label wine, and 30% off WaveNet internet services, the cruise line's onboard WiFi.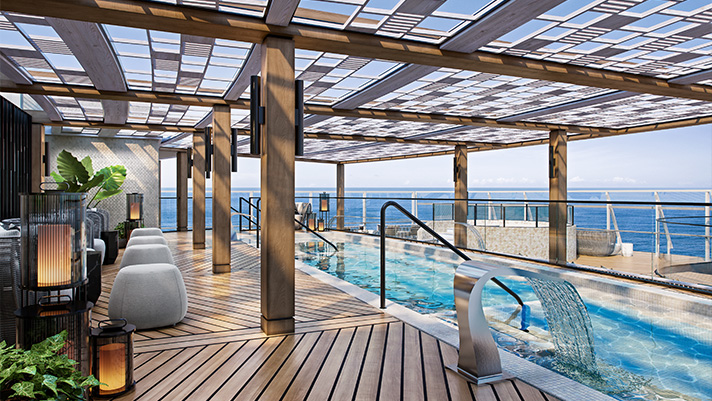 Spend your free onboard credit at the luxurious Aquamar Spa onboard Oceania Cruises' ships.
Silver (10-14 Cruise Credits)
The Oceania Club Silver tier provides $150 more in onboard credit, for a total of $250. Guests additionally receive VIP port disembarkation, 10% off the Unlimited Passport Shore Excursion Collection, and 10% off Prestige Select and House Select beverage packages. Silver level is where the Oceania past guest program also really starts to pay off due to its complimentary pre-paid gratuities. Gratuities onboard Oceania Cruises can cost from $16 to $23 per day, so you will enjoy significant savings.
Gold (15-19 Cruise Credits)
The Gold Oceania Club tier provides guests with a bump up to a total of $400 onboard credit to spend any way they see fit, as well as two complimentary air fee waivers valued at $350.
Platinum (20-39 Cruise Credits)
The Platinum tier is what frequent sailors will be looking forward to the most. Once you achieve this level, your next cruise is free. There are some restrictions, like a maximum cruise length of 14 days, but the cruise cost except any government fees and taxes will be completely covered. Guests at this level also receive $500 total onboard credit, priority terminal check-in, and an invite-only dinner with officers.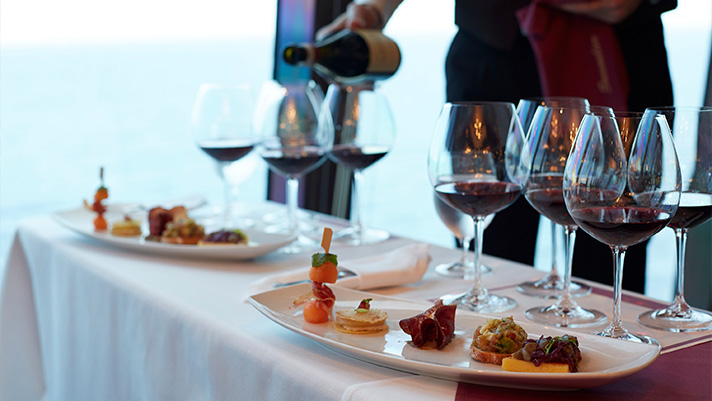 Enjoy a classic wine pairing tasting onboard an Oceania voyage as a Club Member.
Diamond (40-59 Cruise Credits)
Oceania Club Diamond level provides another free cruise, $750 onboard credit, 20% off the Unlimited Passport Shore Excursion Collection, and a complimentary wine tasting.
President's Circle (60+ Cruise Credits)
President's Circle is the highest Oceania Club Tier. It comes with a free cruise, $1,000 onboard credit, 25% off the Unlimited Passport Shore Excursion Collection, a complimentary Prestige Select beverage package, complimentary laundry service, and inclusion on the manager's VIP list (for exclusive dinner invitations and other benefits).
Start Accruing Your Oceania Past Guest Perks
The Oceania past guest program is structured to offer benefits for all travelers, even those who mostly take shorter voyages. However, guests who opt for the cruise line's longer itineraries can hit the Platinum tier relatively quickly and claim the program's largest benefit: a free cruise.
Oceania Cruises is an easy choice for customer loyalty. In addition to an upscale and luxurious cruising experience, frequent sailors are generously rewarded.
Combine your Oceania past guest benefit program perks with exclusive deals and special discounts from Avoya Travel to add even more value to your next cruise.
Call the number at the top of this page to be connected with a Travel Advisor in the Avoya Travel NetworkTM who can help you get the best price, navigate COVID-19 restrictions, and answer any questions you have about Oceania Cruises.