Las Vegas is still, and even more so now, a true desert oasis built to provide the ultimate vacation experience. Imagine the luxuries of food paradise and fine dining, serene cityscape views and room service, and nearby attractions and outdoor adventures.
Although there are many safety modifications, you can still enjoy the pleasures of Vegas like it was before. Make a reservation at one of your favorite restaurants, attend a live show at reduced capacity, and even test your luck with socially distanced gambling.
Whether you are looking for a taste of what Vegas was like before COVID-19 or something new like the emerging art district, now is the time to get back in on the action.
Call the number at the top of this page to speak to a Las Vegas travel expert.
The Strip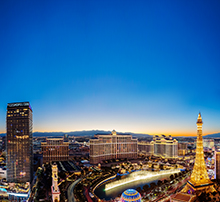 A Las Vegas vacation can be anything travelers want it to be. What traveler hasn't thought of staying in a luxurious suite overlooking the Strip, being pampered in a tranquil spa, reveling in the hottest nightclubs, or dining at celebrity chef restaurants? You can still experience this in 2021. The Vegas Strip is a true oasis in the desert.
Ask a Vacation Planner about...
a food tour and helicopter flight over the strip!
Downtown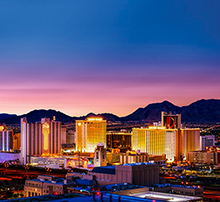 It has a vibe different from the Strip, a vintage feel, and a smaller area to explore. Downtown is where you'll find many of Las Vegas' first casinos and historic hotels as well as new and trendy attractions, and a revitalized arts district. Plus, Fremont Street Experience features free shows that are a ton of fun!
Ask a Vacation Planner about...
experiencing neon signs of the past come to life!
Entertainment & Dining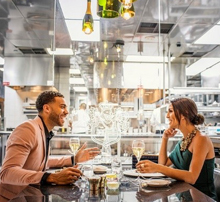 Las Vegas continues to attract legendary entertainers who bring state-of-the-art productions to the resorts as headlining residents. You can still enjoy these events, albeit at a lesser capacity depending on the venue you choose. Take in a show then indulge in world-renowned cuisine at one of many celebrity chef restaurants!
Ask a Vacation Planner about...
a sightseeing pass for attractions, shows and transportation!
Adventure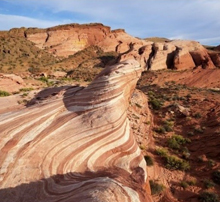 Take a day trip to explore the natural treasures outside of Las Vegas; zipline over the Mojave Desert at Bootleg Canyon just 20 minutes from the Strip or take in the Colorado River from the Lake Mead National Recreation Area. Las Vegas can be a central hub for exploring many national parks, including the Grand Canyon!
Ready for a Las Vegas Vacation?
Score Exclusive Deals
Get Started