Kimo Dejon with Aloha Adventure & Leisure Travel

An Independent Agency in the Avoya Travel Network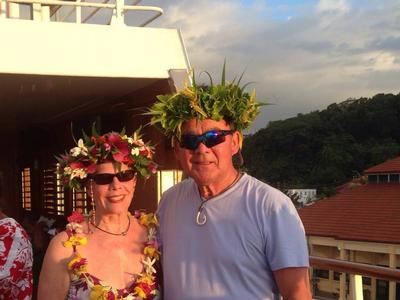 About Kimo Dejon
I believe in turning wanderlust dreams into precious lifetime memories...I have traveled extensively in my personal and professional life - almost 4 million real air miles flown, been to 34 countries and counting, numerous cruises from the Caribbean to French Polynesia!

I have worked in and around the travel and hospitality industry for over 30 years and I love to travel because it is truly the best way to learn about various ethnic and cultures worldwide.

I am, as we say in Hawaii, a "poi dog" - ethnically, part this and part that...but Polynesian in my heart, soul and spirit is number one!

I love helping clients turn their wanderlust travel dreams into precious life-time memories - I know that I can help you experience a vacation of a lifetime also!
Awards/Certifications
Windstar Cruises Certified Star Specialist
Rocky Mountaineer Tracks Training Graduate
My Travel Adventures
I have a sincere and real zest for life and especially for travelling whenever and wherever I can. Karen and I are blessed to have done numerous cruises - on beautiful sailing yachts and the large cruise ships.
One of my favorite vacation modes of enjoyment is to travel by rail (we have done numerous railway vacations over the years!) - this is why I consider it a absolute honor and privilege to help my clients with Amtrak Vacations, Canada's First Class Rocky Mountaineer and the fabulous Grand Canyon Railroad Experience! In my opinion, there is no better way to see the beautiful countryside - and to completely relax while doing it - then to travel by railway!
I have traveled extensively throughout Asia-Pacific. the Caribbean, Western and Central Europe, French Polynesia and all of the South Pacific - have sailed from Hawaii to Tahiti - and back - with stops in Palmyra, Rarotonga, Tuomotus, etc., on a 53 foot catamaran in 8 weeks!
I have personally lived in the South Pacific, Hawaii. Europe and the Mainland USA.
My personal and professional endeavor is to provide my clients with the most spectacular and the most memorable vacations they can imagine!
Kimo Dejon Reviews
"the info was prompt and complete" ~ Greg S.
"I was very pleased with the agent who handled our travel plans with Amtrak. He was friendly, knowledgeable, competent, and very prompt with his responses to our questions. I felt very comfortable with him and would seek him out for any future travel plans. My overall experience with Avoya Travel was first class and very professional. I felt like I was treated as a friend and not a number and that my best interests were being looked after. I never once felt pressured to make decisions." ~ Charles L.
"Everything went perfectly." ~ John K.
"Kimo Dejon was very helpful and explain us the full trip and during the trip he send us mail to ask if all is ok and at the end too" ~ Carole K.