If you are interested in taking a cruise, you don't have to stick to the oceans. A river cruise can also be an amazing getaway, especially with an experienced and celebrated cruise operator like AmaWaterways.
AmaWaterways' reviews consistently note the river cruise line's onboard features and service, incredible destinations and experiences, and spacious and comfortable ships. With years of experience and something to offer for all travelers, an AmaWaterways river cruise is an excellent choice for your next vacation, and we've collected 10 of the top reasons why.
Contact a Travel Advisor in the Avoya Travel Network™ or browse here to see everything AmaWaterways has to offer for your next vacation.
1. Unforgettable Destinations
One of the main reasons for the consistently glowing AmaWaterways reviews is the cruise line's incredible destinations they visit in Europe, Southeast Asia, and Africa.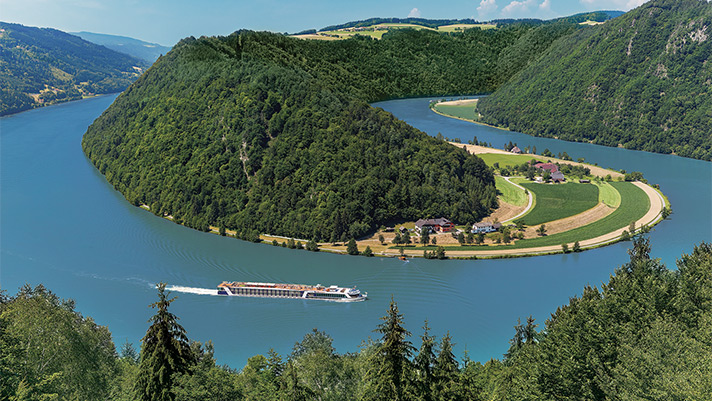 AmaWaterways river cruise on the Danube River in Europe.
In Europe, the river ships travel through France, Portugal, Dutch and Belgian waterways, the Rhine River, the Danube River, and more. In Southeast Asia, you can cruise on the Mekong River through Vietnam and Cambodia, and, in Africa, you can choose between the wildlife on the Chobe River and the ancient historic sites along the Nile.
2. Spectacular Ships
Another reason for the popularity and amazing AmaWaterways reviews is the spectacular ships themselves. The AmaWaterways fleet includes more than 25 ships, each as luxurious, spacious, and elegantly appointed as the next.
Standouts in the European fleet include AmaDouro, AmaMagna, and the multi-award-winning AmaWaterways AmaKristina, which was named "Best River Ship" by Porthole Cruise Magazine in 2017.
3. Immersive Experiences
On each journey with AmaWaterways, travelers are connected with the unique culture, history, and gastronomy of the stunning places they visit. One of the best things about a river cruise is that you don't simply pass by the destinations, you become immersed in them.
AmaWaterways makes the experience unique and intimate by keeping groups small, which helps to ensure that everyone has the opportunity for front-row seats at each destination.
4. Travel Convenience
Another benefit to taking a river cruise is the seamless travel experience that it provides. After you step onboard, you'll simply have to unpack one time for your journey between all of the amazing destinations.
Rest and relax in the AmaWaterways Dolce Suite.
There is no need to worry about hotels, transportation, or packing back up between each stop. The ship is your transportation and your hotel, and the slower pace of a river cruise allows you to truly enjoy the journey.
5. Personal Space
An important part of the AmaWaterways experience is the ample personal space afforded to every guest. Each ship takes an average of just 156 guests, which is less than the average traditional river cruise.
Public areas are spacious and uncrowded, and the elegantly-appointed staterooms offer the AmaWaterways signature twin balconies that provide panoramic views of the beautiful sights along the river.
6. Personalized Service
The smaller number of guests onboard each ship also allows AmaWaterways to provide each guest with personalized and attentive service for all of their needs. The warm, friendly, and highly trained crew go above and beyond to make sure that your journey is a comfortable and memorable one, both onboard and during your land excursions.
7. Included Excursions
When it's time to leave the luxurious ship and step ashore, you won't be disappointed. AmaWaterways provides a diverse selection of included shore excursions on all of their itineraries.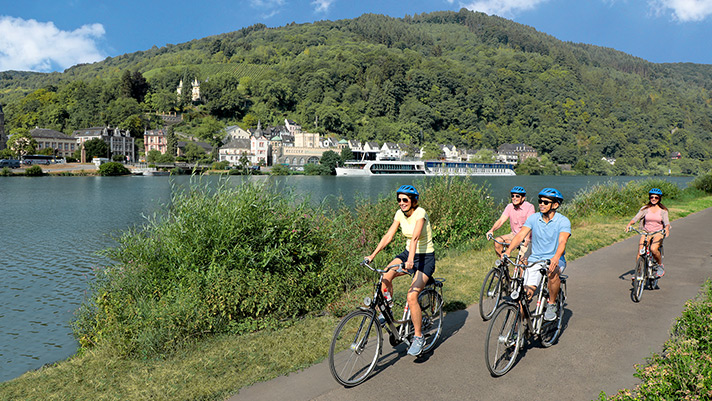 Explore charming cities on an AmaWaterways biking excursion.
Each day offers a range of choices, from gentle walking tours to bike rides and guided hikes. You can also take an included Special Interest Tour, which is specifically designed to immerse you in the local culinary culture.
8. Onboard Amenities
While you are relaxing onboard in between the fabulous shore excursions, you can take advantage of an array of amenities that can help you unwind and rejuvenate. Go for a dip in the pool, pamper yourself with a soothing massage, work out in the fitness room, or take part in a wellness activity led by the ship's wellness host. Fewer guests onboard mean you can enjoy all of these amenities to the fullest.
9. Award-Winning Dining
While you cruise down the river, indulge in incredible meals inspired by the cuisine of the destinations you visit. AmaWaterways offers an award-winning dining experience, and each regionally inspired lunch and dinner is paired with specially hand-selected wines.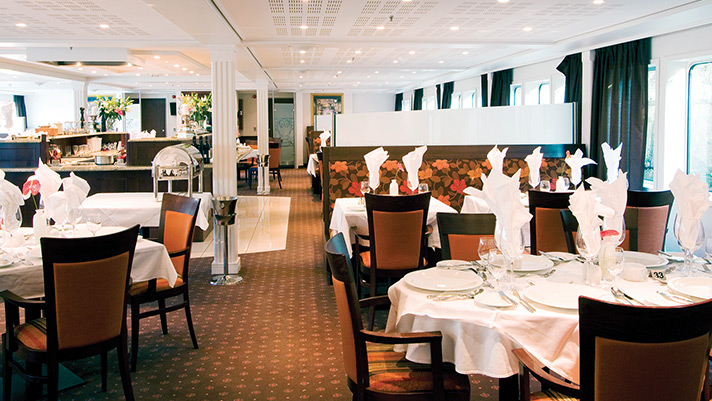 Enjoy a delicious gourmet dinner in the Cello Dining restaurant onboard an AmaWaterways river cruise.
Every meal is included with your cruise fare and can be taken either at the Main Restaurant or at The Chef's Table specialty restaurant. Each ship in the AmaWaterways European fleet is a member of La Chaîne des Rôtisseurs, a highly prestigious culinary society.
10. Sustainability
Many travelers today are looking to travel in a more sustainable manner. AmaWaterways seeks to connect you to the land and the water of your destinations in more ways than one.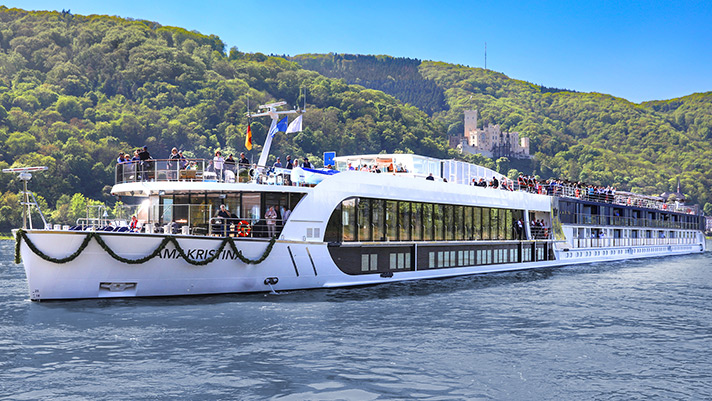 For example, in 2020, AmaWaterways AmaKristina was the first cruise ship honored with Green Award certification. Most ships in the AmaWaterways fleet have received the designation since, including innovative AmaMagna. AmaMagna also features a 10-engine configuration that can cut fuel consumption by as much as 20%.
If you are looking for a unique escape for your next vacation, then an AmaWaterways river cruise might be just what you need. Avoya makes it easy to choose from a number of different cruise options in Europe, Asia, and Africa. Those who are eligible should also take advantage of the AmaWaterways frontline heroes offer, which is gifting free river cruises to frontline medical workers through December 2021. Wherever and whenever you choose to set sail, it's sure to be an unforgettable experience.
Call the number at the top of this page to be connected with a Travel Advisor in the Avoya Travel NetworkTM who can help you get the best price, navigate COVID-19 restrictions, and answer any questions you have about AmaWaterways.