Oceania Cruises has taken extra steps to ensure the health and safety of all cruise customers and staff with their SailSAFE™ Health and Safety program, which includes health screenings and enhanced cleaning and sanitizing of all public spaces, but they have also added some new and exciting experiences, menus, and entertainment options for customers, and have introduced a brand-new sailing vessel to the fleet. Enter the prestigious Oceania Vista!
Oceania Vista's inaugural season of itineraries will commence April 14, 2023 and will soon be open for bookings!
5 Exciting Oceania Vista Ship Highlights
1. Private Verandas and Spacious Luxury in Each Stateroom
Every cabin gets it's own private veranda onboard Oceania Cruises.
Complete with private verandas located on the exterior of each of its 1,200 staterooms, where you can sip wine or a cocktail while admiring ocean views all around the world, Oceania Cruises pulled out all the stops when designing the Oceania Vista. Set for its inaugural voyage during the 2023 cruise season, this luxury vessel features posh furnishings that are imaginative yet timeless and spacious settings in each stateroom which makes even the solo travelers feel like they are staying in a penthouse.
2. Beautiful Grand Marble Staircase and Interior Design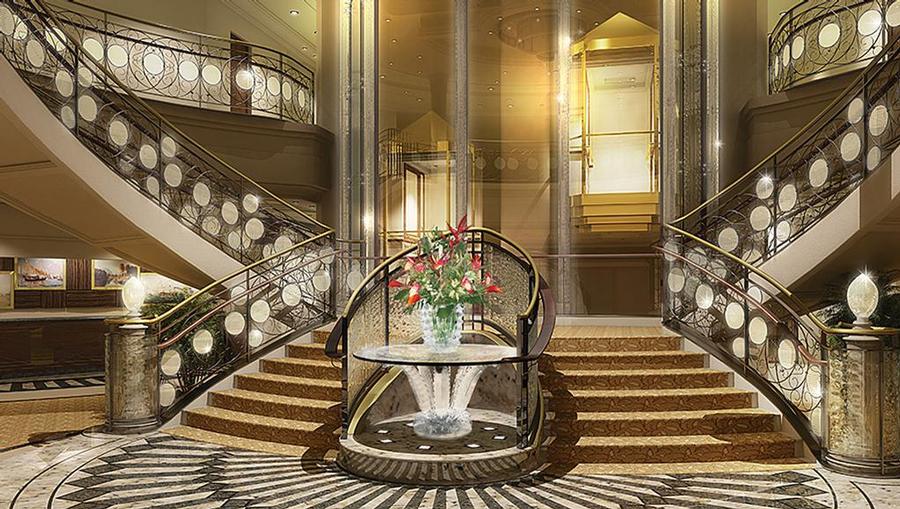 The Grand Marble staircase sets the tone as you begin your luxury vacation.
A grand marble staircase that is illuminated by giant crystal chandeliers will take your breath away and set the tone as you begin your vacation. The interior design color palette is warm and neutral with hints of bold color mixed in and plenty of natural light, which promotes an open and airy feel. In keeping with its prestigious persona, most of the ship's design work is trimmed out in gold tones. As you stroll through the public areas of the ship, look around where you will find a collection of modern abstract art and sculptures as well as floor-to-ceiling windows and live tropical plants that keep you tuned in to Mother Nature even when you are inside.
3. Exquisite Onboard Dining
While aboard Oceania Vista, guests are invited to partake in exquisite dining experiences with menus that are inspired by the destinations you will visit while on vacation. As a part of Oceania Cruises Finest Cuisine at Sea® program, this cruise line has partnered with renowned chefs including Master Chef Jacques Pépin, Executive Chef Viktor Malek and Franck Garanger, just to name a few, to create palette-pleasing gourmet dishes you won't find anywhere else.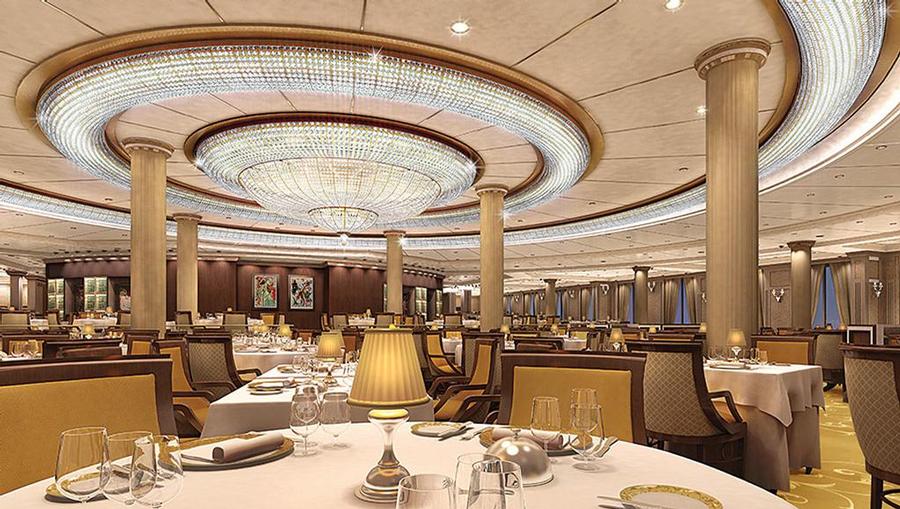 There are only stunning settings when you enjoy a delicious meal onboard Oceania Cruises.
Dine at fine reservation-only restaurants like Toscana, which specializes in indulgent Tuscan cuisine; Jacques, which is the signature Oceania restaurant of Master Chef Jacques Pépin and specializes in Parisian bistro food; Red Ginger, a formal Asian restaurant; or the endless assortment of buffets, grills, and casual eateries like the stunning Grand Dining Room or Terrace Cafe. Along with fine dining experiences to be had aboard the ship, you can also tantalize your taste buds on a culinary tour while you are at the various ports of call on your itinerary.
4. Aquamar Spa + Vitality Center
The health and fitness experts aboard Oceania Vista are there to welcome you to Aquamar Spa + Vitality Center, where you can treat yourself to a whole menu of health, beauty and relaxation services as you sail. Be sure to also visit the library to enjoy a good novel or brush up on your art skills at the Artist Loft.
Aquamar Vitality Cuisine will feature wide menu of plant-based dishes, juices, and smoothies for your health and enjoyment!
5. Lounges, Bars, Pool Areas and more 'Signature Spaces'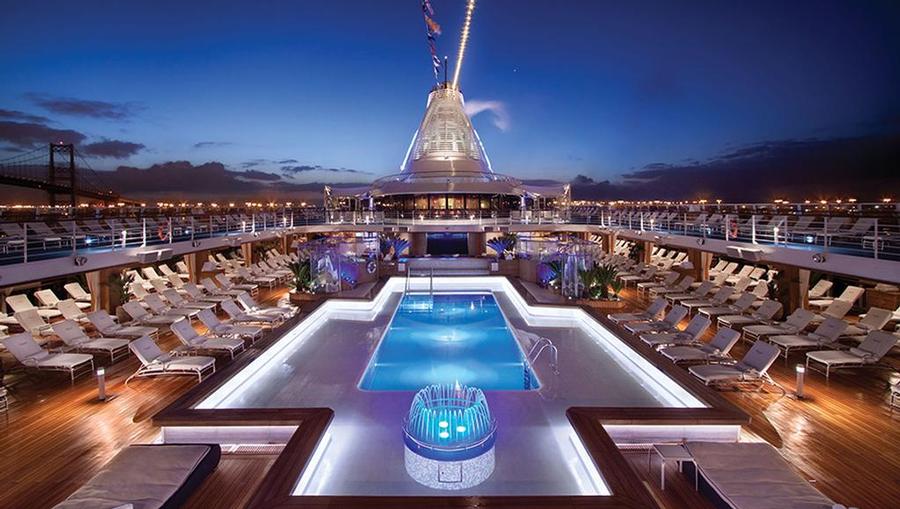 The top deck pool onboard Oceania Vista will be an amazing place to layout and enjoy the scenery.
There is a social area for every type of cruiser to relax with a drink, swim a few laps, or mingle with fellow cruisers on the pool deck. Or enjoy the Grand Lounge which is full of comfy couches and sleek artwork where you can sink into the gold hues of the room as you eat, drink and laugh. You can take a dip in the pool and lay in the sun surrounded by ocean views. Or you can enjoy the ceiling-to-floor views in the Horizons bar. There is no shortage of wonderful areas to enjoy yourself before returning to your alluring stateroom to recharge.
More Oceania Ships to Consider
If you are considering booking a relaxing cruise vacation for the 2022 sailing season, read on to learn what is in store for you on a couple of Oceania's most popular cruise liners:
Oceania Nautica 2022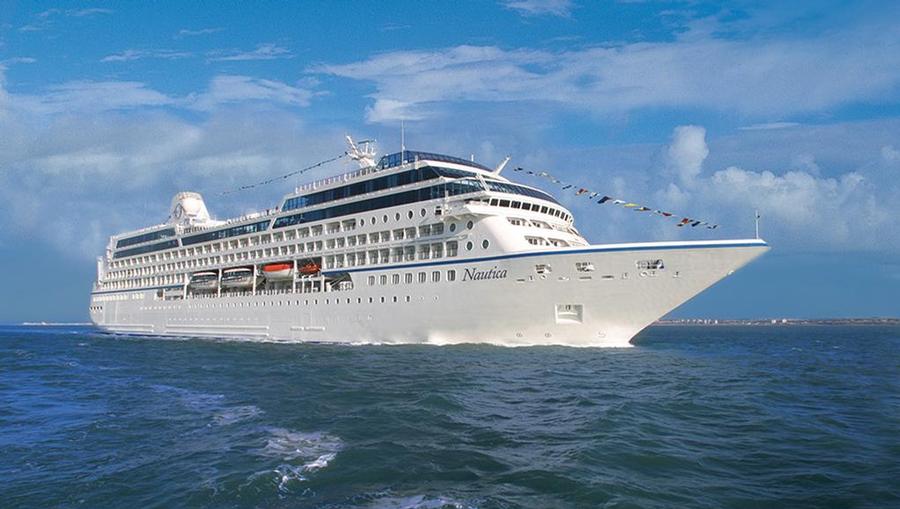 Oceania Nautica will sail Rome, Barcelona, Hong Kong, Tokyo and more in 2022.
For the 2022 sailing season, Oceania Nautica will take you on a voyage from Rome to Barcelona, Istanbul to Athens, Rome to Venice, Bangkok to Singapore, or Hong Kong to Tokyo, just to name a few. This luxurious cruise ship was completely refurbished in 2019 as part of the OceaniaNext initiative and features 342 staterooms, most of which have access to private verandas. In addition to reinvented staterooms, Oceania Nautica now has reinvented restaurants with a worldly variety of gourmet cuisine as well as a health and fitness spa and live entertainment venues. With over 400 staff members aboard each sailing, you are sure to receive the VIP treatment while on an exotic vacation at sea.
Oceania Regatta 2022
Oceania Regatta will sail Papeet, Los Angeles, Sydney, Bali and more in 2022!
Regarded as one of the most lavish cruise ships at sea, Oceania Regatta is packed with luxury amenities you do not want to miss out on experiencing. For the 2022 sailing season, book a voyage that will take you from Papeete to Papeete, Papeete to Los Angeles, Los Angeles to Tokyo, Singapore to Sydney, or even Sydney to Bali. While traveling to the various ports of call on your itinerary, relax and unwind in one of 342 elegant suites, dine on destination-inspired gourmet food in a fine dining or casual open-seating restaurant, relax in one of eight bars or lounges, enjoy beauty and wellness treatments at Aquamar Spa + Vitality Center, or sit out on the sun deck with a cocktail in hand.
Sail away on a dream vacation about an Oceania cruise ship and experience indulgence like you never have before. At Avoya, we are here to help you discover your own personal paradise whether it is on a tropical beach or enjoying unobstructed views of the ocean with a glass of wine in hand.
Check out our featured Oceania Cruises Deal and speak to a Travel Planner in the Avoya Travel NetworkTM today to cash in on exclusives.