As the world resumes traveling again, Regent Seven Seas Cruises has added to the excitement with the announcement of the sixth ship in their world-class fleet: the Seven Seas Grandeur. Built to perfecting standards that have been 30 years in the making, the Seven Seas Grandeur is scheduled to be delivered during the fourth quarter of 2023. Once complete, the ship will travel to incredible destinations all around the globe and offer truly all-inclusive packages for the ultimate luxury experience.
The end of 2023 may still seem far away, but that's just enough time to get excited about everything that the Seven Seas Grandeur will bring to the seas. Here is a look at what we know so far about what is sure to be a spectacular ship, as well as some fantastic cruise and airfare packages you can take advantage of right now.
1. It Will Be the Third Explorer-Class Ship in the Regent Fleet
The Seven Seas Grandeur is slated to become the third member of the Regent Cruises Explorer-class ships, after the Seven Seas Explorer (built in 2016) and the Seven Seas Splendor (built in 2020). The two sister ships have shown themselves to be wildly popular among luxury cruisers, proving that the demand for luxury experiences at sea is growing.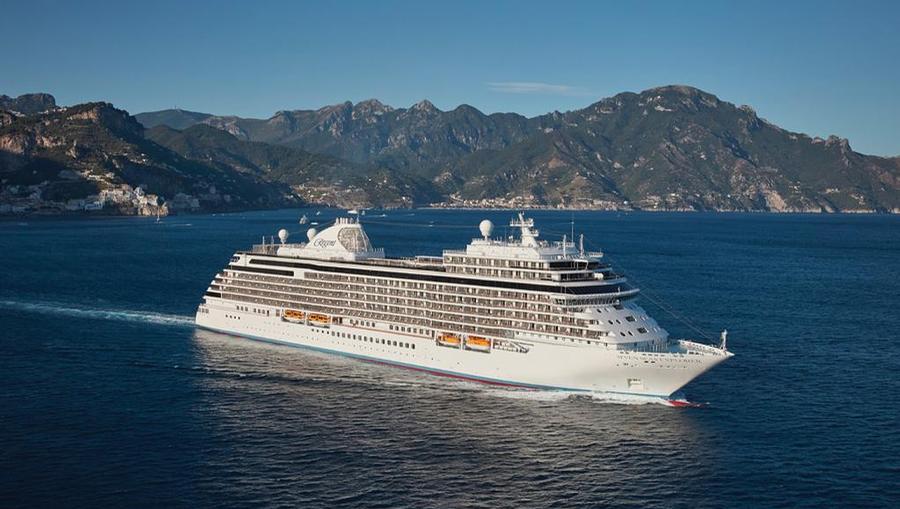 The Seven Seas Explorer, sister ship to the upcoming Seven Seas Grandeur.
The Seven Seas Grandeur is inspired by Regent Cruises' three-decade legacy of perfecting the cruise experience but reimagined with a vision for an even better future. The ship will continue to provide Regent's unparalleled services, cuisine, entertainment, and space at sea while taking each of these factors one step further than ever before.
Related: What Makes Regent Seven Seas Cruises the Ultimate Luxury Cruise Vacation?
2. It Will Feature a Reimagined Compass Rose Restaurant
The most exciting new feature that has so far been revealed about the Seven Seas Grandeur is the breathtakingly reimagined Compass Rose--Regent Cruises' signature specialty restaurant at the heart of the ship. While every restaurant onboard all of Regent's ships is exquisite in its own right, the new and improved Compass Rose is a true feast for all of the senses.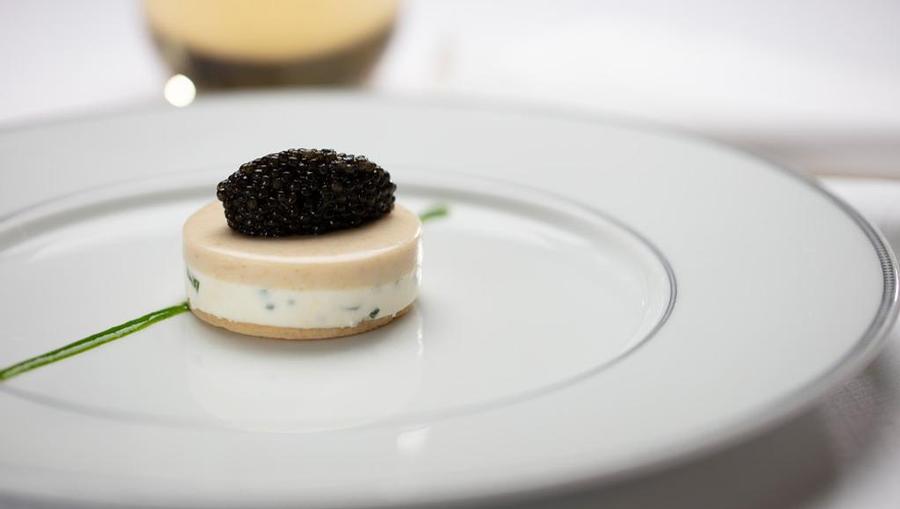 Seven Seas Grandeur will feature a reimagined Compass Rose, Regent Cruises' signature specialty restaurant.
It beckons guests to come and enjoy exceptional meals, complete with a menu that allows you to curate your own luxury dining experience. Guests can customize their entrees with preferred sides, pastas, sauces, and other main features, and they can choose from a variety of familiar and new items every time.
Compass Rose is the largest specialty restaurant at sea.
Compass Rose aboard the Seven Seas Grandeur was designed by Studio DADO, a renowned and multi-award-winning hospitality and cruise ship design studio. The restaurant itself is hidden behind a stunning sculpture of a cascading waterfall crafted of hand-blown glass and laser-cut metal. Past the sculpture, diners are greeted by the sight of an illuminated canopy of the interwoven branches punctuated by graceful arching pillars. When the sun goes down, the crystal-faceted leaves sparkle and shine with all the colors of the rainbow. The restaurant also features a custom-designed forest mural created by Confluent Studios.
3. It Will Have an Occupancy of 750 Guests
Like its sister ships, the Seven Seas Splendor will have a maximum capacity of 750 passengers. This limited capacity will afford each passenger the lavish and unrivaled personal space that Regent Cruises is known for.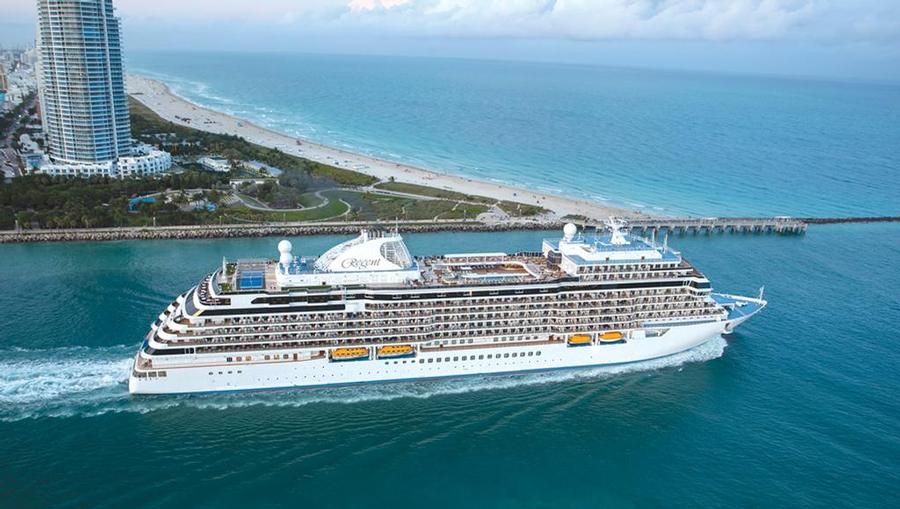 Onboard all of Regent's ships you will have plenty of spacious areas and luxury.
Spacious suites, several dining options, and large social areas eliminate crowds and mean that you don't have to spend your cruise waiting in lines. A low passenger occupancy also allows for a low staff-to-guest ratio, ensuring that you are provided with timely, professional, and personalized services.
4. It Will Offer All-Suite, Ocean View Accommodations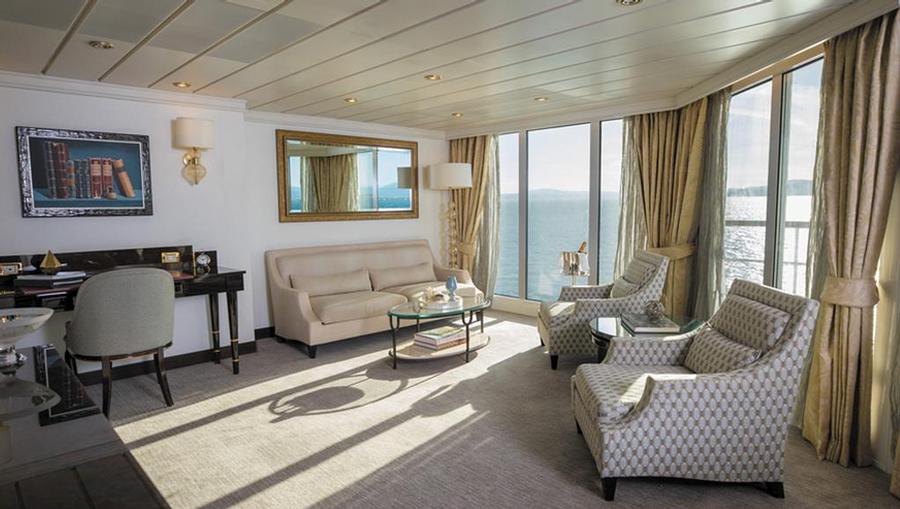 Suites onboard the Explorer Class of ships are as lavish as you can find at sea.
Another feature carried over from the existing Explorer-class is the lavish, all-suite accommodations complete with the finest comforts and amenities. Every guest on the Seven Seas Grandeur will be able to sit back in comfort and relaxation in their own spacious suites that range from 300 to more than 4,000 square feet of living space. Each and every suite also offers incredible ocean views that can be enjoyed from large and private balconies.
5. You Can Book Your Seven Seas Grandeur Cruise This Year
Its maiden voyage may still be some time away, but you will be able to start making reservations aboard the Regent Cruises Seven Seas Grandeur as early as this fall. The luxury ship's inaugural season is set to be unveiled on September 22, 2021, at which time it will be opened for booking as well. Make sure you mark your calendar so you can have your pick of incredible trips.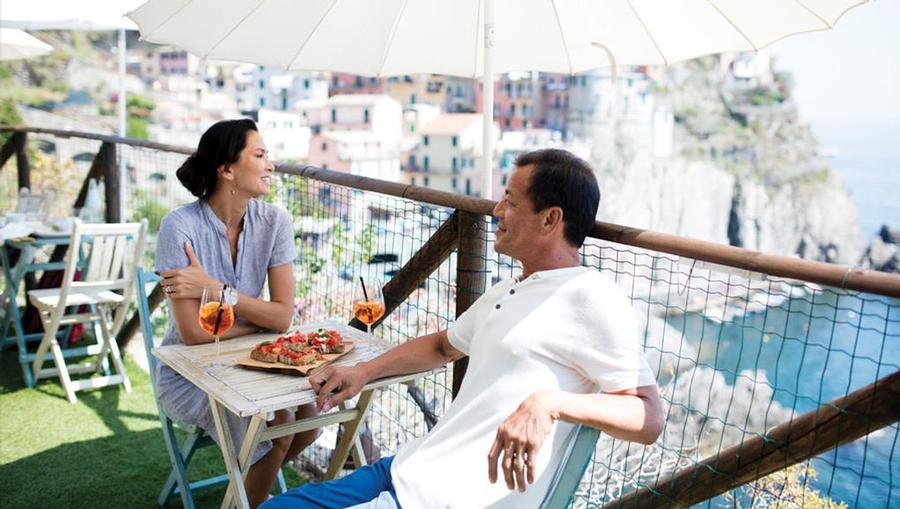 Cruisers can get excited to visit unbelievable destinations like Cinque Terre, Italy.
With the right cruise and airfare packages, it's easy to find the best Regent Cruises voyages for you. Take a look at the itineraries available now, and don't forget to check back when the Seven Seas Grandeur becomes available for booking as well.
Check out our featured Regent Seven Seas Cruises Deal and speak to a Travel Planner in the Avoya Travel NetworkTM today to cash in on exclusives.