When it comes to the best value for luxury cruising, it's hard to beat world-renowned Oceania Cruises. Oceania offers everything you may be looking for in a cruise experience, from the dining and the entertainment to the onboard amenities and the available destinations. Better yet, quality service and all of the comforts to make your journey an enjoyable one are guaranteed with each trip. Discerning travelers will appreciate the many details and inclusions in their voyage.
Here is a closer look at five of the main reasons why Oceania Cruises is an amazing value for luxury cruising.
Contact a Travel Advisor in the Avoya Travel NetworkTM or browse here to see everything Oceania Cruises has to offer for your next vacation.
1. Smaller Boutique Ships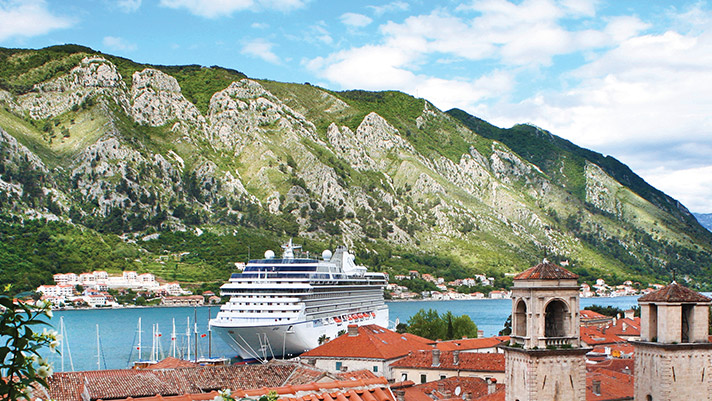 Oceania Marina in dock in Kotor.
One of the biggest draws of Oceania is the cruise line's fleet of small and boutique ships: Regatta, Insignia, Nautica, Sirena, Marina, Riviera, and Vista. The ships hold smaller-than-average numbers of guests than your typical cruise ships, either 684 or 1,250.
Fewer guests onboard mean a more intimate and luxurious cruising experience for you. It allows for an impressive guest-to-staff ratio, which in turn allows for highly personalized service that ensures all of your needs are met. The staff, who come from some of the finest restaurants and hotels in the world, are always ready to help in a kind and enthusiastic manner so that your time onboard an Oceania ship is as enjoyable as it can possibly be. Professional butlers, expert concierges, and suite and stateroom attendants are ready to serve you.
2. Luxurious Wellness Amenities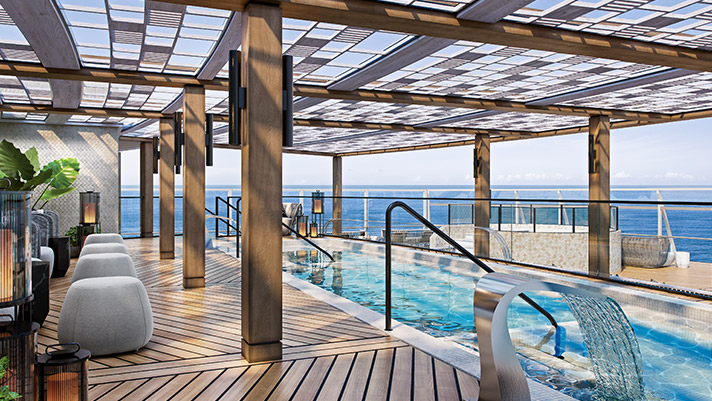 Pamper yourself at the Aquamar + Vitality Spa.
Another big part of what makes Oceania an incredible value for luxury cruising is the fantastic wellness amenities onboard. The Aquamar Spa + Vitality Center offers an array of wellness and longevity encounters all throughout the ship that you can incorporate into your stay.
The spa itself provides a range of rejuvenating treatments, including relaxing and healing massage therapies, facial treatments, a steam room and other water therapies, body therapies like wraps and muds, and salon services.
Far more than just a spa, the Aquamar Spa + Vitality Center also offers a state-of-the-art fitness center where you can take complimentary fitness classes and receive one-on-one training. After training your body, you can nourish it with Aquamar Vitality Cuisine available in the Grand Dining Room and at Waves Grill.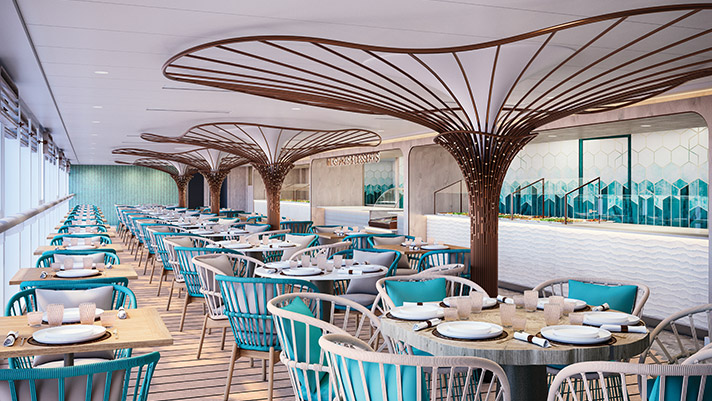 Tantalize your taste buds at Waves Grill.
The Oceania Cruises' current culinary offerings are better than ever. The program has been refined and elevated with dishes and flavors from all around the world, reflecting the experiences of the cruise line's global chefs. Each distinguished chef holds numerous accolades and is selected from renowned restaurants, bringing their unique skills to your menu. Plus, they use only the best artisanal ingredients in every dish, from custom-milled flour to premium saffron.
The dining experience onboard each Oceania luxury cruise is centered on the Grand Dining Room, an elegant restaurant brimming with the ambiance of a five-star European hotel. The extensive menu is always changing to offer up an array of global flavors for guests to enjoy.
Each ship also has a selection of specialty restaurants to complete the offering of gastronomic delights onboard. The authentic Italian restaurant Toscana and the classic steakhouse Polo Grill are both available throughout most of the fleet. Onboard Marina and Riviera, you can also find masterful French Cuisine at Jacques and bold Asian flavors at Red Ginger.
4. Upscale Onboard Activities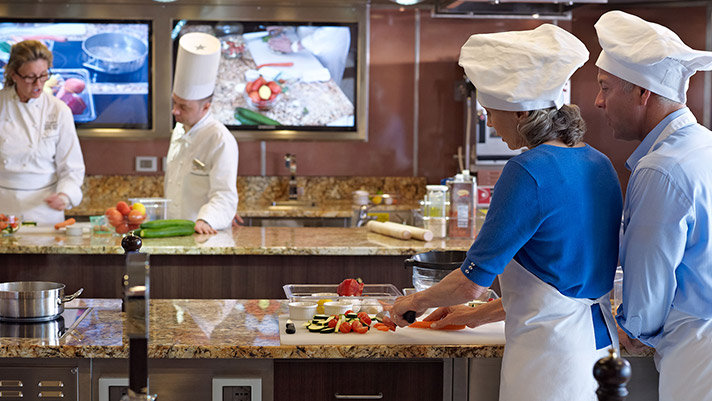 Test your culinary skills onboard an Oceania cruise.
When you aren't enjoying a spa treatment or an amazing meal, you can choose from many different enriching and entertaining onboard activities. If you want to mingle with other guests, then you can take a cooking class at the professionally equipped Culinary Center or an art class at the Artist Loft under the eye of a talented artist-in-residence.
Each cruise also hosts a selection of esteemed guest lecturers, from historians to naturalists, that can offer unique insights about your destinations. In the evening, you can stop by a cocktail bar before trying your luck at the casino or catching a dazzling onboard show, from exclusive stage productions to musical performances.
5. Unique Worldwide Destinations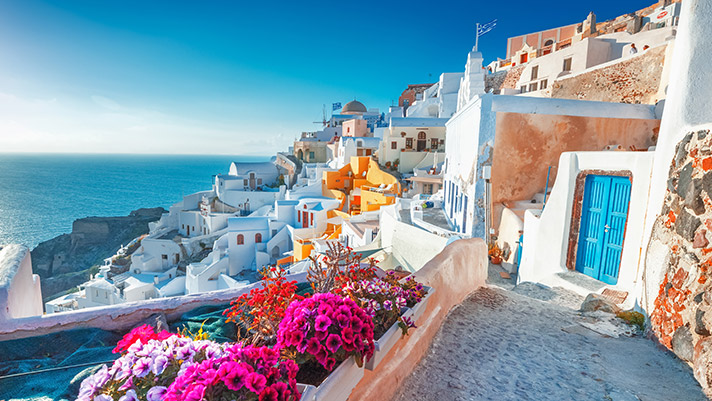 Explore dreamy destinations like Santorini, Greece.
Another area where Oceania Cruises stands out is in its unique destinations all around the world. In Europe, travelers can discover the marvelous Mediterranean, the stunning Greek Isles and the Aegean Sea, and the gorgeous French Riviera. You can also opt for cruises to Northern European destinations in the British Isles, the Baltics, Scandinavia, Greenland, and Iceland.
Both coasts of North America are open for your exploration as well, with cruises heading up to Alaska or along the New England and Canadian harbors. It doesn't end there – Oceania Cruises can take you all around the tropics, across Asia and Africa, and through the South Pacific to Australia and New Zealand.
Oceania Cruises also offers spectacular World Cruises that last for several months, visiting multiple regions over the course of the journey. The longest itineraries are Oceania's Around the World Cruises, which circumnavigate the globe and visit some of the most famous and important wonders and UNESCO World Heritage sites. It is truly the adventure of a lifetime.
To get an amazing value for luxury cruising, look no further than Oceania. You can rest assured that you'll be taken care of and enjoy your cruise your way with quality dining options, onboard activities and entertainment, all your desired amenities, and an incredible array of destination options. Book your Oceania luxury cruise with Avoya Travel today.
Call the number at the top of this page to be connected with a Travel Advisor in the Avoya Travel NetworkTM who can help you get the best price, navigate COVID-19 restrictions, and answer any questions you have about Oceania Cruises.