Take the vacation of a lifetime onboard Celebrity Cruises and sail to far-off places like the Mexican Riviera, the Mediterranean, South America, the Galapagos, or even Alaska, and experience extravagance on a whole new level.
Here is a look at the top 7 reasons a Celebrity Cruises sailing should be your next vacation.
Contact an Independent Travel Advisor in the Avoya Travel NetworkTM or browse here to see everything Celebrity Cruises has to offer for your next vacation.
1. Exotic Destinations
Experience the beauty of remote and culturally-rich destinations with Celebrity Cruises' Iceland and Greenland itineraries.
These cruise itineraries travel the coastal arctic region where you will get to see snowcapped mountains, glacial ice fields, and an abundance of polar wildlife. Ports of call to explore include Reykjavik, Iceland's capital, as well as remote villages like Isafjordur, Qaqortoq, and Akureyri.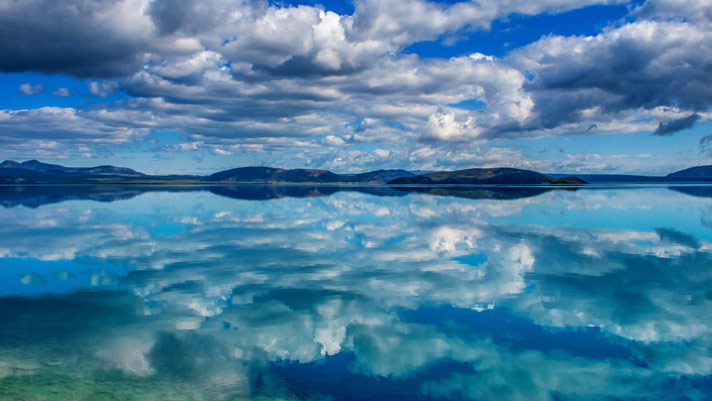 Reykjavik, Iceland
Or, set off to the Galapagos Islands, a truly one-of-a-kind destination where you will discover ancient animals and landscapes from one of three of Celebrity Cruises' modern vessels. These 7-night itineraries will provide a rare glimpse into a destination that is the definition of a once-in-a-lifetime adventure with its volcanic terrain, unique wildlife only found on these islands, and more.
2. Luxurious Staterooms for All!
Adorned in futuristic modern decor and furnishings, Celebrity Cruises offers luxurious staterooms for all travelers, no matter your budget.
Choose from a cozy interior room, ocean view room, a veranda room with your own private balcony, an Edge Series room with a window balcony that reaches out to the water's edge, a Concierge Class room that comes with your own concierge service, an Aqua Class room that provides you upgraded access to The Spa and other amenities onboard, or a room in The Retreat® - an exclusive experience with the largest suites, a private lounge, and other top-notch services.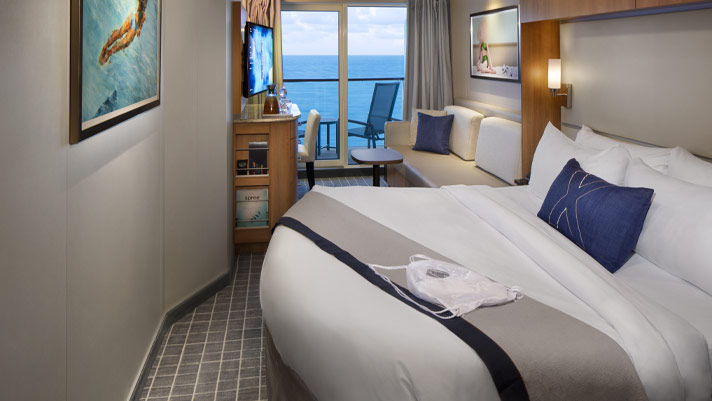 Unwind in the Celebrity Aqua Class Stateroom
3. Sail Onboard New Trailblazing Ships
Celebrity Cruises' newest revolutionary ships, Celebrity ApexSM and Celebrity BeyondSM, take luxury cruises to a whole new level.
As the newest members of the Celebrity Edge fleet, these ships feature an outward-facing design and more space to roam while you are sailing. Complete with next-level amenities, like a rooftop garden with real glass, water's edge balconies, and a holistic health and wellness center, a cruise has never been so relaxing.
Celebrity Apex in Santorini, Greece
4. Drinks. Wi-Fi. Tips. - Always Included
Enjoy stress-free sailing onboard all Celebrity Cruises ships. When you book a Celebrity cruise, your drinks, tips, and Wi-Fi are always included, no matter which cruise itinerary, stateroom, or ship you choose. Upgrade to an Elevate or Indulge package and enjoy even more perks, like onboard credit, premium drinks, and shore excursion credit without paying out of pocket while sailing.
5.Cuisine That Is Catered to You
Whether you are a self-proclaimed foodie or would like to learn more about food, all of your senses will be in for a treat while sailing onboard a Celebrity Cruises ship. Each vessel offers a variety of cuisine from all over the world, and many of the menus are inspired by the destinations on your itinerary.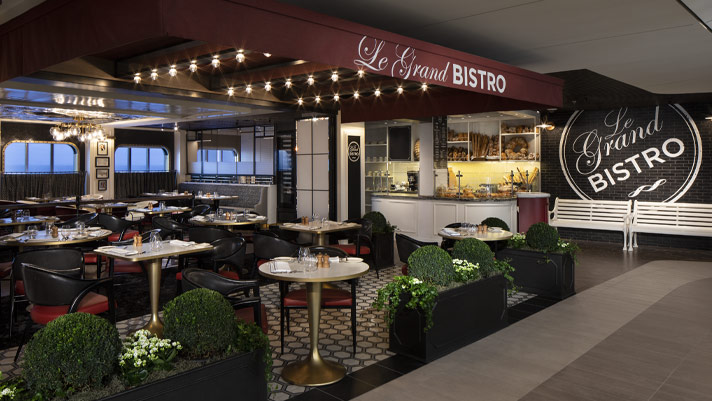 Indulge in delicious cuisine at Le Grand Bistro
Indulge at fine dining restaurants like Le Grand Bistro, Fine Cut Steakhouse, Raw on 5 Restaurant, Rooftop Garden Restaurant, and Le Petit Chef™, which is regarded as one of the most unusual dining experiences in the world. Celebrity Cruises also offers main dining restaurants and buffets, which cater to those looking for a quick bite in a casual setting.
6. Shop Until You Drop
Shop for gifts, liqueur, fine wine, designer clothes and accessories, jewelry, souvenirs, and Celebrity Cruises branded merch without leaving the comfort of your cruise ship.
Each vessel features an onboard mall of boutiques where you can take advantage of excellent prices on the items you crave. As an added bonus, all purchases made onboard a cruise ship are always tax and duty-free!
You can also enjoy local shops at the charming towns of each port and pick up incredible souvenirs or luxury items you won't find anywhere else.
7. Activities for Everyone
No matter who you are sailing with, there are activities everyone is sure to enjoy onboard Celebrity ships.
Casino on Celebrity Apex
Play all of the hottest table games and slot machines at the casino, join in on a wine tasting or cooking class, play games with the family, enjoy some relaxation and tranquility at the day spa, or sit back and watch a live concert, Broadway-caliber performance, or game show in a posh state-of-the-art theater while sailing. Each ship also features kid's play zones and a day spa that caters to teen travelers.
Whether you're looking to enjoy the seas with your family or that special someone, Celebrity Cruises has everything you need for an amazing escape to the destination you've been dreaming of.
The world is waiting to be discovered, and at Avoya Travel, we are here to help you make the most of your indulgent cruise vacation. Contact us today so we can design the perfect itinerary for you and your family.
Call the number at the top of this page to be connected with an Independent Travel Advisor in the Avoya Travel NetworkTM who can help you get the best price, navigate COVID-19 restrictions, and answer any questions you have about Celebrity Cruises.