Thinking about booking a cruise for the 2022 sailing season or beyond? Pack up your bags and get ready to "savor the journey" with the crew of Holland America for an unforgettable voyage to some of the most remarkable destinations at sea.
We have outlined the top 8 reasons you should consider booking a Holland America cruise for your next vacation.
Contact a Travel Advisor in the Avoya Travel NetworkTM or browse here to see everything Holland America has to offer for your next vacation.
1. An Opportunity to See the World
With over 500 cruise itineraries to choose from and over 473 ports of call to visit, the hardest part of booking your Holland America cruise is deciding where you wish to go. Holland America helps you to see the world on your own terms.
Cabo San Lucas, Mexico
Consider a holiday cruise down to the Caribbean, a winter or spring exploration of the Mexican Riviera, an outdoor adventure along the southern coastline of Alaska, or even a Holland America Hawaii vacation. The sky is the limit when it comes to interesting places you can travel to and shore excursions you can take part in once you arrive at your destination.
2. Stately Staterooms for All Budgets
Relax in a comfortable setting that is decked out in real wood and ultra-soft upholstered furniture, high thread-count bedding, a whirlpool, a teak wood veranda, and state-of-the-art technology when you book a cruise with Holland America.
Choose from a Vista Suite (most budget-friendly), a Signature Suite, a Neptune Suite, or a Pinnacle Suite – which comes with all the luxury amenities you would expect from a penthouse stateroom and more. No matter which stateroom you choose, you will be treated to a good night's sleep in a Mariner's Dream™ bed.
3. New and Refreshed Ships
Take your dream vacation up a notch by sailing on one of Holland America's new or refreshed cruise ships.
Holland America Rotterdam is new to the impeccable fleet, making its maiden voyage through the Caribbean in November 2021. This luxury vessel is 984 ft in length and accommodates over 2,600 guests. Each stateroom comes with its own private mini-spa and a designer decor palette that promotes rest and relaxation.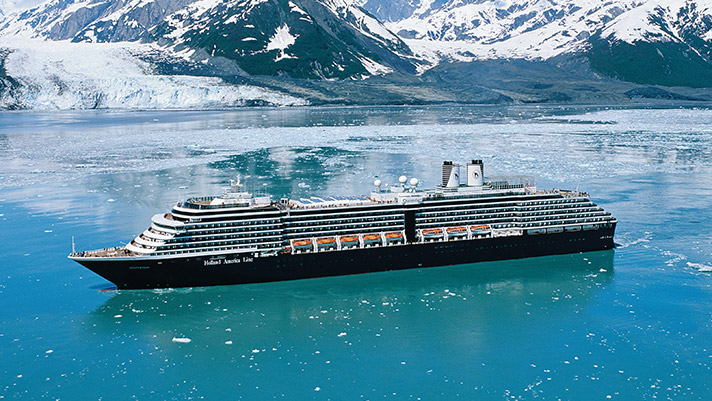 Holland America Ship, Oosterdam
Holland America Ship, Rotterdam
Holland America's Oosterdam also just pulled out of the dry dock and has been completely refreshed for the upcoming cruise seasons. This Vista-class ship features all-new restaurants, activities, and furniture throughout.
4. Sun-Kissed Private Island
Book a Holland America vacation to the Bahamas and be treated to a port-of-call stop at Half Moon Cay. This private island is exclusive to Holland America travelers and is a playground for those who love sunshine and an abundance of tropical beauty.
While visiting the island, layout on the beach with a cocktail from Captain Morgan on the Rocks bar, go horseback riding along the shoreline, or row around in a kayak with an expert guide.
5. The Art of Fine Cuisine
Dining onboard a Holland America cruise ship is a luxurious adventure for all your senses. Tantalize your tastebuds at restaurants like Canaletto, Pinnacle Grill, The Dining Room (a Holland America original), Lido Market, New York Pizza, or Dive In.
Indulge in gourmet cuisine at The Dining Room onboard a Holland America ship
This cruise line takes the art of food seriously and has its own Culinary Council® made up of renowned celebrity chefs who sign off on every menu item.
6. Port-to-Table Culinary Journeys
For those who have a profound love of good food or would like to learn more about the cuisine of the world, be sure to check out the Port-to-Table culinary programs offered onboard all Holland America cruises. Each workshop is inspired by the stops on your itinerary, allowing you to really immerse yourself in the culture of the region.
7. Greenhouse Spa & Salon®
Experience a slice of heaven as you sail by stopping by Greenhouse Spa & Salon® for a personalized health or beauty treatment where they take a holistic approach to make you look and feel your best.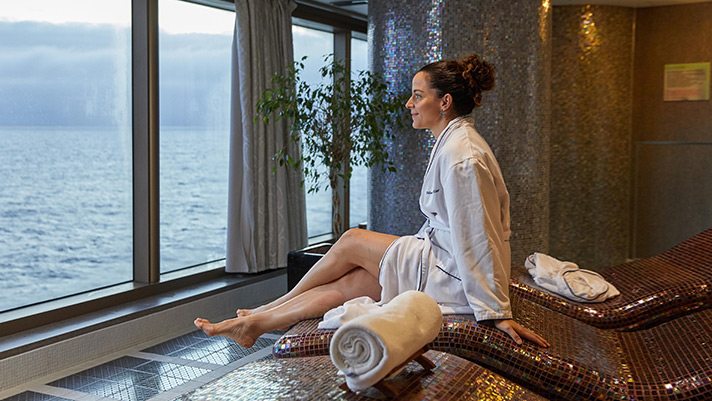 Relax at the Greenhouse Spa & Salon® onboard Holland America
While sailing you could enjoy some pampering that includes getting a manicure or your hair styled, working out with a personal trainer, enjoying a relaxing massage, or indulging in an exotic skin treatment at the onboard luxurious spa.
8. Entertainment That Fascinates
Holland America takes entertainment to the next level. In addition to live concert events, guest lectures, Broadway and Hollywood caliber performances, and comedy routines, they are partnering with BBC Earth to present BBC Earth in Concert to all guests while sailing to the ports of call on your itinerary.
BBC Earth in Concert combines composed music with video of wildlife, stunning landscapes, and other natural wonders to the big screen to promote rest and relaxation as you sit back and watch.
Book a cruise onboard Holland America and explore the world with experts who have been in the sailing business for over 150 years. Should you have any questions or would like help locking in your ideal cruise vacation, we at Avoya are here to help; feel free to contact us today.
Call the number at the top of this page to be connected with a Travel Advisor in the Avoya Travel NetworkTM who can help you get the best price, navigate COVID-19 restrictions, and answer any questions you have about Holland America.