Home of the 195-night World cruise and plenty of shorter sailings, which are 7 days or more in duration, Oceania Cruises is an elegant cruise line that allows you to explore the world your way.
With a total of six cruising vessels in its fleet, including the recently refurbished Oceania Nautica, this cruise line provides an intimate sailing experience that is personalized to each guest. Oceania Cruises caters to the adult's vacation experience with its incredible onboard offerings.
Here is a look at the top 8 reasons you should consider an Oceania Cruises sailing for your next vacation.
Contact a Travel Advisor in the Avoya Travel NetworkTM or browse here to see everything Oceania Cruises has to offer for your next vacation.
1. Boutique Ports
Thanks to smaller ship sizes, Oceania Cruises vessels are able to dock at ports of call in destinations that are not accessible to larger cruise ships. This means that you will get to experience villages and quaint boutique ports you can't visit with every cruise line.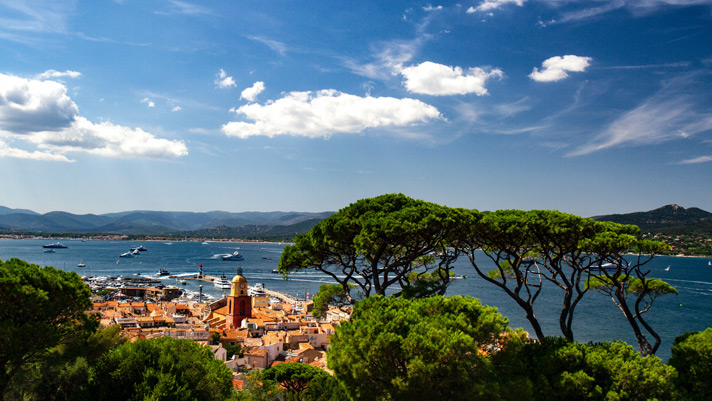 Saint Tropez, France
Sail away to culturally-rich places like Europe, the Caribbean, Asia, South America, or beyond, and enjoy unique, curated travel experiences, overnight stays, and extended visits in their boutique ports of call.
2. World-Class Dining Options
Oceania Cruises provides guests with world-class cuisine from all around the world. Each ship offers The Finest Cuisine at Sea® program, which rolled out in partnership with renowned culinary masterminds Chef Jacques Pépin and Chef Franck Garanger and is designed to delight all of your senses.
Enjoy a meal onboard at Terrace Cafe
Oceania's dining may include reservation restaurants like Toscana, Jacques, and Red Ginger as well as casual main dining halls and specialty spots, like Horizons (afternoon tea) and Baristas coffee bar.
3. Aquamar Spa + Vitality Center
Relax in absolute tranquility at Aquamar Spa + Vitality Center located onboard every Oceania ship. Aquamar Spa + Vitality Center is an all-encompassing health and wellness facility that is designed to rejuvenate your mind, body, and soul.
Indulge in expert massages, facials, body treatments, medical therapies, and thermal therapies. This facility also has a full-service gym with state-of-the-art fitness equipment and trainer-led exercise classes.
4. Immersive Shore Excursions
Travel to the destinations you really want to see with a cruise line that dreams up magical shore experiences for all guests. Oceania partners with expert local guides to create shore excursions you will remember for the rest of your life; over 450 and counting to be exact!
Focus on your health and wellbeing on Wellness Discovery Tours by Aquamar and learn about traditional wellness and healing techniques practiced by the locals.
Or take advantage of other in-depth shore excursions including wildlife observation trips, hiking, wine tasting in local vineyards, culinary tours, historic walking tours, and live cultural events, so you can truly immerse yourself in the culture, history, and culinary traditions of every place you visit.
5. Elegant Staterooms
Each stateroom onboard an Oceania ship offers the perfect mix of modern luxury and classic elegance.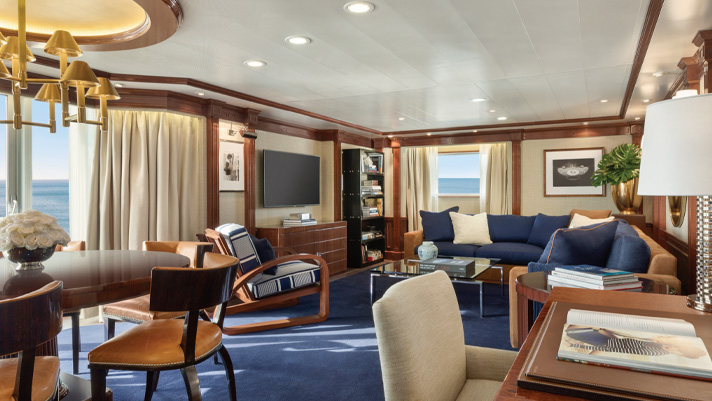 Oceania Owner's Suite Living Room
Choose from an interior room, an oceanview room, or even a penthouse; each of which comes with luxuriously soft beds dressed in 700+ thread-count sheets, cozy furniture by the Ralph Lauren Home Collection, and 24-hour room service. All staterooms are decorated with a color palette that is inspired by the land and sea.
6. Adult-Focused Vacation Experience
From a casual country club style bar where you can sip on signature cocktails while mingling with other guests to an artist's loft that allows you to unleash your creativity with the help of an expert art instructor, Oceania Cruises offers an array of enriching activities that cater to a vacation experience for adults.
While you sail between ports of call, read a book in the library, join in on brain game sessions with other travelers, learn new cooking skills in a culinary workshop, or sit in on a riveting guest lecture. By night, the entertainment scene comes alive with live concerts, musical and theatrical performances, and gameshows in the ship's theater.
7. A Monte-Carlo Style Casino
Complete with classic table games, a poker room, and digital as well as old-fashioned reel slot machines, spend an afternoon or evening at the onboard casino and feel like you have traveled straight to the heart of Vegas.
When you arrive at the casino, you will receive a player card for cashless play and a chance to earn points redeemable for perks and services like game playing lessons and free games.
8. Luxury Shopping Opportunities
Shop for jewelry, art, designer handbags, clothes, cigars and liquor, and other must-have items without leaving the comfort of the ship.
Oceania Cruises' ships feature a boutique-style shopping mall where you can buy gifts, souvenirs, and some items for yourself. When you shop onboard a cruise ship, your purchases are always tax and duty-free.
Enjoy a luxurious shopping experience onboard an Oceania Cruises ship.
Unlike other cruise lines that offer giant ships accommodating thousands of passengers during a single sailing, Oceania Cruises offers smaller ships, a smaller fleet, and a smaller traveler count so the crew can focus on exceeding each guest's expectations.
At Avoya Travel, our team is here to help you make the most of your Oceania Cruises voyage. Travel the world in luxurious elegance and let us do the planning for you.
Call the number at the top of this page to be connected with a Travel Advisor in the Avoya Travel NetworkTM who can help you get the best price, navigate COVID-19 restrictions, and answer any questions you have about Oceania Cruises.