A tropical paradise awaits in the South Pacific and Paul Gauguin Cruises is ready to take you there. From the iconic Society Islands to the stunning Cook Islands and beyond, you can experience dreamy island destinations on their luxurious 7- to 14-night itineraries.
Whether you're looking for ultimate relaxation at a crystal-clear water beach, endless activities that will fill your days, or a mix of both, these islands have everything for a perfect getaway.
Here is a closer look at some of the South Pacific islands you can visit onboard an ultra-luxurious Paul Gauguin Cruises voyage and what you can experience during your travels.
Contact a Travel Advisor in the Avoya Travel NetworkTM or browse here to see everything Paul Gauguin Cruises has to offer for your next vacation.
Society Islands – Tahiti, Bora Bora, Moorea, and Huahine
Enjoy peaceful scenery while visiting Papeete in Tahiti.
When one imagines an ideal tropical vacation, islands such as Bora Bora and Tahiti probably come to mind. However, these two well-known islands are part of a larger cluster of islands called the Society Islands, also offering beautiful Moorea and Huahine among other islands.
Tahiti and Bora Bora provide plenty of outdoor adventures and aquatic activities, such as hiking, paddle boarding, diving, snorkeling, and more, but they also have some standout sites to mention.
Bora Bora is home to the famed seafood restaurant Bloody Mary's, frequently visited by tourists and celebrities alike. In addition to this dining hot spot, visit Vaitape, the main village, for shopping in local boutiques.
Tahiti offers must-see attractions like the Robert Wan Pearl Museum, Papeete Market, and other exciting locations. For the avid surfer, venture to Teahupo'o, a surfer's paradise on the eastern peninsula of the island known as Tahiti Iti.
The neighboring island of Moorea maintains a small island feel and is a must to visit if you're traveling with the whole family. In addition to the outdoor activities mentioned in Tahiti and Bora Bora, Moorea offers entertainment for younger travelers. Visit the Moorea Dolphin Center, the only natural refuge where you can play with dolphins, or head to TikiParc for aerial obstacle courses and ziplining for various ages.
Huahine, the garden island, has retained a truly authentic Polynesian feel due to infrequent tourism. Here, you will find many coconut plantations, vanilla orchids, banana groves, and watermelon fields.
Once home to Tahitian royalty, Huahine is full of ancient culture and history. Throughout the dense vegetation, you can find the largest concentration of ancient temples in the South Pacific, some believed to date back to 700 AD. While you hike to uncover these temples on a Paul Gauguin Cruises shore excursion, you may also encounter remnants of religious and ceremonial monuments.
Cook Islands – Rarotonga and Aitutaki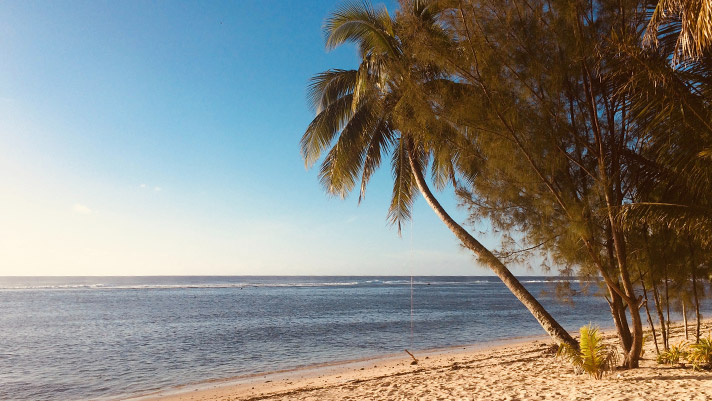 Unwind at a stunning beach in the Cook Islands.
The Cook Islands, undiscovered by many tourists, lie halfway between Hawaii and New Zealand. The two islands featured on Paul Gauguin Cruises' sailings are Rarotonga and Aitutaki, beautiful tropical destinations waiting to be explored.
Rarotonga lies a bit further south than Tahiti, offering slightly cooler weather. Home to rugged mountains and trails, this island is great for hiking and biking. The Cross Island Track will take you to the top of Te Rua Manga, also known as The Needle, for unforgettable breathtaking views. Explore bustling markets for local treasures or enjoy a guided experience deep sea fishing or spearfishing.
If your goal is relaxation, the smaller, quieter island of Aitutaki is perfect for you. Soak up the sun on the most incredible beaches and sandbars or hop in the water for some snorkeling, diving, and more.
Marquesas Islands – Nuku Hiva and Hiva Oa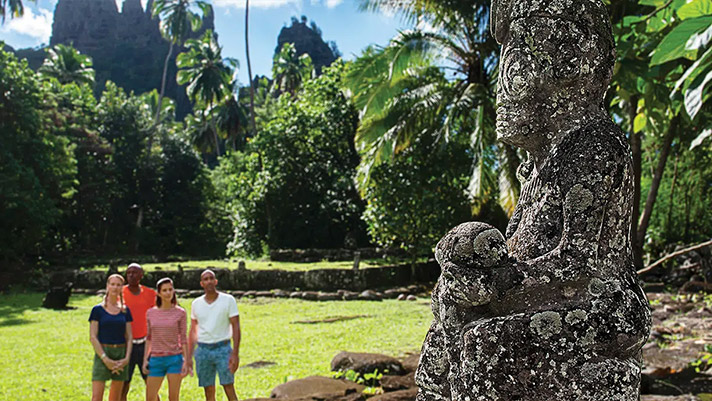 Experience the beautiful flora and fauna of Nuku Hiva.
The Marquesas Islands, the youngest and most remote islands visited on Paul Gauguin Cruises itineraries, are unique in that they do not have coral reefs or a lagoon-like the previously mentioned South Pacific islands. Rather, these islands have plummeting cliffs resulting in large underwater walls and caverns that are home to a variety of flora and fauna.
Nuku Hiva and Hiva Oa host some of the most beautiful underwater experiences with stunning tropical fish, manta rays, sharks, and other marine life. On Nuku Hiva, observe wild horses running free in the meadow or hike to the Teuaua islet on Hiva Oa to see a variety of marine birds.
For nature and wildlife lovers, the Marquesas Islands are a must-experience vacation destination on your Paul Gauguin Cruises itinerary.
Tuamotu Islands – Fakarava and Rangiroa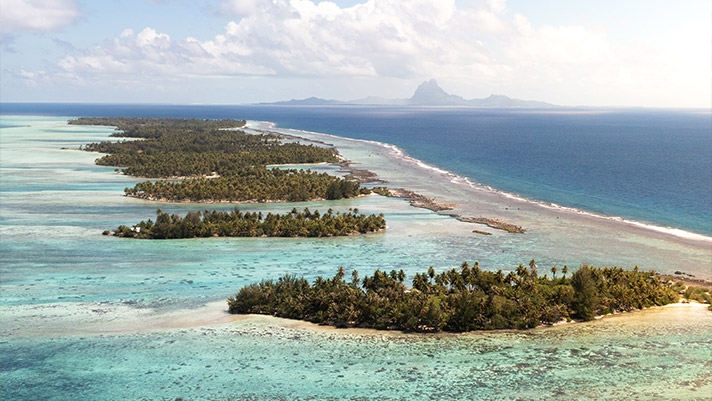 Dreamy islands in French Polynesia.
Formed from remnants of volcanoes, the Tuamotu Islands offer unforgettable experiences for all travelers.
The lagoon, home to an incredibly rich ecosystem, is the star attraction of the island of Fakarava. Here, with an incoming current, you can see colorful tropical fish, beautiful coral, and gray reef sharks swimming below. If you visit in July, you may also have the chance to see groupers breeding. The lagoon is ideal for scuba diving, but for a more intense experience, head over to Rangiroa.
Rangiroa is world-renowned for its quality of dives. Head to Tiputa Pass to dive with wild bottlenose dolphins or to Avatoru Pass to find jackfish, barracuda, and silvertip sharks. You can also go deep sea fishing and catch some mahi-mahi, tuna, or swordfish during your visit.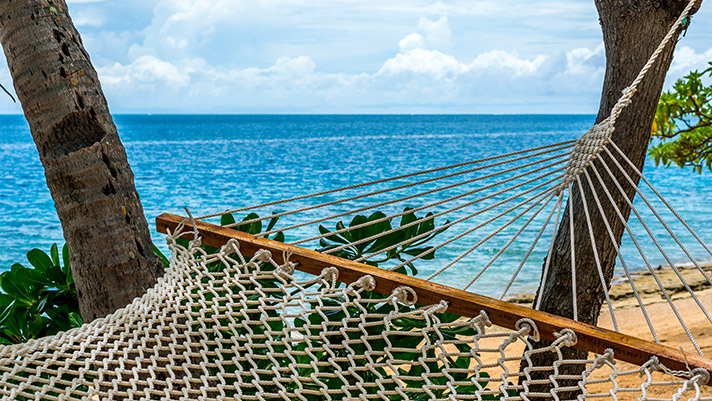 Sit back and relax on a hammock in Fiji.
While Fiji and Tonga share some of the same aquatic adventures as the other islands, they also have some unique experiences worth noting.
Suva, Fiji's capital, is home to one of the most cosmopolitan centers in the South Pacific. Here, you can find shopping malls, farmer's markets, museums, entertainment, and more.
The town of Savusavu in Fiji offers amazing underwater experiences due to its ban on fishing in 1997, allowing marine life to thrive. For the more adventurous types, go diving or snorkeling to experience the beauty up close for yourself. Due to its proximity to a big fish migratory path, you are also likely to see dolphins and several types of whales near the island.
Beqa Island in Fiji also hosts amazing dives, but sharks are the star of the show with over nine different species roaming the waters, including up to eighteen-foot tiger sharks.
If you are interested in fishing, look no further than Vava'u in Tonga. In Vava'u you will find many snorkeling and diving locations, but unlike in Savusavu, fishing is permitted. Join a friendly local skipper to explore hidden coves and atolls or go on a game fishing expedition to catch some mighty marlin.
Book With Confidence
If you're ready to experience one or all of these stunning islands in the South Pacific on a dreamy Paul Gauguin Cruises itinerary, turn to one of Avoya Travel's Independent Travel Advisors to help with the booking process at no additional cost.
Call the number at the top of this page to be connected with a Travel Advisor in the Avoya Travel NetworkTM who can help you get the best price, navigate COVID-19 restrictions, and answer any questions you have about Paul Gauguin Cruises.