Our team at Avoya Travel was given the exciting opportunity to experience a cruise onboard Celebrity's newest ship, Celebrity Beyond, and left with memories that will last a lifetime. From the industry's best onboard amenities to fun-filled days in scenic ports, our itinerary and this remarkable vessel lived up to the hype – and then some.
Keep reading to learn more about our adventures on a 5-night Western Caribbean sailing onboard Celebrity Beyond. You may even be convinced to book your own Celebrity cruise adventure.
Contact a Travel Advisor in the Avoya Travel NetworkTM or browse here to see everything Celebrity Cruises has to offer for your next vacation.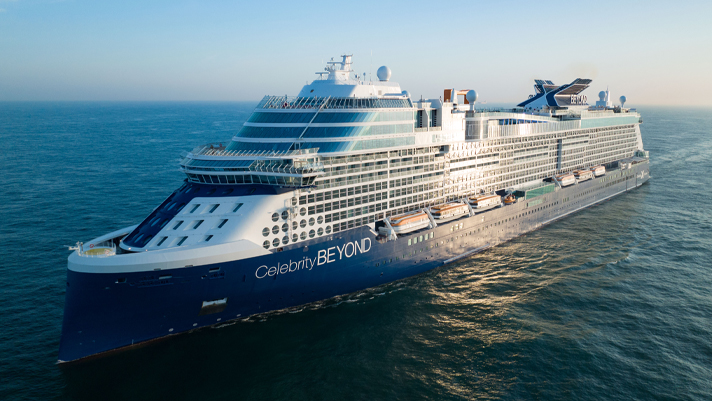 After embarking, our first day was spent exploring the beautiful ship that we would call home for the duration of our trip. From breathtaking design to stylish accommodations and more, it was clear from the moment we stepped onboard Celebrity Beyond that this would be a getaway to remember. We enjoyed our first dinner at a main dining restaurant, where we indulged in some scrumptious bites and relished in good company.
After dinner, we explored the ship at dark, awing at how the sights onboard became ever more entrancing once the sun dipped below the horizon. Purple and blue hues illuminated the resort deck and the warm ocean air kept guests cozy as they relaxed on cushioned loungers. A tranquil close to the first day of our Caribbean adventure.
We enjoyed delicious meals at Oceanview Café.
On our second day, we awoke elated to take advantage of all the wonderful amenities we discovered onboard the day before. We began by fueling up for our adventures at Oceanview Café, which is filled with scrumptious cuisines from around the globe.
After treating ourselves to a delicious plate (or three), we headed over to the gym, which was filled with a myriad of different machines and equipment. From Peloton bikes to smith machines, aromatherapy towels, exercise classes, and more, to say we were impressed by the facility would be an understatement.
Post workout, we headed over to the Solarium, a relaxing adults-only pool area onboard. Here, we allowed our bodies to rest as we took in the sun's rays and enjoyed the tranquil atmosphere. At the connecting Juice Bar & Café, we enjoyed some small plates of healthy and refreshing foods.
As evening dawned, we were excited for our dinner reservation at Le Petit Chef, a world-renowned dining experience that you can only find in a few select countries around the world – and onboard Celebrity Beyond among their other ships! This sought-after multi-course menu delights diners with a 3D animated accompaniment to its elegant courses. You'll be narrated through each course by a tiny digital chef while your tabletop transforms with each part of the story. It's truly a must-experience meal, so make sure to book your reservation early when you sail on Celebrity Cruises.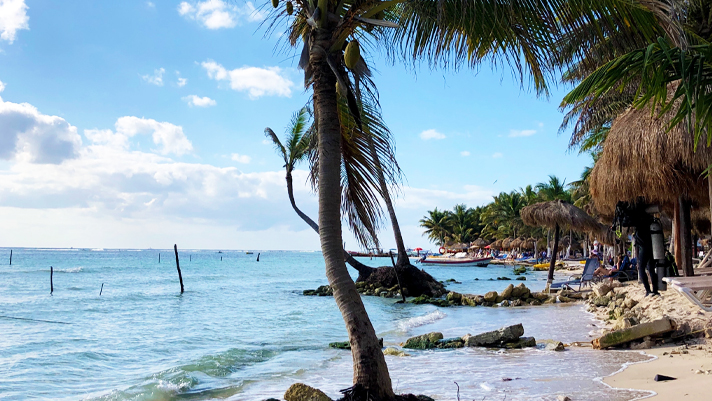 We awed at the scenic ocean views in Costa Maya, Mexico.
To say we were excited the morning of our third day is an understatement; we were elated and ready for adventure! It was our first-day docking in port during our cruise, and we were eager to make the most of our time in Costa Maya, Mexico. Because this port is exclusive to only a few cruise lines, many members of our team had never gotten to experience it, leaving many curious as to what surprises awaited us on land.
As we exited the ship, we were greeted with a breathtaking coastline adorned with white sands and vibrant green palm trees swaying in the breeze. It was the dictionary definition of paradise.
Once we made our way into the port, we were awed by the colorful murals, terracotta pottery, artisan jewelry, and traditional architecture. Costa Maya's port was welcoming and unique, and it even had some resident flamingos basking in the sun! If given the chance, we highly recommend a visit to this must-see port.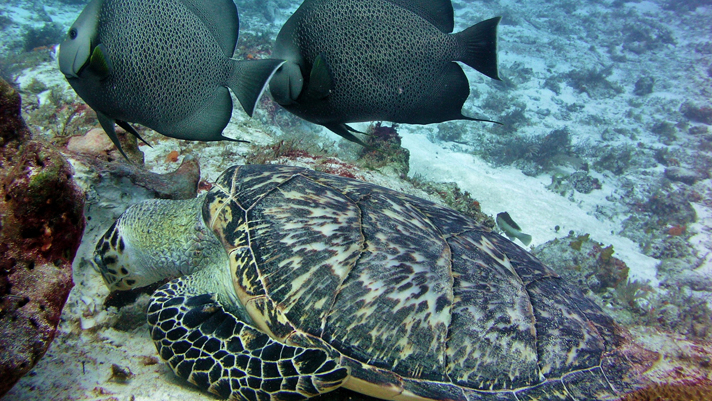 We snorkeled in Cozumel and came face-to-face with the beauty under the sea.
Day four brought us to the popular port of Cozumel, Mexico where our team enjoyed an array of fun-filled excursions. From ATV rides through the jungle to a trip to the famous Chechen Itza, a snorkel through pristine blue waters, and more, we truly made the most of our time in port. Aside from these exciting adventures, cruisers can also enjoy some more laidback experiences, like a Cuban cigar masterclass, a traditional barefoot fish cookout, and a salsa cooking class.
Although no one from our team got the chance to experience it, one of the most popular excursions in Cozumel is a dolphin encounter. On this excursion, you can get closer to these magical sea creatures than ever before through swimming, belly riding, and forming a bond with the dolphins. A fan-favorite experience, our team is eager to try it out on our next Celebrity Cruises sailing to Cozumel.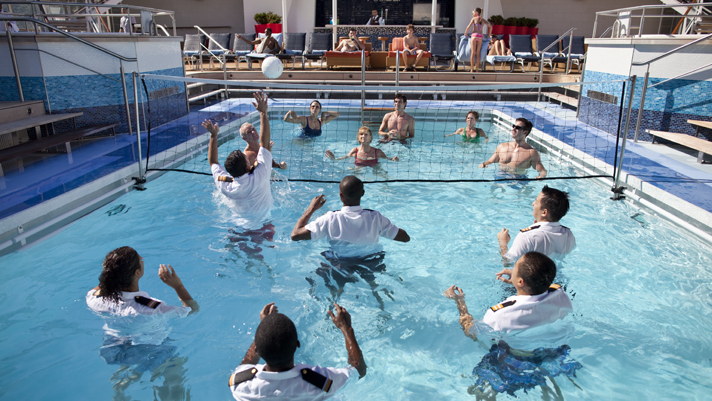 We enjoyed a front-row view of a crew vs. guest pool volleyball game.
For our final day onboard beautiful Celebrity Beyond, we set out determined to enjoy the parts of the ship that we had not gotten to earlier on in our cruise. The day started with breakfast in bed, courtesy of Celebrity's room service and magnificent staff. Fluffy pancakes and colorful fruit delighted our tastebuds and gave us energy for the day ahead.
After, we got ready and headed up to the resort deck where we were greeted with excitement all around; there was a lively Zumba class happening in the shallows!
The thrills didn't end there, however. After the class ended, cruisers were invited to join a game of water volleyball where they went head-to-head against some of the Celebrity staff. The two teams duked it out with passion and endless enthusiasm; it was an exhilarating display for all bystanders.
After all the excitement, we grabbed some small bites at the much more relaxed Café al Bucio before heading over to the shops. With an assortment of different products and brands to choose from, our team didn't hold back as we flocked to the various displays, each getting a souvenir to commemorate the memorable sailing.
We closed out the day with a delectable dinner at Fine Cut Steakhouse, one of the ship's specialty restaurants, some silent disco in the Club, and a drink at the Martini Bar while enjoying the bartending show. It was the perfect end to an even more perfect sailing.
Book Your Celebrity Cruise With Confidence
Take it from us, any sailing onboard Celebrity Cruises is sure to leave lasting memories, from the delicious dining to stylish amenities, unique excursions, courteous staff, and more.
When you're ready to book your Celebrity cruise vacation, call the number at the top of the page to be connected with one of our Independent Travel Advisors and receive the best offers available.
What are you waiting for? Treat yourself to the perfect getaway for less – and thank us later.
Call the number at the top of this page to be connected with a Travel Advisor in the Avoya Travel NetworkTM who can help you get the best price and answer any questions you have about Celebrity Cruises.