Join award-winning Paul Gauguin Cruises for their new 2025 voyages that sail through Oceania, Indonesia, or Melanesia. Enjoy the cultural wonders and natural beauty of each region thanks to thoughtfully curated itineraries.
Journeying alongside ports-of-call in lush tropical destinations, guests have plenty to enjoy during at-sea days onboard. Expand your culinary palate with a world-class dining selection, take in an evening of live entertainment, and experience the generous hospitality of Les Gauguin and Les Gauguines, your local Tahitian hosts and hostesses, throughout your voyage.
Renovated in 2021, the m/s Paul Gauguin showcases contemporary design styled with a Polynesian aesthetic. With a capacity of 330 guests, this ship is ideal for travelers preferring a small-ship atmosphere. Discover firsthand why Paul Gauguin Cruises was awarded "Best Small-Ship Cruise Line" by Global Traveler Leisure Lifestyle Awards in 2023 for its eighth consecutive year.
Here is a sneak peek at three breathtaking itineraries you can experience from Paul Gauguin's 2025 Boutique Crossing Collection.
Contact a Travel Advisor in the Avoya Travel NetworkTM or browse here to see everything Paul Gauguin Cruises has to offer for your next vacation.
Crossing Oceania: Fiji to Bali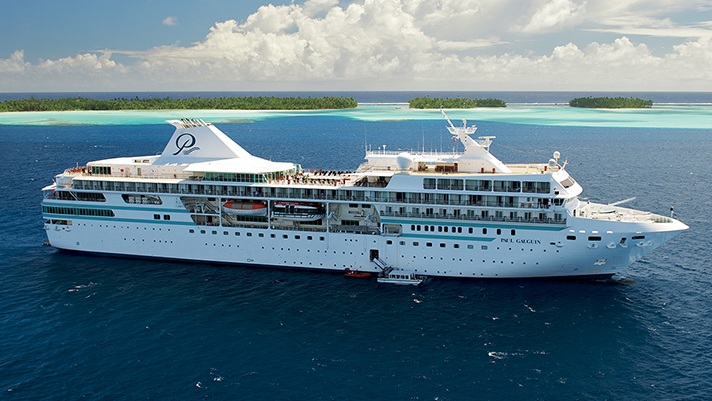 m/s Paul Gauguin
Join Paul Gauguin on their 20-night Oceania Crossing cruise and begin your journey in Lautoka on Viti Levu Island. Visit a traditional village or Koroyanitu National Heritage Park. Rushing waterfalls and verdant landscapes await at the next port-of-call in Vanuatu. Hike into the Erakor Rainforest and scout for wildlife, or head for the sea to snorkel or sail in Mele Bay. On Guadalcanal, explore relics and monuments pertaining to the island's strategic importance during World War II and the historic battle that was fought there.
Enjoy the breadth of onboard services and amenities during days at sea. Dine al fresco over casual fare at Le Grill, located poolside. Listen to a special lecture from a visiting anthropologist, marine scientist, or other leading expert. Get your heart rate up at the onboard fitness center. Swim in the pool before lounging on an outdoor deck. Pamper yourself at the Algotherm Spa with a facial, massage, or beauty treatment.
Discover pristine wilderness and enjoy local culture and cuisine in Alotau, Papua New Guinea. The voyage continues to Dili, the capital of Timor-Leste. Climb up to the Cristo Rei, the second-highest statue of Jesus in the world, or head into the clear waters for diving or snorkeling. After another day at sea, explore Komodo National Park, a UNESCO World Heritage site.
Disembark in Bali. From here, venture to Ubud, known for its traditional crafts and many temples, shrines, and holy sites. The nearby Sacred Monkey Forest Sanctuary, a nature reserve and temple site, is home to long-tailed macaques and over 100 different tree species.
Indonesia Immersive: Singapore to Australia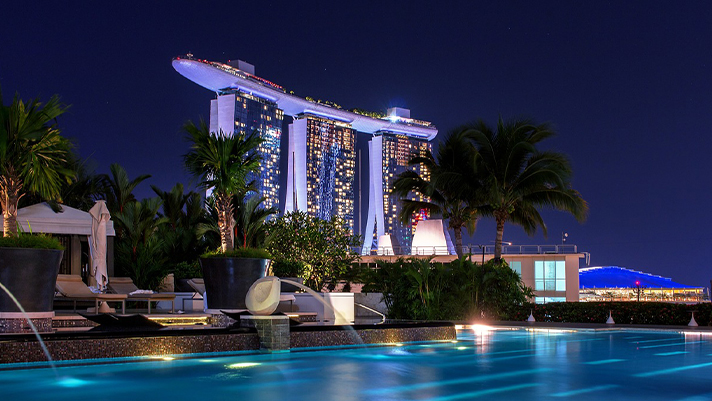 Singapore
Embark from the bustling city-state of Singapore and discover the rich culture of Indonesia on a 14-night voyage. Can't-miss highlights here include Marina Bay Sands, the UNESCO-listed Singapore Botanic Gardens, and Gardens by the Bay. Parai Beach is the first of two maiden ports you'll visit on this cruise. Celebrate the local Minahasan culture and see firsthand the "tongkonan," traditional wooden houses known for their iconic saddleback roofs.
At your next stop, Semarang, visit Borobudur Temple, the world's largest Buddhist temple. Voyage onward to the second maiden port: Surabaya. A thriving port city on the island of Java, Surabaya is home to a vibrant Chinatown and a historic Arab Quarter. Sample Javanese cuisine or view Suramadu National Bridge before heading back to the ship.
The next morning, arrive in Benoa, Bali. With two days to explore here, there's ample time to visit Ubud's temples and shrines as well as the Sacred Monkey Forest. For sea lovers, there's much to do; choose from jet skiing, parasailing, or reef fishing.
After another day at sea, it's off to Komodo National Park, teeming with wildlife on land and at sea. At the next port of call, Dili, browse the Dili Tais Market or soak up the sun on a white-sand beach. Your voyage ends in Darwin, Australia.
Crossing Melanesia: Australia to Fiji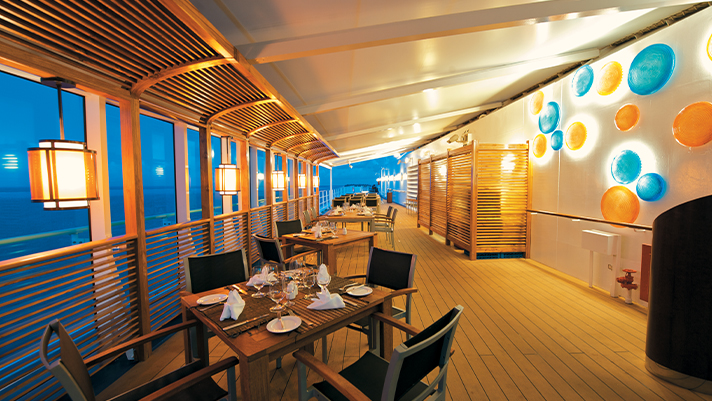 Dining onboard m/s Paul Gauguin
A breathtaking tropical escape awaits on the 16-night Melanesia Crossing voyage embarking in Darwin, Australia. From Darwin, sail to Thursday Island, known for its status as a World War II military base. Visitors may explore artifacts from this period of history, or for something different, head out on a deep-sea fishing excursion.
After a day of sightseeing, choose from one of three onboard dining rooms for dinner. For elevated French-inspired cuisine, make reservations at La Veranda. After your meal, head to Le Grand Salon for Polynesian dance performances and live music. When you're ready to retire, your spacious accommodation awaits. When the day breaks, enjoy ocean views from your suite or stateroom (select rooms include a private balcony).
Alotau, Papua New Guinea's hidden gem, bustles with breathtaking beaches and verdant rainforests. Swim with sea turtles or sample local cuisine. On Samarai Island, your next stop, go scuba diving or unwind on the beach. Pristine beaches, swimming holes, and stunning rainforests await on the island of Espiritu Santo. Immerse yourself in the culture and history of the island with a stop at a traditional village. Your cruise ends in Lautoka, also known as "Sugar City" for all the sugarcane in the vicinity.
Set Sail Onboard Paul Gauguin Cruises With Avoya Travel
Ready to experience the voyage of a lifetime and take part in a 2025 Boutique Crossing Collection cruise? Connect with one of Avoya Travel's Independent Travel Advisors to plan your next vacation. They'll guide you through the booking process from start to finish and ensure you get the best deal available.
Call the number at the top of this page to be connected with a Travel Advisor in the Avoya Travel NetworkTM who can help you get the best price, and answer any questions you have about Paul Gauguin Cruises.