5-minute read | August 18, 2021
Destination weddings with Sandals Resorts are an incredible way for couples to begin married life and make their special day extraordinary, and is also one of the most romantic honeymoon ideas.
In this article you can find out all about the best destination weddings at Sandals Resorts.Customize a beautiful wedding that you can enjoy with your closest friends and family at a gorgeous destination like Barbados or Jamaica where you can create memories to last a lifetime.
All-Inclusive Free Wedding Packages
Destination weddings at Sandals Resorts are included for free when you book a stay at any resort for three nights or longer. The incredible, all-inclusive package offers everything you need for a romantic celebration that you will never forget.
What is included in the wedding package?
You will be provided with a complete wedding experience at no extra cost, with your own personal planning team taking care of all of the details, from the start of the planning process until you exchange your vows. Any extra investment you choose to make can go towards customizations.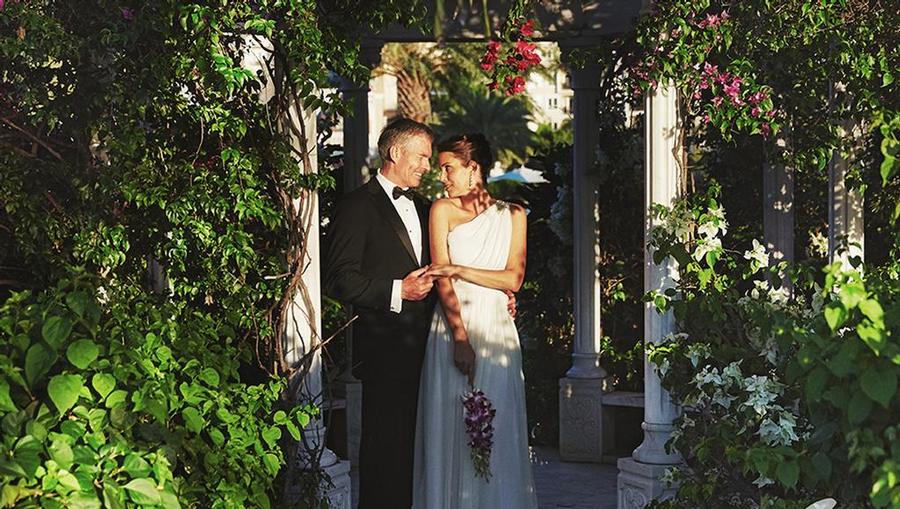 Even before your wedding day, the planning team will help you prepare all of the necessary marriage documents to ensure that everything goes off without a hitch. A free Sandals Resorts wedding also includes a picturesque wedding location, pre-recorded music for your ceremony, and a complimentary wedding photo.
The cocktail reception includes premium cocktails, sparkling wine, and hors d'oeuvres for all of your guests, as well as signature bride and groom cocktails made to your personal taste. The free package additionally comes with a two-tiered white fondant wedding cake and an exclusive, full-service wedding and honeymoon registry.
Wedding Customizations and Enhancements
The Sandals Resorts all-inclusive free wedding package includes many customizations for a personalized wedding that is unique to your love story. Let the resort handle the big picture while you choose the final touches and details to make the day truly extraordinary.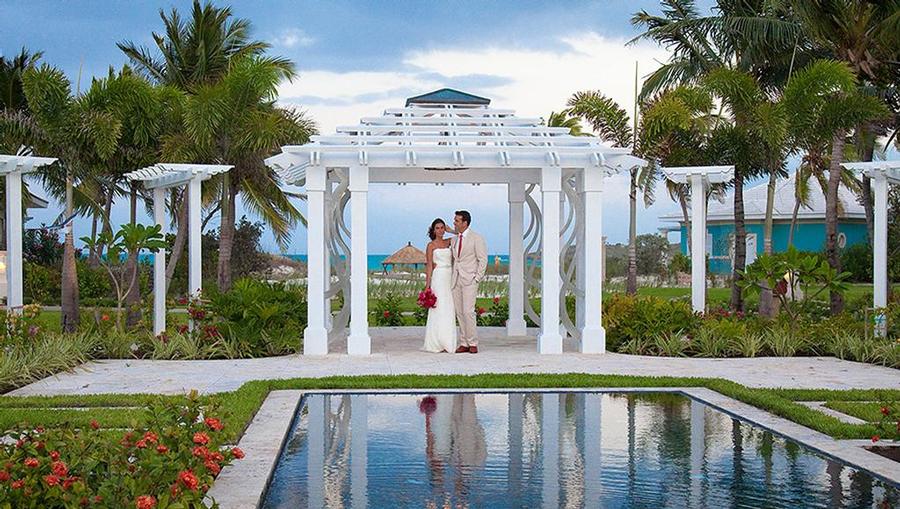 Customizable options include everything from large features like the ceremony structure and florals to smaller details like the look of the placemats, chair caps, tea lights, draping, and more.
Even more wedding enhancements are available for couples who book a longer stay at Sandals Resorts. If you stay seven nights or more, you will receive up to $1,500 in premium perks, including room upgrades, photography package credits, videography package credits, and even a scuba experience. The more guests you bring, the more bells and whistles will be available. You will also be given the option to choose exactly the perks you prefer.
Gorgeous Destination Wedding Venues
Location is key when it comes to the best destination weddings. Sandals Resorts operates 16 resorts on the Caribbean islands of Barbados, Jamaica, Antigua, Saint Lucia, Grenada, and the Bahamas. Each location sits on a stunning beach and provides a spectacular natural backdrop for your special day. Depending on the location, you can also choose from a selection of incredible and unique venues.
Every Sandals Resorts location offers a beautiful beachfront wedding on pristine white sand and in front of the sparkling blue Caribbean Sea, and most locations also feature a gazebo venue where you can express your love underneath the blooms of a tropical garden.
Some venues are exclusive to one location, like a sky terrace featuring a rooftop pool at Royal Barbados and an intimate wedding chapel at Montego Bay. Other venue options include an over-the-water gazebo with panoramic views, an over-the-water wedding chapel with a glass floor aisle, an idyllic oceanfront gazebo nestled on the beach, and a European garden wedding.
All-Inclusive Free Honeymoon Packages
The honeymoon is an essential part of your wedding plans. Complete your dream wedding with an effortlessly romantic honeymoon that you and your new spouse can enjoy following the celebration. Sandals Resorts takes the stress and worry out of coming up with honeymoon ideas so that the two of you can step right into luxurious relaxation after your big day. The honeymoon experience is included as part of the all-inclusive free wedding package.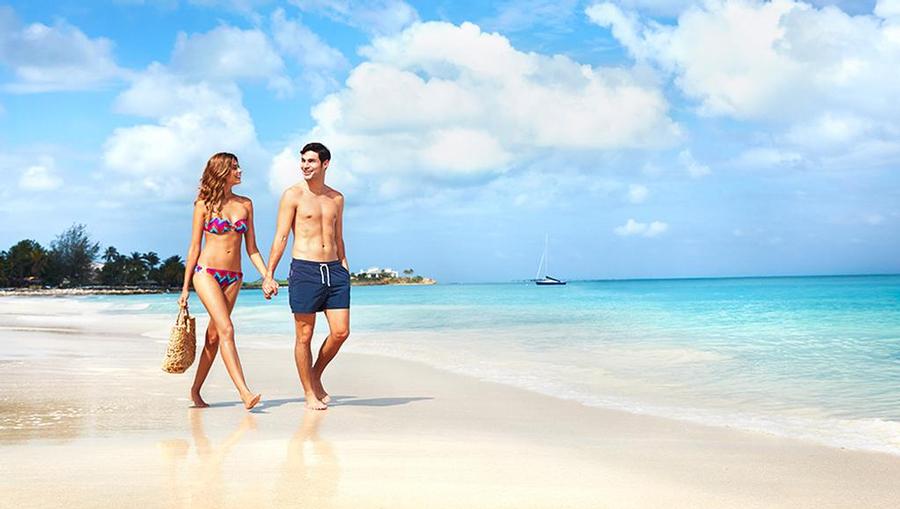 On the very first night of your honeymoon, you will be treated to a special turndown service that includes flower petals on your bed and a chilled bottle of sparkling wine. Wake up the following morning to a decadent honeymoon breakfast in bed complete with mimosa and gorgeous fresh flowers. Sandals Resorts' honeymoon packages also include a honeymoon dinner with complimentary sparkling wine and white-glove service at one of your resort's many specialty gourmet restaurants.
A Vacation for Your Wedding Guests
One of the best things about destination weddings is that they are also a vacation for your family and friends. At Sandals Resorts, the wedding guests who come to celebrate your love will get to experience a luxury tropical escape. The all-inclusive experience will help ensure that everyone has a great time. Plus, you can design the perfect itinerary that includes spending time with your guests and getting in some romantic alone time with your partner. Remember, the more people that you bring, the more perks and enhancements will be included in your wedding, so don't hesitate to invite all of your nearest and dearest.
Sandals Resorts offers some of the very best destination weddings and honeymoons, making it a truly special experience for you, your partner, and all of your guests. Start your married life in an unforgettable way with a complete wedding and honeymoon package on an incredible island resort.
Check out our featured Sandals Resorts Deal and speak to a Travel Planner in the Avoya Travel NetworkTM today to cash in on exclusives.