Onboard Virgin Voyages, health and wellness at sea are being redefined. Whether you're looking to pamper yourself in a luxurious spa, recharge poolside, or retain your fitness and nutrition goals onboard, the Scarlet Lady will have you longing for more hours in the day to enjoy all the wellbeing offerings available to you.
From our first-hand travels onboard Scarlet Lady, here are our top 4 health and wellness recommendations to enjoy on your next Virgin Voyages sailing.
Contact a Travel Advisor in the Avoya Travel NetworkTM or browse here to see everything Virgin Voyages has to offer for your next vacation.
Tranquil Wellness Spaces
Ease both your mind and body at the many relaxation spaces found onboard. Choose between laying poolside in a relaxing daybed and soaking in the rejuvenating rays of the sun or take a dip in the refreshing pool at the Aquatic Club. However, you choose to relax, the adults-only tranquility of the wellness spaces onboard are one-of-a-kind.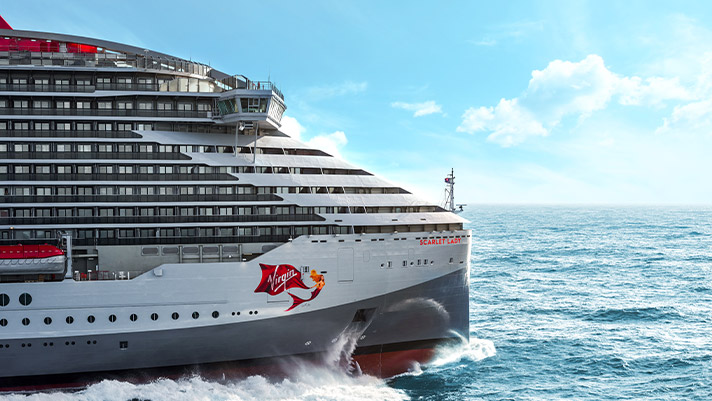 Hop onboard the magnificent Virgin Voyages Scarlet Lady.
Our top tip: After working up a sweat during one of the many onboard fitness opportunities, recharge at the Well-Being Pool, an oversized hot tub that you can soak in to relax your muscles and let your troubles melt away. Plus, you're only a few steps away from the closest bar, so be sure to rehydrate with a delicious smoothie or green juice.
Unique Fitness Opportunities
Whether you're looking to try something new or keep up with your home health regiment, you'll find exactly what you need onboard Scarlet Lady. From guided classes to open-use fitness equipment, the possibilities are endless.
Take a sunrise yoga class to align your chakras or welcome the day with morning meditation at The Perch, Scarlet Lady's serene outdoor space. Nothing says wellness quite like a soothing start to your days at sea.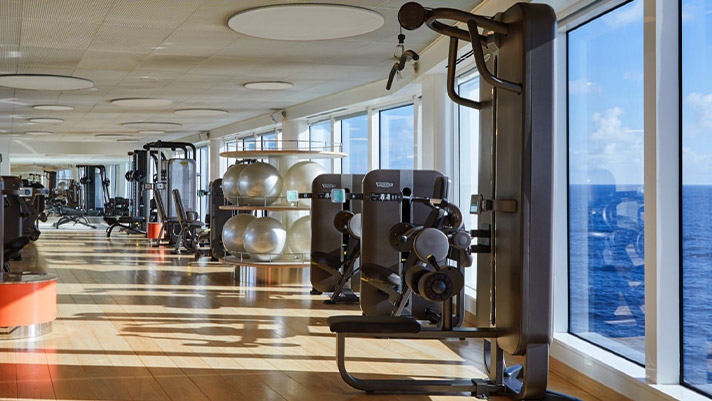 Keep up with your fitness routine while onboard Virgin Voyages.
Looking to get your heart pumping? Try an onboard HIIT workout, spin out with an exciting cycling class, or even travel back in time with an 80s-style fitness class led by onboard entertainers. Sailors of all fitness levels are welcome to attend classes.
Whenever the inspiration strikes, be sure to take advantage of the many open-use fitness facilities, including an outdoor boxing ring, a basketball court, and state-of-the-art Techno Gym™ equipment complete with gorgeous views of the sea traveling by. Also, don't forget to take a lap or two on The Runway, the top-deck jogging course, even if it's just to check out the awesome ocean views.
An Oasis at the Redemption Spa
If spending a day treating yourself to self-care is more your speed, be sure to visit the Redemption Spa. Indulge in facials, hot stone massages, bamboo massages, and more to reveal a newer (and better) version of you.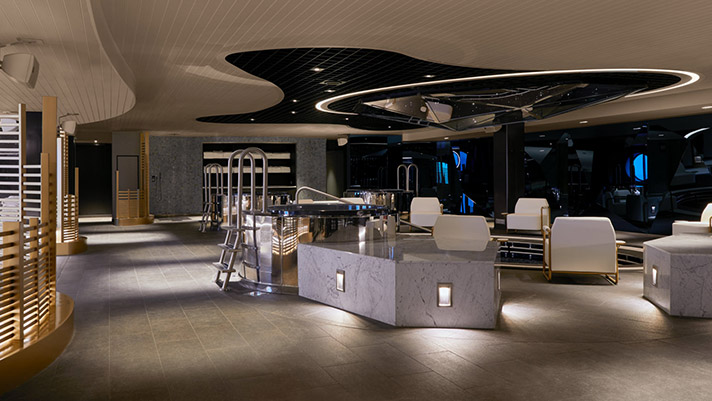 Relax and rejuvenate at the Redemption Spa.
The Thermal Suite is dedicated to providing sailors with a tranquil space to relax and rejuvenate. Customize your perfect self-care treatment with access to a mudroom, steam room, salt room, and sauna, plus hot and cold plunge pools to complement each room. Melt away your troubles on heated marble hammam benches with the sounds of flowing water and the waves rolling by through the windows outside.
Healthy Dining at Sea
There's no need to disrupt your diet and fitness routines for a trip to sea, and that's why on Virgin Voyages you'll have plenty of options onboard to enjoy nutritious food options.
Get your wholesome food fix from The Daily Mix. Located in The Galley, this eatery provides healthy options to mix up your onboard food experience, including yogurt and oatmeal breakfast dishes, and delicious soups and salads for a hearty (but most importantly, healthy) lunch. Don't forget to stop by Gym & Tonic post-workout for made-to-order shakes and fresh or cold-pressed juices.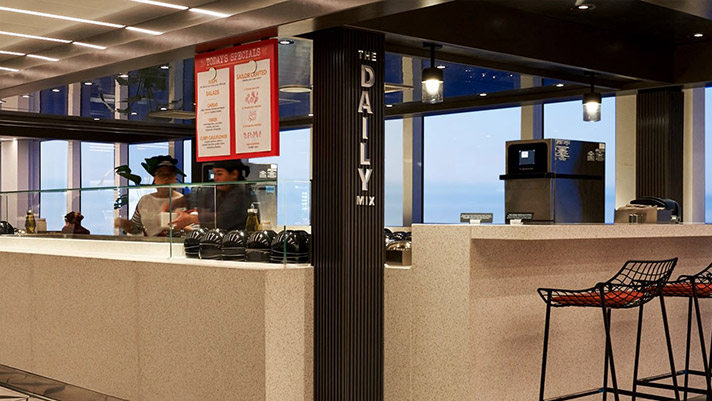 Indulge in a mix of wholesome foods that will keep your health journey on track.
Set sail onboard Scarlet Lady and experience Virgin Voyages' health and wellness like never before. This adults-only ship transforms the way you experience health and wellness, so you can relax onboard and disembark feeling completely rejuvenated.
At Avoya Travel, we work hard to make booking a cruise vacation as seamless as possible so that you can fully immerse yourself in the experience and worry less about the details. Feel free to contact us with any questions or if you would like to move forward in reserving your spot on a dream sailing!
Call the number at the top of this page to be connected with a Travel Advisor in the Avoya Travel NetworkTM who can help you get the best price, navigate COVID-19 restrictions, and answer any questions you have about Virgin Voyages.