Enhance your cruise with the MSC Yacht Club, an upscale experience available on certain vessels in the MSC Cruises fleet. This exclusive membership offers travelers an array of perks and extra amenities that make it worth every penny. Stay in your own separate section with enhanced privacy and additional comforts while still enjoying access to the rest of the entertainment and recreational opportunities onboard.
Currently, the MSC Yacht Club is offered on the MSC Divina, MSC Seaside, MSC Virtuosa, MSC Bellissima, MSC Splendida, MSC Grandiosa, MSC Meraviglia, MSC Seashore, MSC Seascape, MSC Preziosa, MSC Seaview, and MSC Fantasia.
Here are the 8 exclusive benefits that come with choosing this upgraded experience.
Contact a Travel Advisor in the Avoya Travel NetworkTM or browse here to see everything MSC Cruises has to offer for your next vacation.
1. Exclusive Private Areas
The MSC Yacht Club allows you to experience total tranquility in utmost privacy. Since members are separate from the rest of the ship, they get to enjoy exclusive and spacious private venues reserved just for them.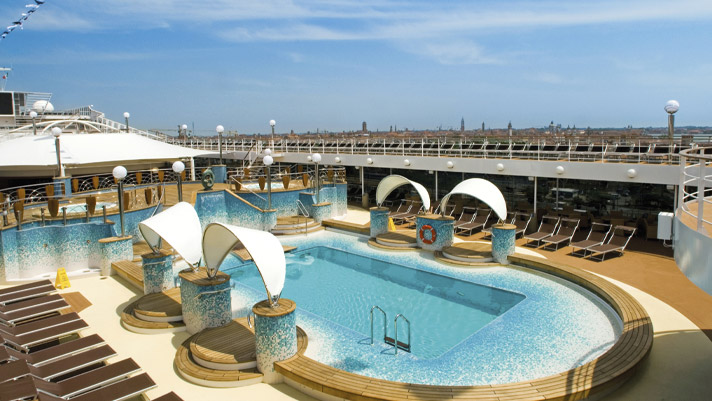 Unwind at the private pool designated for Yacht Club members.
The One Pool Deck, for example, is a sprawling area complete with a private swimming pool, whirlpool baths, an outdoor bar, and a sun deck where you can catch some rays. You can also head up to the Top Sail Lounge for even more relaxation areas and incredible panoramic views.
2. Unparalleled Service
Another benefit of the MSC Yacht Club that you can't pass up is the unparalleled service. Yacht Club members are afforded dedicated priority check-in and check-out. You get priority departure and return for excursion days as well.
Onboard the ship, you will have exclusive access to a concierge as well as 24-hour butler service and 24-hour room service for anything you need. An enhanced drink package, an internet package, and a luggage packing and unpacking service are also included. Plus, enjoy a special welcome treat of chocolate and prosecco in your room.
3. Luxurious Comfort
There is no comparison to the onboard comfort provided to members of the MSC Yacht Club. Each lavishly fitted suite is located on the foredeck of the ship and was designed by renowned architects, ensuring uncompromising luxury and a host of exclusive features.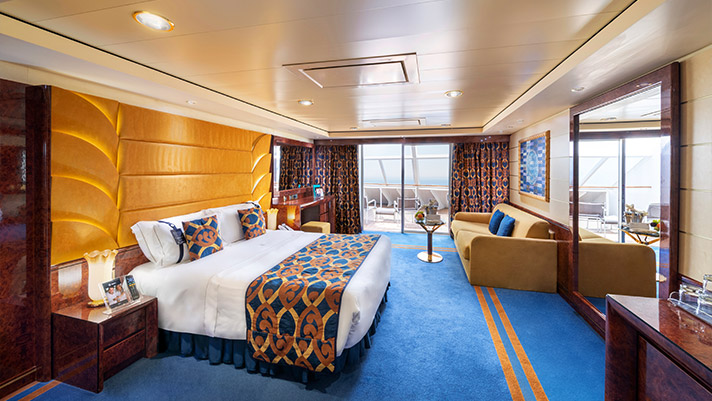 Relax in the lavish and comfortable MSC luxury suite.
The suites come with a memory foam mattress, Egyptian cotton sheets, and your choice of pillows for excellent sleep. Each suite also has a complimentary minibar and a widescreen TV, as well as spectacular views from the windows and private balconies. Relaxation amenities like bathrobes and slippers are provided in-suite as well.
4. Fine Dining
There's nothing better than exquisite fine dining onboard a dreamy cruise at sea. MSC Cruises is known for quality cuisine, and the Yacht Club certainly delivers. There is a fully dedicated and private restaurant in the Yacht Club section that serves up an a la carte menu for breakfast, lunch, and dinner, including a variety of deliciously healthy and extra indulgent options. Buffet snacks are available at the Top Sail Lounge and the pool deck throughout the day as well.
5. Enhanced Wellness
One of the most wonderful parts of any journey with MSC Cruises is the MSC Aurea Spa, where you can stop by to pamper yourself with a traditional Balinese massage or serene aromatherapy treatment.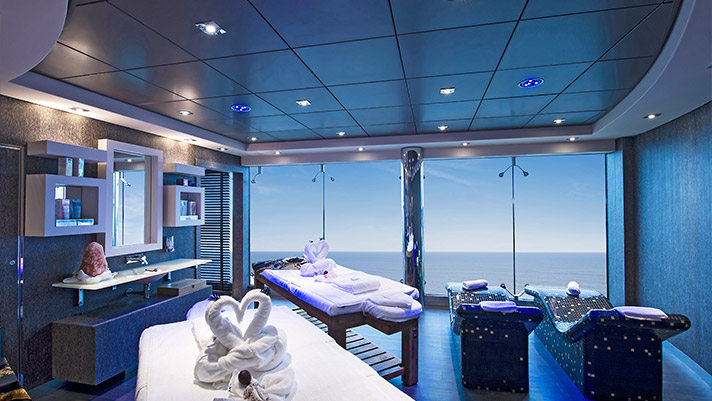 Indulge in some self-pampering at the Aurea Spa onboard MSC Cruises.
The MSC Aurea Spa is a beautiful oasis of relaxation and wellbeing, complete with gorgeous mosaics and wood details. While it is open to all guests, MSC Yacht Club members receive complimentary access to the Thermal Suite, which includes a sauna and a steam room.
6. Activities and Live Entertainment
There is always something to do onboard MSC Cruises, especially if you are a member of the Yacht Club. Every evening, you will be treated to spectacular live entertainment like Las Vegas- and Broadway-style theater shows. Just sit back and relax with a drink in hand and enjoy the performance.
Live entertainment is also available during the day, as are a whole host of other activities designed for adults, children, and even infants. Don't forget that you can also enjoy access to all of the activities and facilities on the whole ship, not only in the Yacht Club section.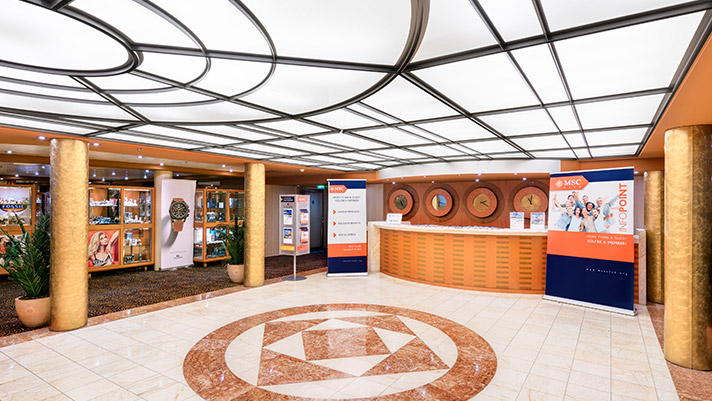 Enjoy a private and exclusive shopping experience with the MSC Yacht Club membership.
In addition to all the privileges of the MSC Yacht Club, members get to take advantage of some unique shopping perks onboard as well. While you have the option of browsing the ship's boutique stores at any time, Yacht Club members can book a private shopping experience. Your personal butler will escort you to the shops and you can browse to your heart's content. You can also request an exclusive jewelry viewing from the comfort of your own suite. All you have to do is ask, and it will be arranged for you.
8. Customized Shore Excursions
MSC Cruises offers a wide range of pre-planned excursions and guided tours to help immerse you in your incredible cruise destinations. As a member of the MSC Yacht Club, you can not only choose from all of the available excursions and tours, but you also have the option to design your own.
MSC butlers and concierge staff will be more than happy to offer you planning advice and help you get everything organized. You will be able to plan an excursion or a tour that is perfectly suited to your interests and to all of your travel party's needs.
MSC Cruises already offers travelers an unforgettable experience and being an MSC Yacht Club member will additionally upgrade your journey with personalized service, exquisite dining, enhanced wellness and relaxation opportunities, and so much more.
Book your MSC Cruises itinerary with Avoya Travel today and secure your spot in the MSC Yacht Club.
Call the number at the top of this page to be connected with a Travel Advisor in the Avoya Travel NetworkTM who can help you get the best price, navigate COVID-19 restrictions, and answer any questions you have about MSC Cruises.