The newest ship by Virgin Voyages, Resilient Lady, emerged as a modern marvel on the high seas in May of 2023. Boasting innovation and sophistication, Resilient Lady seeks to redefine the cruising experience for adult adventurers and leisure seekers alike.
As the third ship in the cruise line's fleet, it sets a new benchmark for what travelers can expect on a cruise, complete with a suite of onboard amenities and a selection of iconic and off-the-beaten-path destinations. Even experienced cruisers can always find a unique itinerary featuring some of the top ports on their bucket list.
Contact a Travel Advisor in the Avoya Travel NetworkTM or browse here to see everything Virgin Voyages has to offer for your next vacation.
Resilient Lady's Remarkable Destinations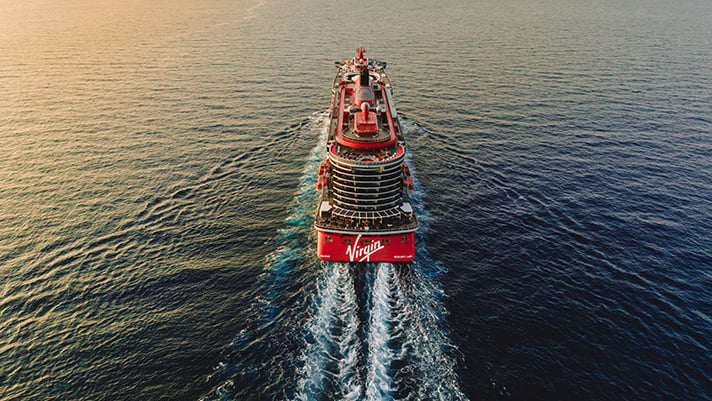 The amazing destinations where Resilient Lady anchors are what truly sets her sailings apart. Regardless of the season, the wide selection of ports and itineraries ensures a myriad of options for all travelers to choose from. Here is a brief overview of some of the ship's incredible destinations.
Resilient Lady's home port is in Athens, Greece, the cradle of Western civilization. It beckons travelers to step onboard right into the heart of a historical destination, inviting them to weave through the storied Athens cityscape and its iconic landmarks. From Athens, the journey unfolds like a timeless odyssey. Santorini, with its caldera views and sun-bleached houses, offers a canvas of awe-inspiring beauty, while the sapphire Aegean waters shimmer under the Grecian sun.
A voyage on Resilient Lady can extend beyond the Hellenic shores. Travelers can opt for itineraries that feature the modern marvel of Dubai, a futuristic oasis rising from the desert sands where you can witness the marriage of ultramodern opulence with the echoes of an old world. Then sail on to Mumbai, where you can explore the spirited streets and take in the grandeur of colonial architecture.
The adventure continues to the pristine beaches of Phuket, Thailand, where the azure waters invite you to unwind or engage in a myriad of water sports. In Kuala Lumpur, the silhouette of the Petronas Towers etches itself against the Malaysian sky, a modern sentry over a city that pulses with vibrant street markets and verdant parks. Meanwhile, Benoa, the gateway to Bali, promises an experience drenched in tranquility, spirituality, and natural beauty, ensuring every traveler finds their slice of paradise.
Phuket, Thailand
Finally, travelers can choose itineraries to the land down under and enjoy both famed and secluded ports in Australia and New Zealand. Sydney, with its iconic Opera House and Harbour Bridge, offers an urban adventure while retaining the charm of nearby golden beaches and a bustling harbor life. Melbourne, a city known for its labyrinthine laneways and dynamic arts scene, is a cultural playground for any cruiser. Tauranga, New Zealand, also stands out as a coastal haven, inviting guests to experience the harmonious blend of urban flair and breathtaking natural landscapes.
This versatility in itineraries guarantees that Resilient Lady provides an uncharted experience each time. The ship specializes in voyages that capture the essence of each destination's culture, cuisine, and character, promising a fresh perspective with every cruise.
Discover What Sets Resilient Lady Apart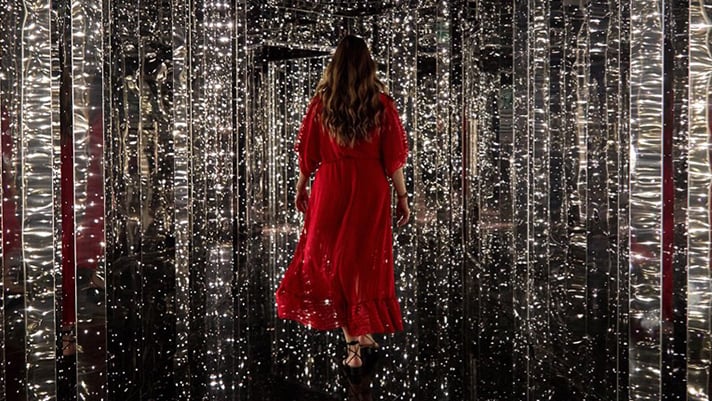 The Manor onboard Resilient Lady
Aside from its array of bucket-list-worthy port offerings, Resilient Lady makes a splash with its cutting-edge design and array of onboard experiences. From wellness retreats and almost unlimited dining options to five brand-new shows and tranquil spaces, the ship offers something for every traveler. The vessel's interiors exude an air of relaxed luxury, making it a floating sanctuary that effortlessly combines rest with recreation.
Another unique aspect of Virgin Voyages is that they cater to an adult-centric audience. With an age restriction that welcomes sailors who are 18 and over, Resilient Lady promises an environment that's both sophisticated and lively. The ship eschews the traditional family-oriented activities for spaces like The Manor, The Red Room, and The Dock that encourage adult camaraderie, intimate conversations, and personal rejuvenation.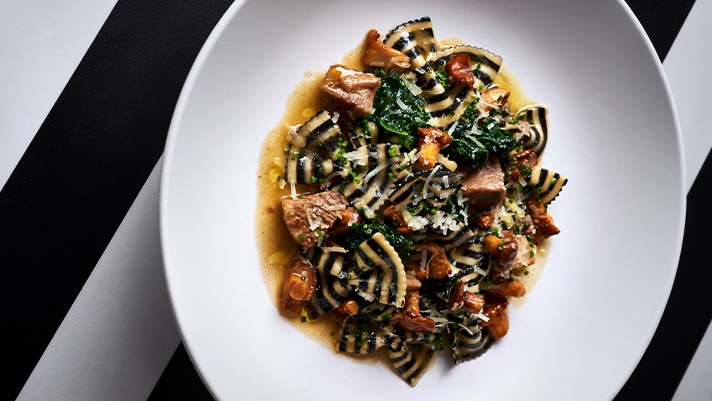 Enjoy a tantalizing meal at Razzle Dazzle
Dining onboard Resilient Lady is an experience in and of itself. Free from the restrictions of pre-assigned seating and dining times, cruisers enjoy a level of flexibility rarely seen on other cruise lines. With more than 20 eateries onboard, the culinary journey is as expansive as the seas it sails. From experimental eateries to food halls, intimate bistros, and upscale restaurants featuring menus by Michelin-starred chefs, the focus is on fresh, globally inspired, and meticulously prepared dishes. The most anticipated restaurant, Razzle Dazzle, features vegetarian-forward dishes but offers plenty for meat eaters as well.
The atmosphere on Resilient Lady leans towards the relaxed and playful. Travelers are encouraged to dress comfortably, most opting for casual wear during the day and something a little more polished at night. Entertainment is bold and contemporary, echoing Virgin's brand ethos of fun and innovation. A roster of DJs, pop-up performances, and unexpected entertainment keeps the energy high, while the wellness programs ensure that relaxation and self-care are never an afterthought.
Find the Perfect Resilient Lady Itinerary
If a cruise onboard Resilient Lady sounds like the vacation you've been dreaming of, Avoya Travel can help you start planning today. Our Independent Travel Advisors are ready to ensure you get to visit your top bucket list destinations in style and at an incredible value.
Whether it's a quick 2-night Australia cruise, a 14-night South Pacific cruise, or something in between, Virgin Voyages' Resilient Lady is ready to welcome you onboard for an unforgettable escape.
Call the number at the top of this page to be connected with a Travel Advisor in the Avoya Travel NetworkTM who can help you get the best price and answer any questions you have about Virgin Voyages.