9-minute read | December 2020
Club Med Punta Cana has recently reopened its doors with new hygiene and safety protocols to ensure that you have total peace of mind during your vacation. Contact a vacation expert in the Avoya Travel Network to learn more about Club Med's new COVID-19 protocols.
Great Deal: Up to 45% off Club Med All-Inclusive Resorts in Florida, Mexico, and the Caribbean including Club Med Punta Cana!
Our editors here at Avoya Travel had the opportunity to spend a day at Club Med Punta Cana and we're sharing our first-hand experience on what we loved about the atmosphere, restaurants, must-try activities, and helpful tips for those looking to stay at an all-inclusive resort in the Dominican Republic.
Top travel items to get before your Punta Cana trip:
Club Med is a top Resorts in Punta Cana
Picture this, it's 80 degrees, the sun is glowing, you just finished a delicious breakfast with an ocean-front view and now your hardest decision is relaxing at the beach or sipping on a refreshing cocktail poolside.
This is what staying at Club Med Punta Cana is all about. It's a vacation free from the stresses of 'budgeting-while-on-vacation' because many of your expenses are included in the cost of your initial fare!
What's included at Club Med Punta Cana?
You can look forward to unlimited meals at any of the three restaurants, alcoholic and non-alcoholic drinks at the restaurants and select bars, and scheduled activities available on-site at no additional cost.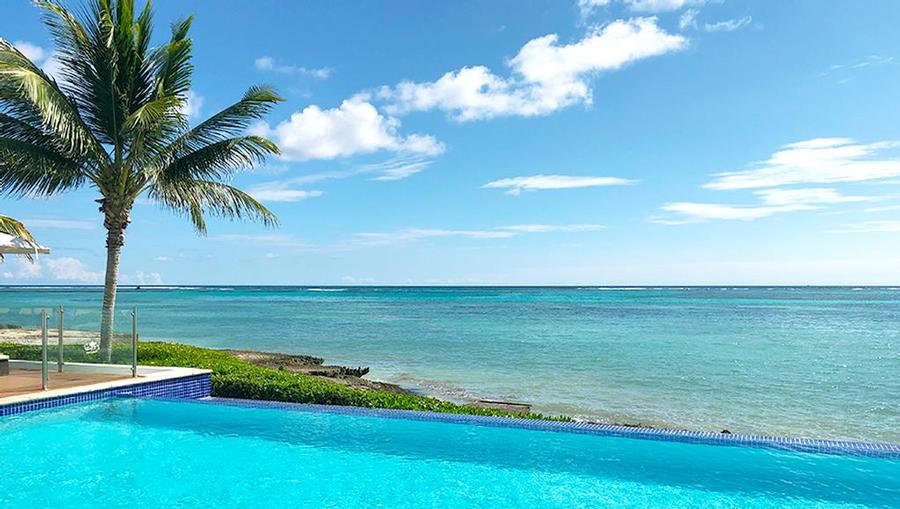 Your days and evenings will be filled with a plethora of options for guests of all ages. You might not even want to explore outside of the resort because everything you could imagine is available at your fingertips and within proximity.
Here are some of the venues and activities that we loved…
Favorite Food and Drink Finds
Nothing quite starts vacation off right like a great meal! It was recommended by our GO, Chloe, to try Hispaniola Restaurant.
A GO is a 'Glentis Organisateur', which means they are the staff members on-site, who make you feel welcome and connected throughout your stay. They are there for your every need and ensure that you're having a great time!
Try Hispaniola Restaurant for Variety and Quality
Hispaniola Restaurant is one of the two buffet style restaurants and offers a wide range of cooking styles that appeals to the most refined and selective palates. You can choose from French cuisine, an expansive salad bar, pizza, and locally-inspired dishes and fresh seafood prepared in every way possible.
If you're a seafood lover, we highly recommend trying the ceviche and any fish of your choice prepared in front of your eyes, BBQ style. When you're ready to indulge in some sweets, you can choose from freshly baked pastries, tropical fruits, or gelato. The guava gelato was to die for!
Not only will you want to help yourself to seconds at Hispaniola Restaurant, you won't help but feel mesmerized by the stunning ocean views in front of you.
Try Indigo Restaurant for Date Night
If you're looking for an ideal restaurant for a date, we recommend Indigo Restaurant which offers a la carte menu options and sit-down service.
There are Great Bars to Choose From
Call a travel expert in the Avoya Travel Network who can help you find out exactly what bars and restaurants at Club Med Punta Cana have been affected by COVID-19. Each bar offers a different scene and atmosphere.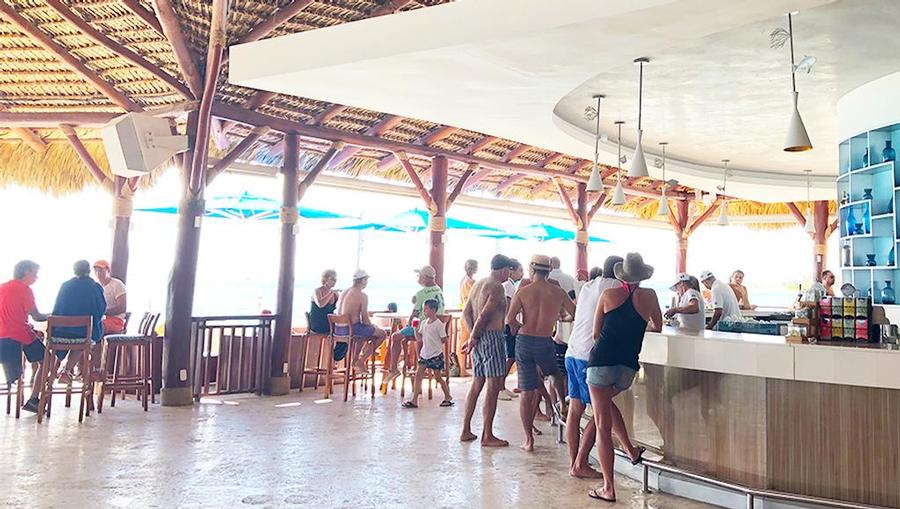 For a true Dominican culture, check out Cielo Bar
You can enjoy a rum cocktail, take a Latin Dance class and dance to top island rhythms.
Whether you're on-site or explore outside of the resort, you'll see that any time is a great time to unwind, let loose and celebrate life, that's what Punta Cana is about!
For a relaxed environment, we recommend Indigo Beach Lounge
Indigo Beach Lounge has amazing ocean views. Another relaxing venue that turned out to be one of our favorite spots is, the Hibiscus Bar & Lounge, where you can have a fresh fruit smoothie or blended cocktail.
They have an adults-only oasis
You won't want to miss out on the mango smoothie or mojito, which is even more enjoyable from the Zen Oasis jacuzzi. Did we mention this is an adults-only area?
Must Try Activities: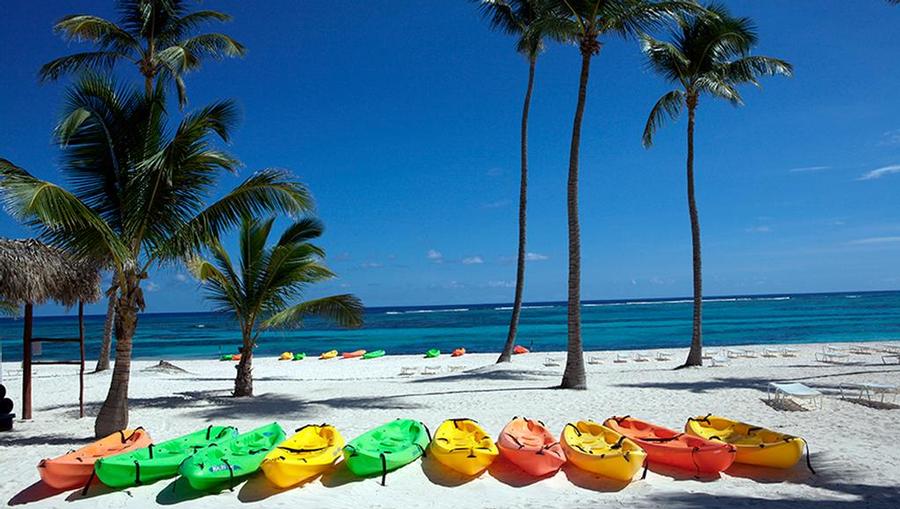 Outdoor Sports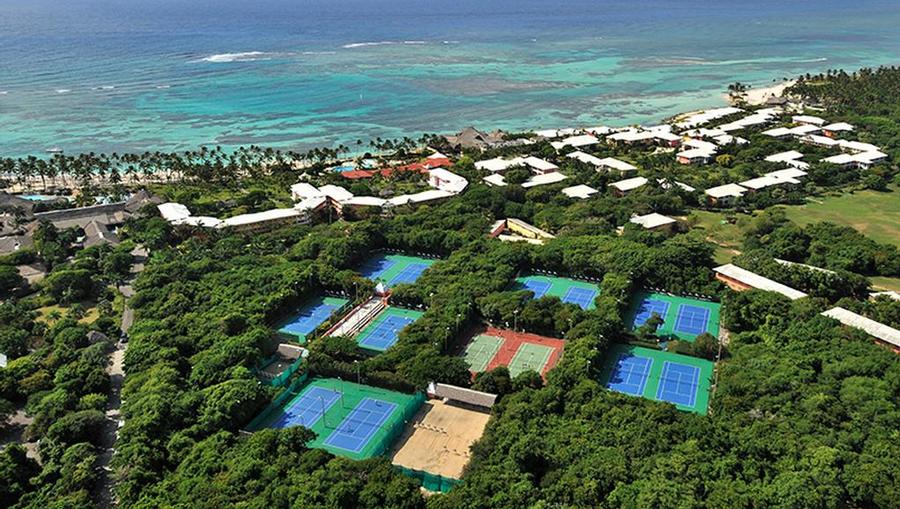 With such beautiful weather all-year round, you'll find it effortless to disconnect and simply enjoy the present moment by the water or on land. You can take a dip at the main pool, enjoy the white-sand beach, or take on a thrilling excursion like kayaking, paddle boarding or snorkeling.
No matter if you're hanging out by the pool or at the ocean, the water is reviving and just as dreamy as seen on calendars.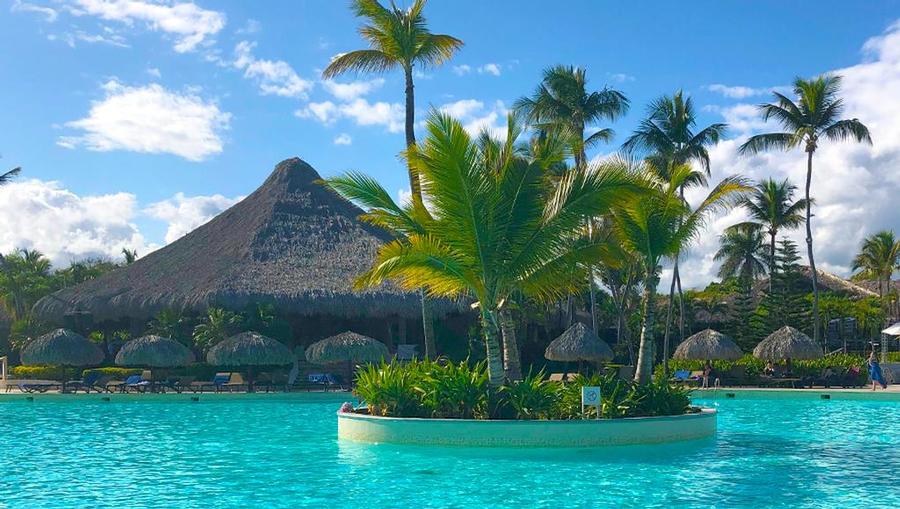 If you need a break from the water, you can participate in any of the fun activities like archery, tennis, or yoga.
Never tried any of them before? That's okay! You can take a complimentary group class or for more one-on-one attention, you can take a private lesson for an additional cost.
A great way to meet new people at the resort is to participate in the sports tournaments like beach volleyball or soccer. Each day, a new schedule of events is posted, and you'll be able to see what shows, classes and games are happening.
As mentioned above, a travel expert in the Avoya Travel Network can help you get all the details about specific events and activities affected by COVID-19. Call the number at the top of this page to be connected!
The Popular CREACTIVE by Cirque du Soleil is Excellent
If you're still looking for more thrills, a popular spot is CREACTIVE by Cirque du Soleil. Both kids and adults are encouraged to feel inspired, move and challenge themselves in new ways. You can try trapeze school or watch the experts perform in a nightly show.

Zen Oasis – One of our favorite places at Club Med Punta Cana!
This had to be one of our favorite places in Club Med Punta Cana! From the moment you enter, you'll immediately feel tranquil vibes and will only hear water flowing – even the blenders at the bar were silent!
This adult-only haven is perfect for catching up on a good book, taking a nap on one of the napping beds, swimming some laps at the pool, or soaking in the jacuzzi.
They offer complimentary childcare at the Kid's Club
Club Med truly makes a family vacation easy, fun, and stress-free! If you're traveling with kids, it'll be hard to tell who's having more fun because there's an activity for everyone and they can enjoy interactive games, arts & crafts, sports, and parties at the Kid's Club at no additional cost.
The Kid's Club is split up by age and is complimentary from 8:45 am to 5:15 pm and 7 to 9 pm. Kids can be as young as 4 months old to 10 years old and if you have older kids or teenagers with you between the ages of 11 to 17, they can meet at Passworld.
Kids and teens will love hanging out at the clubs because the GO's that lead them are all experts in having fun and connecting. Not only will your kids be in good hands, but they will more than likely pick up some new phrases or learn about different cultures because over 20+ nationalities are represented among staff, almost every language imaginable is spoken and guests that visit Club Med are just as diverse!
Babysitting services are also available from 8:30 am to midnight for an additional fee of 2000 Dominican Pesos for 2 hours, which is around $40 USD.
Helpful Tips and FAQs
Ready for your next best vacation? If you're planning a stay at Club Med Punta Cana, here are some helpful tips for frequently asked questions: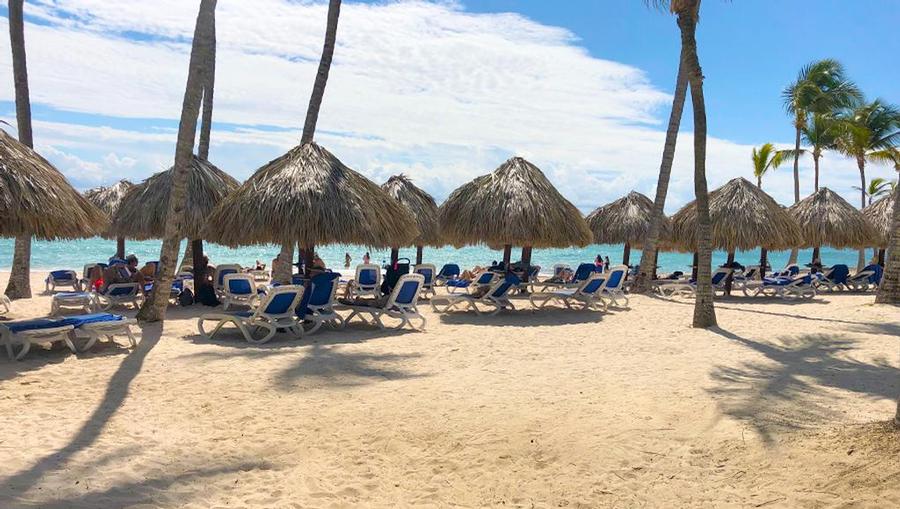 Is Club Med Punta Cana closed because of COVID-19?
No. Club Med Punta Cana has reopened (October 17, 2020) with an updated protocol to ensure a safe and stress-free environment for guests. Call the number at the top of this page to speak to a travel expert in the Avoya Travel Network who can help find answers to any questions you have.
What is not included?
There are a few things available at the resort that are not included in your vacation package like Medical Center services, spa services, and beverages at La Cave Bar. Select areas in the resort do have limited hours of operation for general access or are exclusive to the type of accommodation you book.
How should I dress at the resort?
You're on vacation, so your attire can be just as relaxed. Casual shorts, polos, and light dresses are perfectly suitable. The weather in Punta Cana stays between the mid to higher 80s from December to April and ranges from upper 80s to lower 90s from May to November.
Is there Wi-Fi at the resort?
Wi-Fi is free to use on-site and we recommend downloading the 'Club Med Resorts' App so that you can access a digital map of the resort and see the schedule of events.
Is it safe to leave your resort in Punta Cana?
No matter where you travel to, it is always recommended to be mindful of your surroundings, however, since Punta Cana is frequented by many tourists, it is generally very safe to explore outside of the resort.
Can you get married at Club Med Punta Cana?
Club Med has curated two wedding packages that are available at Punta Cana!
A tip for destination weddings in the Dominican Republic: you and your fiancé will have to complete a few marriage licenses tasks up to 14 days before your trip. A vacation expert in the Avoya Travel Network can easily walk you through the process step-by-step.
Nearby Things to Do in Punta Cana
Club Med Punta Cana is conveniently located, and you can get around easily by taxi to the following:
Approximately 3 miles to Punta Cana International Airport
Approximately 4 miles to Bachata Rosa Restaurant, a restaurant owned by the award-winning singer, songwriter and composer, Juan Luis Guerra
Approximately 9 miles to Coco Bongo, a Vegas style club
Approximately 14 miles to El Cortecito, where you can find great restaurants in front of the beach and is a place recommended by locals
Approximately 25 miles to Macao Beach, a hotspot for locals and tourists to visit
Whether you're looking for a Punta Cana family vacation, a couple's retreat, or a destination wedding, Club Med Punta Cana is designed to deliver relaxing days, fun-filled nights, and rejuvenating amenities for your enjoyment.