River cruises provide a more intimate experience of a country's culture, history, culinary tradition, and natural beauty. They are a particularly popular way to tour all the delights of France.
In fact, due to the high demand for France river cruise itineraries, AmaWaterways moved two more ships to French rivers in 2021. AmaKristina and AmaDante joined AmaLyra and AmaDolce on journeys along the Saône, Rhone, and Seine Rivers to destinations like Paris, Normandy, Bordeaux, Burgundy, and Provence.
Contact a Travel Advisor in the Avoya Travel NetworkTM or browse here to see everything AmaWaterways has to offer for your next vacation.
Why a France River Cruise is a Unique and Unforgettable Experience
River cruises in France offer a chance for you to get up close and personal with the French culture including the magnificent food and wine. France's main rivers flow through some of the country's most famous towns and wine-producing regions, like Bordeaux and Provence.
As you sail through these areas, you'll have a chance to sample famous Merlot, Chardonnay, Cabernet Sauvignon, Champagne, sweet Sauternes, and other iconic wines. Of course, French wine needs to be paired with world-renowned French cuisine.
On AmaWaterways river cruises, you will get to enjoy regionally inspired cuisine made with fresh and local ingredients. Pick a perfectly flaky croissant for breakfast, traditional French onion soup for lunch, and delectable Normandy seafood stew for dinner.
As you indulge in the decadent wine and cuisine that the French culture is known for, an AmaWaterways river cruise also allows you to immerse yourself in the charming towns and beautiful architecture of Europe while only unpacking once.
AmaWaterways AmaLyra along the Seine River
AmaWaterways also offers comfortable river ships with plenty of space for everyone onboard. Of the four ships on the cruise line's current French itineraries, the AmaKristina carries just 156 passengers, while the AmaDante, AmaLyra, and AmaDolce carry 144.
Each ship features spacious staterooms that face out on the water, as well as sprawling public spaces where you can unwind. Other onboard perks include a sundeck for some outdoor relaxation, massage services, a fitness room, and complimentary bicycles you can use for sightseeing.
France River Cruise: Colors of Provence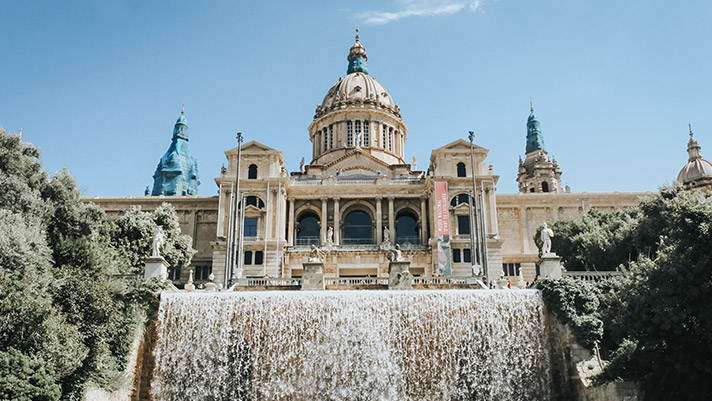 Barcelona, Spain
The Colors of Provence is a 7-night cruise from Avignon to Lyon, with the option of spending three nights in Barcelona and three nights in Paris before and after your cruise. In Avignon, you will have your choice of a walking tour, a bike tour, or a culinary tour.
The cruise then travels through some of the country's legendary vineyards where you can indulge in wine tastings and tour historic towns with medieval castles and fortresses. The final day in Lyon will have a chance to discover the dynamic city on a tour of its most popular historic sites. Reverse itineraries from Lyon to Avignon are also available.
France River Cruise: Essence of Burgundy and Provence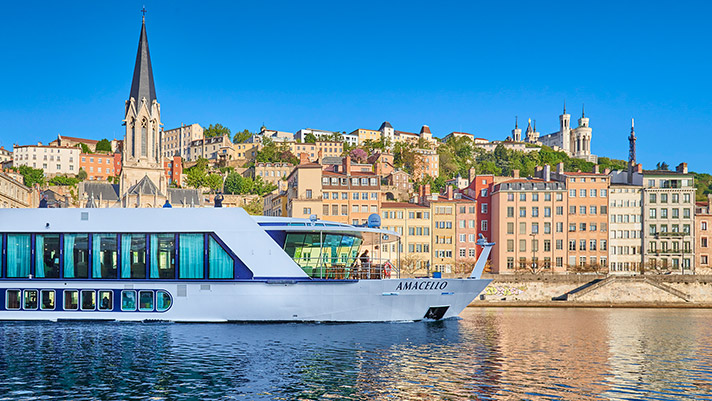 Sail to Lyon, France along the Rhone River
This spectacular cruise distills the essence of France's Burgundy and Provence regions into a 7-night journey on the Rhone and Saône rivers. It features a palate-pleasing, culinary-focused itinerary with a lineup of tours and excursions.
The cruise travels to historic Chalon-sur-Saône with its Romanesque abbey, Lyon (the country's culinary capital), and Avignon and the Papal Palace. Walking tours, bike tours, hikes, and wine tastings are just some of the many activities offered. You can also opt to include three nights in Geneva before the cruise and three nights in Barcelona afterward.
France River Cruise: Impressions of the Seine & Paris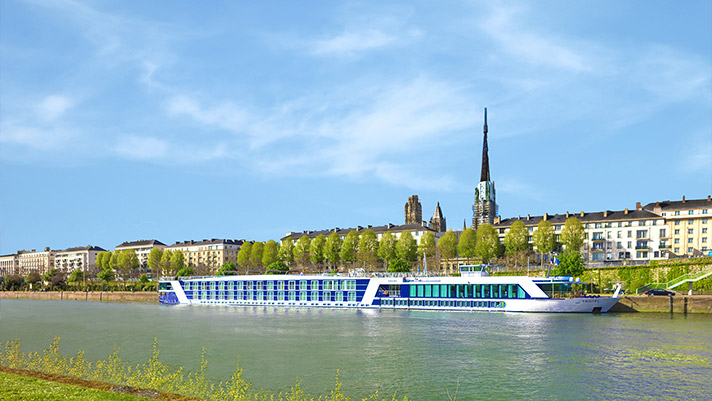 Take in views of Paris, France from your room
This new 7-night itinerary along the Seine River begins in Paris, the "City of Light" (with the option of two extra nights in Paris pre-cruise). Before departing, travelers are offered a walking or bike tour of the city.
The cruise then departs for the countryside, stopping by Monet's home and gardens in Giverny and the historic beaches of Normandy. Along the way, you can indulge in chocolate, cider, and French cheese to your heart's content. The cruise ends in the port city of Le Havre, with the option of spending three more nights in St. Malo and one night in Paris.
France River Cruise: Taste of Bordeaux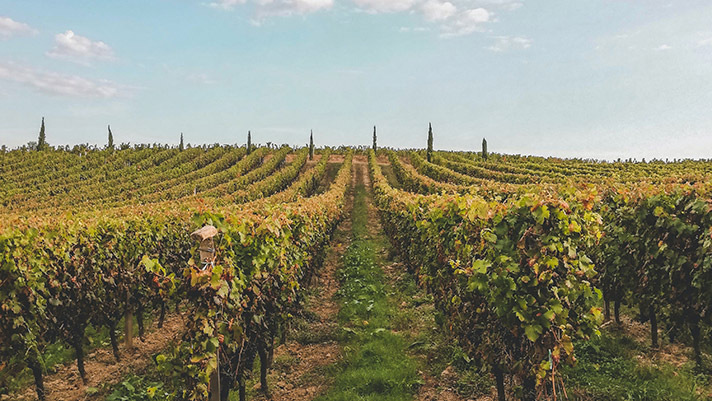 Vineyards in Bordeaux, France
This 7-night river cruise begins in Bordeaux, the wine capital of France. Take in the romantic city with morning scenic cruising and an excursion to the celebrated vineyard of Saint-Émilion for a wine tasting.
Even more wine tastings await as you cruise down the Garonne and Dordogne rivers to Libourne, Blaye, Pauillac, and Cadillac. Scenic hikes, wine estate tours, historic sites, and the region's beautiful architecture can be enjoyed along the way before heading back to Bordeaux. Pre-cruise stays include Bilbao and San Sebastian, with optional Loire Valley and Paris stays after the cruise.
France River Cruise: Paris and Normandy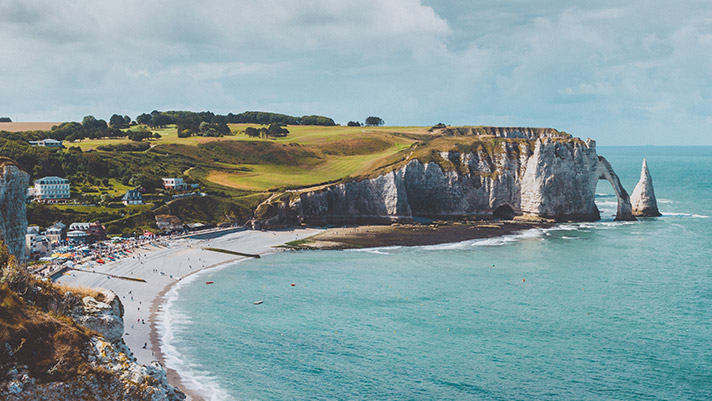 Visit the breathtaking Normandy beaches
Starting and ending in Paris, this 7-night river cruise also comes with the option of staying in the city for two nights before the river journey begins. The first stop is in Les Andelys for a visit to the historic stronghold of Richard the Lionheart. Then, in Le Havre, travelers have a choice of excursions, including a city tour, a countryside drive, and a visit to the Normandy beaches.
The cruise then heads to the medieval town of Rouen, where Joan of Arc was famously martyred. Art lovers will also relish the chance to see important impressionist sites in Vernon and Conflans, like Vincent van Gogh's final home.
If an AmaWaterways France river cruise sounds like your dream come true, then get ready for an unforgettable adventure and discover why there is simply no better way to experience France than onboard an AmaWaterways voyage. Book your journey with Avoya Travel today and take advantage of exclusive savings on your preferred itinerary.
Call the number at the top of this page to be connected with a Travel Advisor in the Avoya Travel NetworkTM who can help you get the best price, navigate COVID-19 restrictions, and answer any questions you have about AmaWaterways.