Travel is a chance to break the everyday routine and embark on new adventures. While air travel can get you to your destination quickly, there's something special about taking your time and seeing the world at a slower pace. That's where train travel comes in.
From comfortable cabins to breathtaking views, Amtrak Vacations' rail journeys offer a unique way to explore the world that's both relaxing and adventurous, especially if you want to experience the natural beauty of America's national parks. It is, after all, an iconic and classic way to travel across this great land.
Contact us to be connected with a Travel Advisor in the Avoya Travel NetworkTM to learn more about your vacation options and how you could save on your Amtrak Vacations rail journey.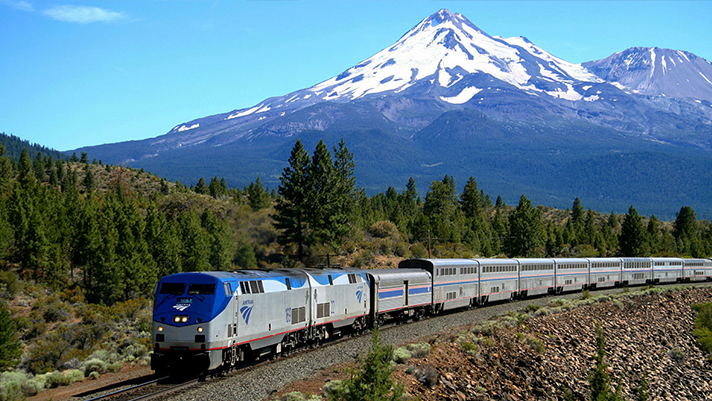 Journey through the nation's most breathtaking scenery.
Why Amtrak Vacations?
America's national parks are some of the most beautiful and awe-inspiring places in the world. From the Grand Canyon to Yellowstone, there are many breathtaking sights to see. Train travel with Amtrak Vacations is one of the best ways to visit national parks because it allows you to sit back and enjoy the journey.
Unlike road trips, which come with the stress of driving and navigating, train travel allows you to immerse yourself fully in the scenery and experience. You'll get to see sites you wouldn't have the opportunity to see by car or plane and develop a new appreciation for these protected swaths of land.
Traveling with Amtrak Vacations is about much more than just getting to your destination. There's ample time to relax, enjoy delicious meals, and reconnect with loved ones who are traveling with you.
Best of all, because Amtrak Vacations has long-standing historical relationships with the country's national parks, its stations are often close to park entrances. They also operate more than 500 stations across the country, and you can board at any one of them on the way to your destination.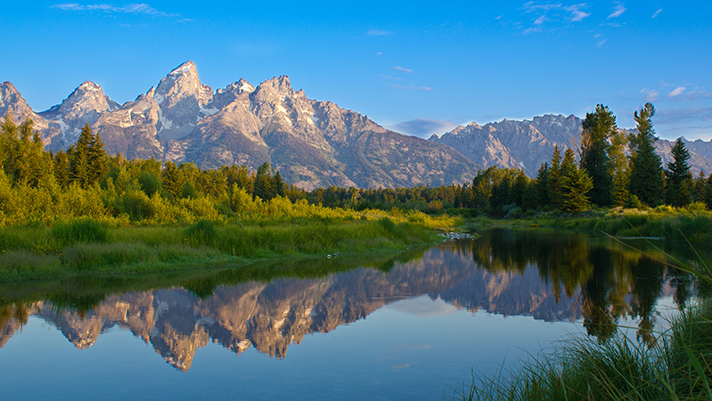 Visit the stunning Grand Teton National Park.
Breathtaking National Parks You Can Visit
Embarking on a train journey is one of the best ways to see some of the United States' most stunning natural landscapes. Amtrak Vacations offers some of the most exciting rail itineraries to iconic national parks across the country. From the rugged beauty of Montana's Glacier National Park to the breathtaking vistas at Grand Canyon National Park in Arizona, these train journeys promise to take you on an unforgettable adventure.
Hop on a train to Grand Teton National Park in Wyoming and witness the stunning natural beauty of the Teton Range, Jenny Lake, and other top attractions. Or take a scenic rail journey to Yosemite National Park in California to see the iconic rock formation known as Half Dome and the waterfalls of Yosemite Valley.
Those who love desert landscapes will enjoy train travel to Arches National Park and Canyonlands National Park in Utah. You'll see incredible natural stone arches and other stunning formations that take your breath away.
Witness the magnificent geyser, Old Faithful, at Yellowstone.
Alternatively, head to Death Valley National Park in California to explore the unique desert landscapes, like Badwater Basin and Artist's Palette, in the lowest national park in the country.
Those who prefer to see the lush beauty of the Pacific Northwest can opt instead for a train journey to Mount Rainier or Olympic National Parks in Washington. You'll witness stunning landscapes such as Hurricane Ridge, Hoh Rainforest, and the beautiful coastline.
Other incredible Amtrak Vacations train destinations include Yellowstone National Park and Old Faithful, Utah's Zion National Park and Bryce Canyon National Park in red rock country, or the gorgeous peaks of mountainous parks like Rocky Mountain National Park in Colorado and Great Smoky Mountains National Park in Tennessee.
Discover More with Multiple-Stop Rail Vacations
Experience the beauty of multiple national parks in one unforgettable trip. Whether you want to spend more time in a few select parks or explore up to 12 in one trip, Amtrak Vacations has the perfect itinerary for you.
Embark on an epic 12-park journey with the Grand National Parks of America tour, including iconic destinations like Yellowstone, Yosemite, and the Grand Canyon. For a more focused adventure, the Grand Tetons and Yellowstone Rail Journey offer a chance to explore two of America's grandest national parks, while the Grand National Parks of the Southwest tour allows you to discover the unique geography of five national parks in Utah.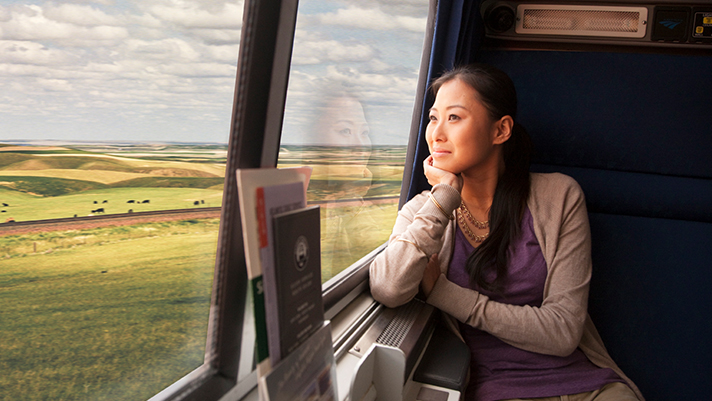 Experience awe-inspiring beauty from the comfort of a private Roomette.
Another reason why Amtrak Vacations is one of the best ways to visit national parks is the variety of onboard accommodations, making it easy to pick the best cabin for your train travel party.
First is the Roomette, a private cabin with two comfortable seats that convert into bunk beds. For more spacious accommodations, consider the Bedroom, which features a sofa and an armchair during the day and two beds at night.
Traveling with children? Family Bedrooms can accommodate up to four passengers, with two comfortable benches that convert to beds and two upper bunks that fold down. Amtrak trains also offer spacious Accessible Bedrooms with features such as grab bars, lower beds, and accessible restrooms and showers.
The Bedroom Suite, which combines two adjoining bedrooms, is the largest and most luxurious accommodation available on Amtrak trains. It comes with two sofas by day, four beds by night, and two big picture windows for enjoying the passing scenery.
Ready for Your Train Adventure?
America's national parks are calling, and Avoya Travel's Independent Travel Advisors are here to help you plan the getaway of your dreams aboard an Amtrak Vacations rail journey. Better yet, we will help you get the best value for your chosen itinerary, whether you want to visit one beautiful park or several.
Call the number at the top of this page to be connected with a Travel Advisor in the Avoya Travel NetworkTM who can help you get the best price and answer any questions you have about booking your Amtrak Vacations rail journey.