After a three-year renovation, Sandals Royal Bahamian resort is back and ready to bring the wow factor to your stay, ensuring that you experience the perfect honeymoon.
At this reimagined, adults-only resort in Nassau, Bahamas, couples can take in picture-perfect views of the turquoise sea, lounge on the sandy beach, and enjoy all the amenities and activities that the Sandals experience is known for.
Contact a Travel Advisor in the Avoya Travel NetworkTM or browse here to see everything Sandals Resorts has to offer for your next vacation.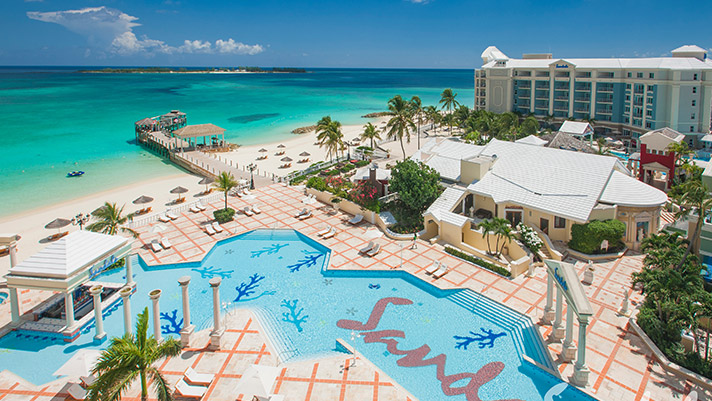 Enjoy the royal treatment upon arrival with impeccable service from start to end. For couples arriving earlier than check-in time, you can enjoy the Breakaway where you'll be treated to music from a Bahamian musician, a refreshingly cool, scented towel, and a hostess who will show you to the relaxation lounge.
From there, you are welcome to change into more comfortable attire, take a dip in the pool, or enjoy a cocktail while check in is handled for you by a staff member.
Dreamy Rooms and Suites
Sandals Royal Bahamian boasts over 200 renovated East Bay and West Bay rooms and suites, with a range of room types and options available. The all-new Crystal Lagoon swim-up suites allow you to step from your room right into a pool located off a zero-entry platform on your patio.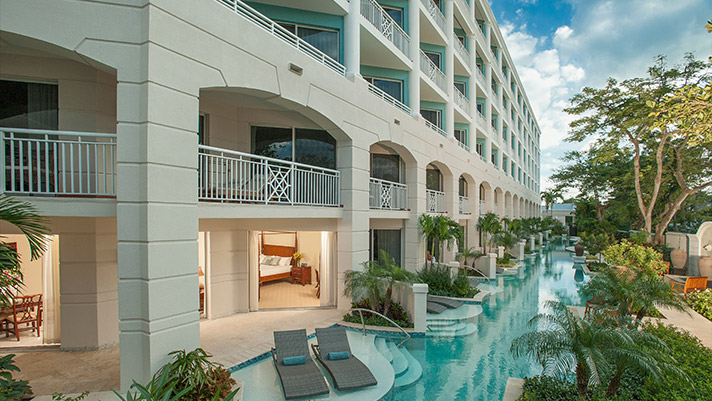 Book your ultimate honeymoon stay in one of the renovated Crystal Lagoon swim-up suites.
The colorfully designed Island Village boasts standalone Butler Villa Suites, so you can enjoy ultimate privacy on your romantic getaway from this secluded spot. Each suite has a private pool and an outdoor Tranquility Soaking Tub™.
For couples in newlywed bliss, Love Nest Butler Suites™ are made for perfect honeymoons. Here you'll have spacious accommodations designed with contemporary furnishings and breathtaking views. Enjoy 24-hour room service, a fully stocked minibar, and the attentive service of a personal butler to cater to your every need.
Reimagined Spaces
At the center of Sandals Royal Bahamian resort, you'll find Coconut Grove, a spacious and airy outdoor area.
Dine in casual comfort from one of three new food trucks. Sweets 'n' Tings brings you the perfect pick-me-up with a selection of coffee beverages and tasty treats. At Coco Queen, you'll find a bit of local flavor with their Bahamian fusion fare. Bahama Mamma Mia serves up timeless Italian favorites when you want good food without the fuss of going to a restaurant.
After the sun sets, enjoy live music, relaxing fire pits, and entertainment long into the night.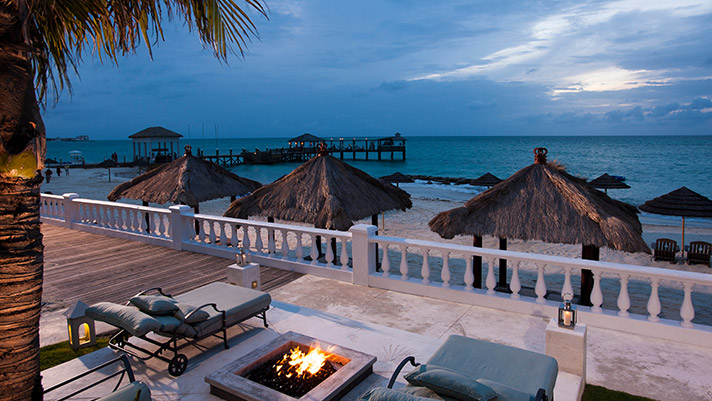 Transition into the evening with a beachside fire as you enjoy a beautiful sunset.
Sandals Barefoot Cay Private Island
Make your honeymoon even better at Sandals Royal Bahamian with an excursion to their private island, Sandals Barefoot Cay. This exclusive island is home to two secluded beaches that are ideal for lounging, swimming, and even snorkeling. Plus, it's only a five-minute journey by boat from the main dock to the island's shore.
Once you arrive on the island, sway in a hammock under the palm trees or cozy up in a private cabana. Soak up the sun in the Beach Club's whirlpool or enjoy a cocktail from the swim-up bar located next to the lagoon-style pool. When it's time to eat, find fresh seafood fare at the island's very own restaurant, Aralia House. As night falls, the island becomes a lively place for entertainment.
5-Star Global Gourmet™ Experience
Sandals Royal Bahamian resort boasts 10 diverse restaurants, including six new unique dining options. Each eating experience has its own authentic theme and décor.
Experience French cuisine at La Plume or go for classic steak and seafood fare at Butch's Island Chop House. The Queen's Pearl will whisk you away to the atmosphere of a classic British pub that serves up favorites like fish and chips and cottage pie. Kanoo brings out the very best in local flavor with a selection of Pan-Caribbean starters and mains.
Discover inspired takes and traditional sushi concoctions at Soy. Head for something more private at the Aralia House on Sandals Barefoot Cay and enjoy Caribbean-inspired dishes that focus on local, fresh seafood. When you want to unwind with a drink, you'll have eight onsite bars to choose from, two of which are swim-up bars.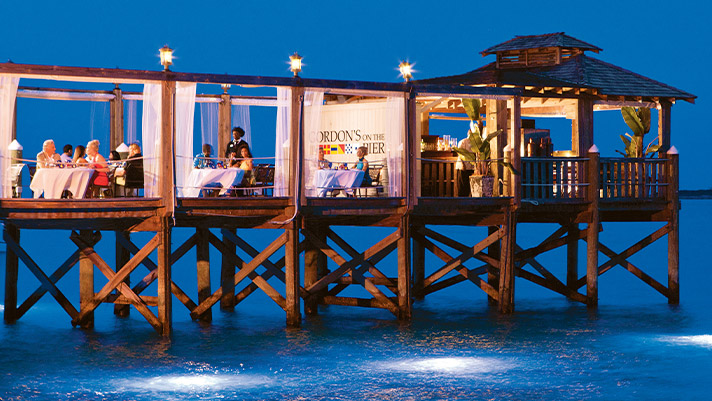 Enjoy a delicious meal at Gordon's on the Pier restaurant.
Among these new and exciting restaurants, all the classic eateries are still available. Dine at Gordon's on the Pier where you can experience 5-star cuisine while enjoying a romantic dinner with panoramic views over the ocean. Indulge in tantalizing Japanese cuisine at the vibrant Kimono's hibachi-style restaurant.
When you want to unwind with a drink, you'll have eight onsite bars to choose from, two of which are swim-up bars.
Activities to Experience Together
On land, try a fitness class, play a little tennis, or schedule a personalized training session. Explore the sea via paddleboard or kayak. Take in entertainment with the piano bar, themed parties, or live shows.
For something extra, you can book an excursion and explore the wonders of the Bahamas just outside of the resort. Couples can explore the Nassau coastline by catamaran, swim with the dolphins at Blue Lagoon Island, or keep the romance in the air with a sunset cruise.
More To Love
The Red Lane© Spa features plenty of treatment options made for couples who want to indulge in a pampered experience. Explore offerings like the Neroli Jasmine Candle Massage or the 'Scents of Love' Couples Massage.
Complete your perfect honeymoon and enjoy a romantic meal under the stars by adding a private candlelight dinner to your booking. You'll be treated to a four-course meal and a selection of Robert Mondavi Twin Oaks© wines to choose from, all served by a private waiter. Meals can be tailored to meet any kind of dietary requirement to ensure that you have a luxurious and unforgettable dinner with your loved one.
Book Your Perfect Honeymoon Today
Book your romantic getaway today with Avoya Travel. A dedicated Independent Travel Advisor will walk you through the booking process, answer any questions you may have, and ensure that your perfect honeymoon at Sandals Royal Bahamian is one to be remembered.
Call the number at the top of this page to be connected with a Travel Advisor in the Avoya Travel NetworkTM who can help you get the best price, navigate COVID-19 restrictions, and answer any questions you have about Sandals Resorts.