A subsidiary of the renowned Sandals Resorts International, Beaches Resorts is the gold standard when it comes to family resort vacations. Nestled in the paradise settings of the Caribbean, these resorts promise a perfect blend of relaxation, adventure, and cherished family moments.
With an unbeatable combination of sun, sand, and entertainment, Beaches ensures something for everyone to enjoy and a host of modern amenities that will keep you comfortable over the course of your stay. From babies to grandparents, there's a slice of paradise meticulously tailored to each family member's desires.
Here's everything you should know to plan your next great family resort getaway.
Contact a Travel Advisor in the Avoya Travel NetworkTM or browse here to see everything Beaches Resorts have to offer for your next vacation.
Three Incredible Resorts to Choose From
Beaches Resorts offers not one but three different stunning Caribbean properties to choose from, each with its own distinct flavor and charms.
Beaches Turks & Caicos Resort
Situated on the world-renowned Grace Bay, Beaches Turks & Caicos is the epitome of luxury and pristine natural beauty. It stretches across a breathtaking 12-mile ribbon of beach and showcases a harmonious blend of distinct architecture inspired by Italy, France, the Caribbean, and Key West.
Beyond its awe-inspiring beachfront, the resort offers a plethora of amenities: opulent accommodations, diverse dining experiences spanning global cuisines, exhilarating water parks, and immersive activities for all age groups. With its unparalleled elegance and extensive facilities, Beaches Turks & Caicos truly stands as the shining jewel of the Turks & Caicos islands.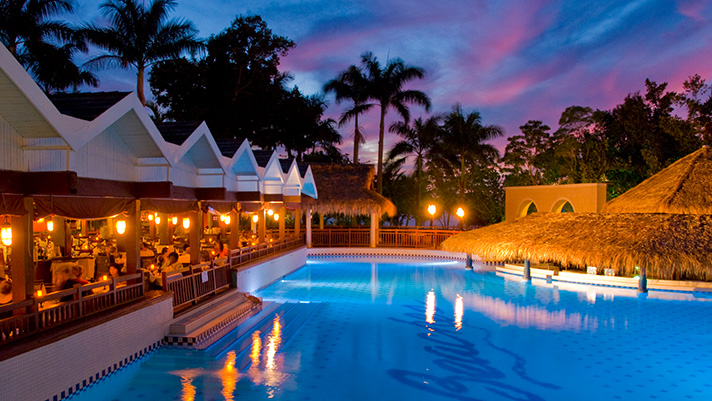 Beaches Negril Resort
Nestled against the backdrop of Jamaica's iconic Seven-Mile Beach, Beaches Negril offers a tranquil resort experience that's authentically Caribbean. Amid lush palm groves and serene waters, the resort radiates an ambiance that captures the island's soul and free spirit. Expansive pools shimmer under the tropical sun and a myriad of dining options cater to every palate.
Further enhancing its allure, Beaches Negril boasts state-of-the-art spa facilities where guests can indulge in rejuvenating treatments inspired by the island's natural bounty. Additionally, the resort offers nightly entertainment, showcasing local music and dance, allowing visitors to immerse themselves in the rich cultural tapestry of Jamaica.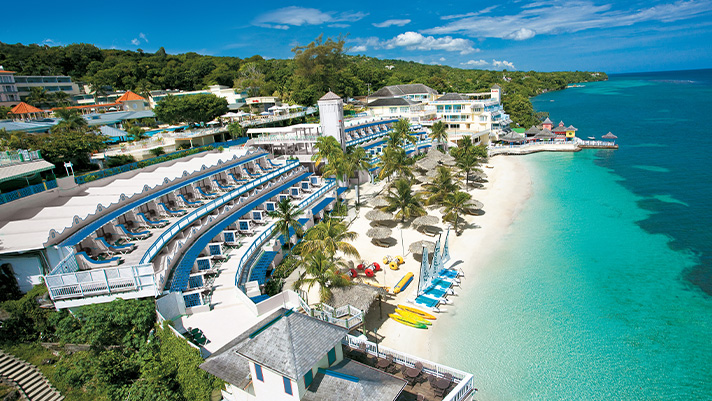 Beaches Ocho Rios
Perched along the picturesque north coast of Jamaica, Beaches Ocho Rios is a haven for those seeking an adventure-centric retreat. Offering panoramic views of the azure Caribbean Sea, the resort boasts an impressive array of activities ranging from serene golfing amidst tropical landscapes to adrenaline-packed water sports. The waterpark, with its gigantic waterslides and splash zones, stands as a beacon for thrill-seekers of all ages.
While Beaches Ocho Rios retains the brand's signature luxury and opulence, it goes a step further by intertwining unique local experiences, curating a travel experience that's both relaxing and adventurous.
An Unforgettable Family Resort Experience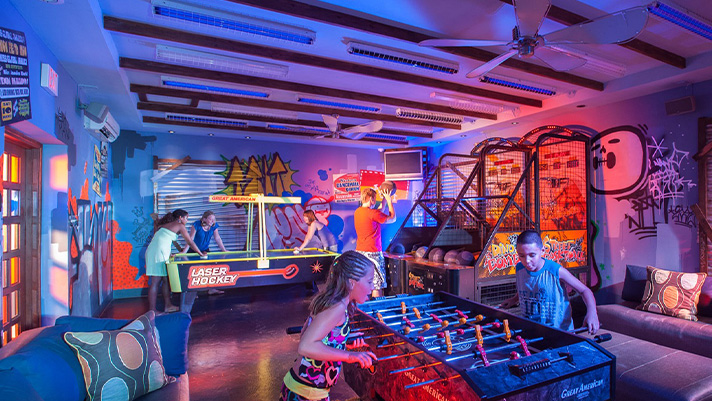 Port Royal Arcade at Beaches Resorts
Beaches Resorts seeks to make travel as easy as possible, even for those traveling with infants. The resort offers professionally certified nannies and provides an infant-to-staff ratio of 3:1, so you can rest easy knowing your little one is in good hands. An equally excellent staff ratio of 5:1 for toddlers makes it easy for nannies to introduce curious tots to a world of fun and learning at various kids' camps. These camps, more than just play zones, provide endless entertainment and learning experiences.
Older children can satiate their thirst for adventure at the thrilling Pirate Island Water Parks. Here, amid the roar of water and cheerful screams, they can conquer gigantic waterslides, explore kid-tailored pools, or simply laze around in meandering rivers. Alternatively, your adventurer can check out the junior golf club and kids' scuba programs.
Teens and tweens, with their ever-evolving interests, are never at a loss for engagement at Beaches Resorts. They can immerse themselves in virtual worlds at the Xbox Play Lounge or compete in exhilarating games at the Port Royal Arcade. A teens-only beach shack and a tween and teen nightclub give them a taste of independence and let them enjoy their vacation their way.
However, Beaches Resorts isn't just a child's playland, adults can also find their sanctuary. The Red Lane Spa beckons with promises of rejuvenation and relaxation. Here, amid tranquil settings, one can indulge in treatments that revive the soul. Evening hours find many adults savoring the taste of unlimited premium liquors at elegantly designed resort bars, toasting to another day in paradise. Whether you prefer to hang out at the swim-up pool bar or try out some exhilarating water sports, there's something for everyone at Beaches Resorts.
Are Beaches Resorts Vacations All-Inclusive?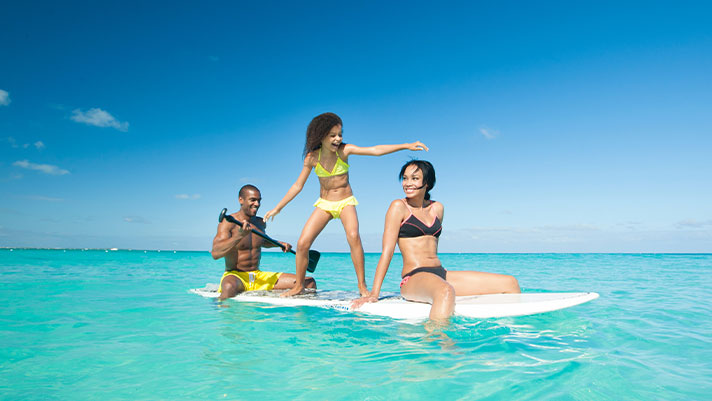 Make new memories with the family!
Absolutely! Beaches Resorts vacations are the ultimate all-inclusive family escapes. Imagine waking up and not having to reach for your wallet for every fun activity or meal. From delicious family dinners at gourmet restaurants to exciting water sports adventures, everything's covered!
Parents can sip on unlimited premium spirits while kids engage in entertaining activities and shows, all fully included as well. Plus, with round-trip airport transfers, your family can start the fun the moment you land. No fuss – just pure, uninterrupted family bonding time under the Caribbean sun. It's every family's dream vacation come true!
Booking Your Dream Family Resort Vacation with Avoya
Beaches Resorts is even more accessible to you and your family through Avoya Travel. Whether you envision sun-kissed moments on sandy shores or engaging family adventures that weave lasting memories, our Independent Travel Advisors are ready to assist in planning and booking your perfect escape.
Plus, by speaking to an Independent Travel Advisor, you can unlock exclusive deals and save on the family resort of your choosing. Don't merely vacation – celebrate togetherness with the expert touch of Avoya Travel.
Call the number at the top of this page to be connected with a Travel Advisor in the Avoya Travel NetworkTM who can help you get the best price, and answer any questions you have about Beaches Resorts.