There's a good reason why Alaska is one of the most popular cruise destinations in the world. With a combination of breathtaking scenery and exciting excursion opportunities, an Alaska cruise is an adventure that you don't want to miss.
If you've dreamt of visiting this beautiful state, then Norwegian Cruise Line is your ticket to experience everything that Alaska has to offer. The cruise line operates five ships that depart for some of the most incredible Alaskan destinations.
You'll get the chance to discover Hubbard Glacier up close, view whales in their natural habitat amongst tons of other wildlife including seals and otters, explore the various ports-of-call and charming seaside towns, plus more!
Contact a Travel Advisor in the Avoya Travel NetworkTM or browse here to see everything Norwegian Cruise Line has to offer for your next vacation.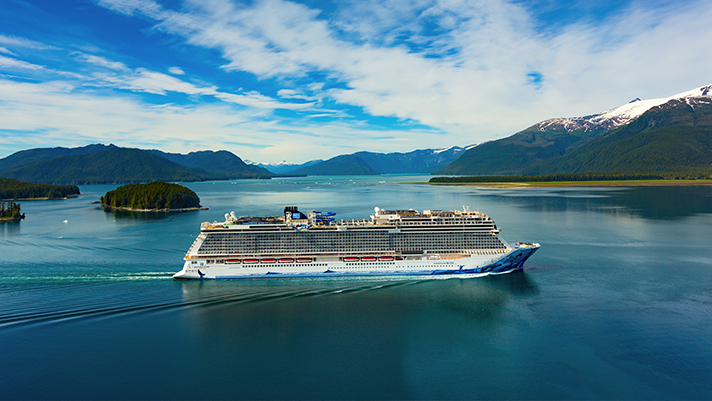 Norwegian Bliss - One of the magnificent ships you can experience cruising to Alaska.
Choose the Alaska Cruise of Your Dreams
Norwegian Cruise Line offers more than 45 cruise vacations to Alaska onboard its fleet of family-friendly ships. Find a cruise offering and length that suits everyone's schedule, from 7-day cruises with all of the major Alaskan highlights to 14-day Cruisetours that will let you experience even more of Alaska's beauty and excitement.
Looking to further your adventure beyond Alaska? Norwegian offers Alaska to Hawaii cruises and transpacific cruises from Japan with even more exciting ports-of-call to explore.
In total, Norwegian Cruise Line cruise itineraries to Alaska depart from five different ports. You can choose to start your journey in Seattle, Vancouver, Seward, Honolulu, and even Tokyo.
Enjoy a stroll on The Waterfront on select Norwegian ships.
Whichever dreamy Alaska cruise you choose, you will be able to take advantage of Norwegian Cruise Line's signature Freestyle Cruising. Travelers can experience the cruise their way, following their own schedule and indulging in their choice of activities.
There is something for guests of all ages to do onboard a Norwegian Cruise Line trip to Alaska, from the ThrillPlex activity zone, great for families with kids, to the ever-popular deck parties for those who want to dance the night away. You'll no doubt also find yourself spending time along The Waterfront, a quarter-mile promenade lined with bars and restaurants.
Visit Amazing Ports-of-Call for Incredible Excursions
What makes an Alaska cruise truly incredible are the ports-of-call that offer beautiful sights and monumental scenery you won't be able to see anywhere else. If there is a star of the show, it has to be Juneau.
This capital city, located in the Alaska panhandle, is your gateway to some of the most popular natural landmarks in the state. Nearby you can discover Glacier Bay National Park, Juneau Icefields, and Tracy Arm Fjord which all offer some of the best glacier-viewing opportunities in the world. Travelers can also go on an excursion to the picturesque Mendenhall Glacier.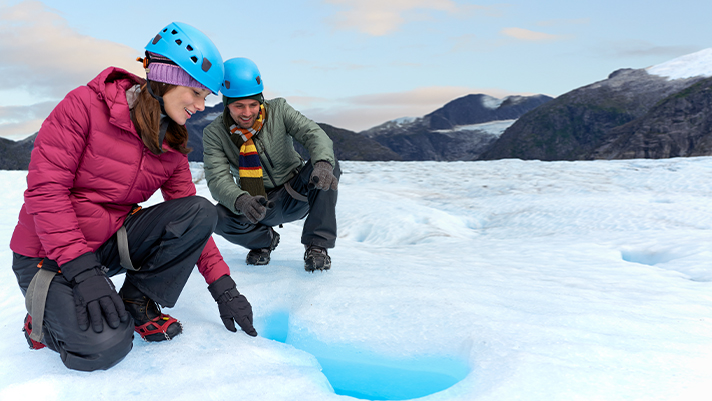 Explore the Juneau Icefields for an unforgettable adventure.
Another port-of-call with plenty of excursions to look forward to is Sitka, an island community surrounded by mountains and home to many of the state's majestic wildlife species, including whales, otters, and brown bears. The animal-themed excursions in Sitka include a Sea Otter & Wildlife Quest to discover Alaska's marine life and a tour of a raptor rehabilitation center.
Even more wildlife excursions await at Icy Strait Point, a privately-owned cruise ship stop created to facilitate tourism in the area. Here, travelers can go whale watching, search for bears, and kayak in the pristine coastal waters.
In Skagway, a historic gold rush town, visitors can travel the White Pass Scenic Railway. In Ketchikan, you can visit the Saxman Native Village and watch an exciting lumberjack competition. Outdoor enthusiasts and adventurers will also want to make sure their cruise includes a stop in Seward, a renowned destination for dog sledding, sea kayaking, biking, fishing, white-water rafting, and more.
Adventure out on a Sea Kayaking excursion in Alaska.
Kodiak Island, with its famous Kodiak bears and spectacular scenery that has earned it the moniker Emerald Isle, also awaits those who are drawn by the beauty of Alaska's land and sea.
Every port-of-call in Alaska is brimming with even more things to do and see, and Norwegian Cruise Line is your access to these amazing destinations.
Experience Even More of Alaska on a Cruisetour
There is so much more of Alaska to discover beyond the magnificent coastline. This is why Norwegian Cruise Line also offers Alaska Cruisetours that let you experience the state by land and by sea.
Cruisetours are operated on Norwegian Bliss, Norwegian Encore, and Norwegian Jewel. Choose from 11-, 12-, 13, or 14-night excursions that combine ocean cruises, river cruises, and land tours for an immersive experience that lets you see more of Alaska than you ever imagined.
Going on an Alaska Cruisetour with Norwegian Cruise Line is a great way to increase your chances of animal sightings, especially as you travel through the rugged countryside on the Alaska Railroad. Every tour is fully escorted by a local Alaskan guide for unparalleled knowledge and insight into your destinations.
A few highlights of Norwegian Cruise Line's Alaska Cruisetours are a tour of the Alaska Wildlife Conservation Center, a tour of an Iditarod Sled Dog Musher's kennel, a halibut and salmon fishing excursion, and gold panning in a historic gold dredge. The action-packed itineraries include many more activities depending on which Cruisetour you sign up for, with each one as unforgettable as the last.
Book Your Alaska Adventure with Confidence
Don't wait to take the Alaska cruise of your dreams. One of Avoya Travel's Independent Travel Advisors can help you find the best Norwegian Cruise Line cruise or Cruisetour to all the Alaskan destinations you want to see at an unbeatable value.
Call the number at the top of this page to be connected with a Travel Advisor in the Avoya Travel NetworkTM who can help you get the best price, navigate COVID-19 restrictions, and answer any questions you have about Norwegian Cruise Line.