Visit Iceland on a 6-day immersive escorted tour with CIE Tours, where you'll experience the wonders of the natural world across Iceland's southern coast. Explore the capital city's sights and sounds, unwind in a heated lagoon, sample traditional Icelandic cuisine, and enjoy the stunning rugged landscape while being guided by one of CIE Tours' exceptional tour directors.
An epic Icelandic adventure awaits! Read on for a sneak peek into the itinerary and what you can experience on a guided tour with CIE Tours.
Contact a Travel Advisor in the Avoya Travel NetworkTM or browse here to see everything CIE Tours has to offer for your next vacation.
Experience the rugged beauty Iceland has to offer.
Taste of Iceland Itinerary
Day One
Your 6-day tour of Iceland begins and ends in Reykjavik, Iceland's capital city. First, take a panoramic tour of the city before heading to the Perlan Observation Deck for impressive 360-degree views of Reykjavik and the mountains beyond. In the evening, you'll gather with your tour group for a welcome drink.
Day Two
On day two, you'll depart Reykjavik and head for the Golden Circle. This popular tourist route covers three of Iceland's most famous natural attractions, including Thingvellir National Park, your first stop. This national park was once home to the Althing, an open-air assembly founded in 930. It's considered one of the oldest parliaments in the world. Then, throw on a swimsuit for a luxurious soak in the Secret Lagoon before lunch at Fridheimar Tomato Farm.
The adventure continues with a stop at the active Strokkur Geyser. This famous geyser erupts about every 10 minutes, providing a spectacular show. Then, it's off to the picturesque Gullfoss Waterfall, which features not one but two awe-inspiring waterfalls. End your day with a much-needed rest at your next hotel located near the Hekla volcano.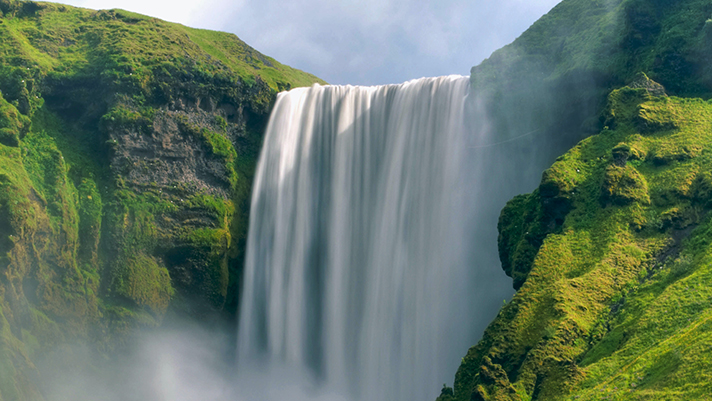 Awe at the magnificent Skogafoss Waterfall.
Day Three
Begin day three with a visit to the LAVA Center, where you'll learn how Iceland's volcanoes have transformed the shape of the island. After, head to the Skogar Fol Museum, which features cultural artifacts and information on Icelandic heritage and traditions. Explore a model turf-house village and discover what early Icelandic life was like.
Later, take a stroll nearby to the impressive Skogafoss Waterfall, one of the largest waterfalls in Iceland with a width of 82 feet and a drop of 200 feet. Visitors may spot a rainbow – or even a double rainbow – when the sun's out. Before the day ends, wander along Reynisfjara's Black Sand Beach and spot sea stacks and basalt columns while learning about the area's local legends
Day Four
On day four, visit the Skaftafell Wilderness Area, home to glaciers, waterfalls, lava fields, and the ice-covered Öræfajökull volcano. Over lunch, take in the impressive views near the Fosshotel Glacier Lagoon, then continue the day with stops at Jökulsárlón Glacier Lagoon and Diamond Beach.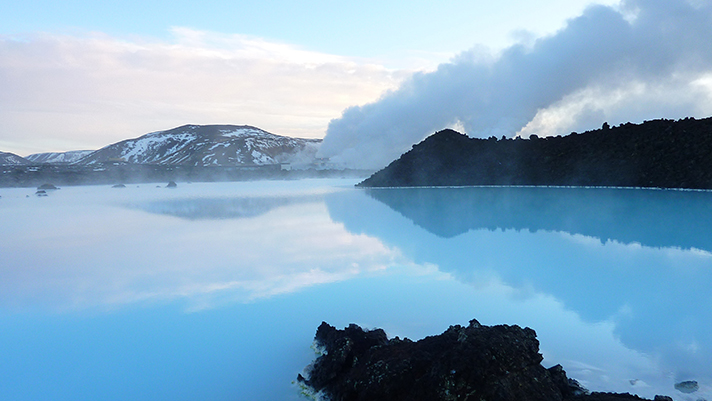 Relax in the warm waters of the Blue Lagoon in Iceland.
Day Five
Come full circle on day five when the tour returns to Reykjavik. En route, stop at the Seljalandsfoss Waterfall, where, weather permitting, visitors can hike behind the roaring waterfall. Once you're back in the capital city, venture to sites you may have missed upon arrival before visiting the popular Blue Lagoon in the evening. Share one final dinner with your fellow travelers in Reykavik.
Day Six
The tour ends on day six after breakfast. It's time to return home and share your incredible travel experience with friends and family.
Why You Should Choose CIE Tours for Your Next Adventure
Founded in Ireland in 1932 as a local tour company, CIE Tours has since expanded their operation to become the largest U.S. tour operator in Ireland and Scotland. In 2018, CIE Tours expanded their destination offerings to include Italy and Iceland.
Discover the active Strokkur Geyser.
The CIE Tours experience includes itineraries that offer a healthy balance of CIE-led activities with ample downtime.
Along the way, CIE Tours handles all the planning and logistics. CIE Tours focuses on bringing guests authentic, immersive experiences. Guests rave about how knowledgeable, professional, and friendly the tour directors and bus drivers are. You'll travel on luxury coaches along the way, ensuring you can rest in comfort between stops.
What's Included With Your CIE Tours Vacation
Daily breakfast and several meals are included, as well as welcome drinks on the first night. Transportation, including buses, shuttles, and ferries, is also covered in the cost of your tour. Send photos and messages back home to family and friends along the way thanks to free Wi-Fi available on the coaches. And no need to worry about entrance fees at main attractions – they're included too.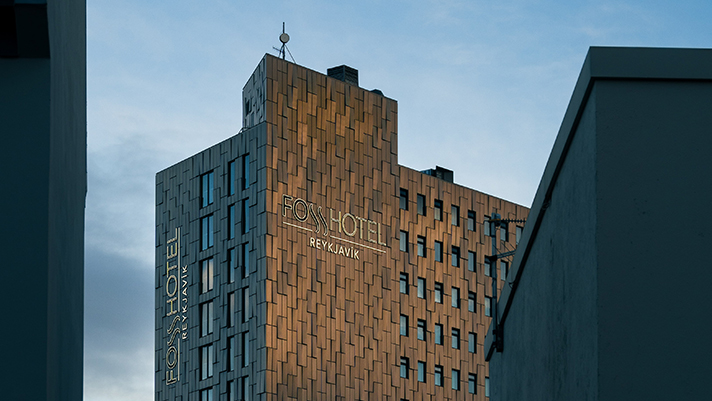 Unwind at the largest hotel in Iceland, Fosshotel Reykjavik.
The Taste of Iceland Couch Tour includes five nights across three hotels. Overnight stays are in Reykjavik, Brjansstadir, and Kalfafell.
Fosshotel Reykjavik is Iceland's largest hotel. It's conveniently located in the business district, making it an easy walk to other city attractions.
Fosshotel Hekla offers impressive views of Mount Hekla. After a day of sightseeing, enjoy traditional Icelandic cuisine from its on-site restaurant and drinks in the lounge.
Fosshotel Nupar, located off Route 1 highway, invites guests to take in the splendor of the natural scenery with panoramic views of the lava fields, glaciers, and mountains of Vatnajokull.
You may also receive a welcome package from CIE Tours that ensures you've got several travel essentials for your tour. This could include a travel backpack, travel adapter, rain poncho, luggage strap and tags, and a documents wallet
Book with Confidence
When you're ready to visit Iceland with CIE Tours, consult one of Avoya Travels' Independent Travel Advisors, who will be happy to guide you through the booking process and ensure you secure the best available deal.
Call the number at the top of this page to be connected with a Travel Advisor in the Avoya Travel NetworkTM who can help you get the best price and answer any questions you have about CIE Tours.