From its early origins as a tour operator in Ireland in 1932, CIE Tours has since expanded to include guided tours across the Emerald Isle and beyond. Discover England and Wales or explore Italy's beauty and charm. Choose from coach tours or small group tours. Or opt for something a little more personal with a private, customizable tour. Rest assured that you're in good hands – guests rave about the tour directors and their wealth of knowledge and friendly demeanor.
Contact a Travel Advisor in the Avoya Travel NetworkTM or browse here to see everything CIE Tours has to offer for your next vacation.
Escape to the Emerald Isle
Tours can range from fast-paced five-day tours to more leisurely 15-day tours. This allows you to choose whether to experience the highlights of Ireland or dive into its enchanting culture with an extended stay. There are a variety of Ireland tours to choose from. Highlights include:
Irish Adventure: Start your 8-day tour in Ireland's capital where you'll take in a panoramic tour of Dublin. From Dublin, head south through the Wicklow Mountains to Waterford where the famed Waterford crystal is made. Then it's off to the Blarney Castle to kiss the "Stone of Eloquence." Take in scenic views along the Ring of Kerry. Visit the impressive Cliffs of Moher before making your way to Galway where you'll learn about its medieval history.
Get a taste of traditional farming life with a sheepdog demonstration before heading to Derry. From there, it's off to the Giant's Causeway, a feat of nature that features 'giant' hexagonal basalt columns formed by a volcanic eruption 50 to 60 million years ago. Enjoy an evening meal at the award-winning Glyde Inn before making your way back to Dublin.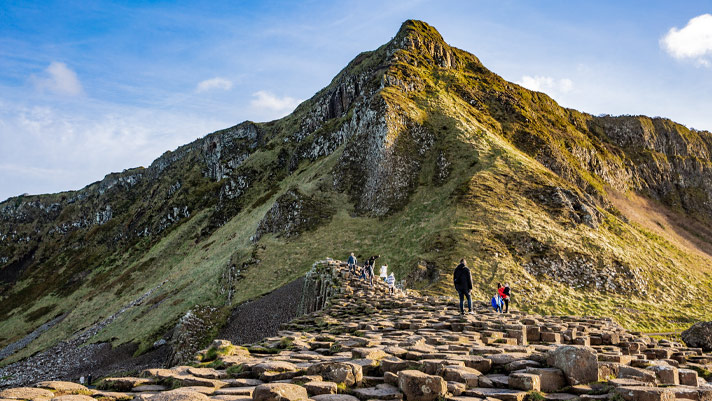 Giant's Causeway
Irish Pub Tour: Begin your 8-day itinerary with a guided tour of the center of Dublin followed by a welcome drink and dinner with your tour group. Then head to Kilkenny for a walking tour and beer tasting. See the Dingle Peninsula before visiting the Celtic Whiskey Bar in the evening. Stop at the breathtaking Cliffs of Moher followed by an evening of storytelling at O'Connor's Famous Pub in Salthill. No Irish pub tour would be complete without a stop at the oldest bar in Ireland, Sean's Bar, which dates back to 900 AD. As your tour draws to a close, visit the famous Guinness Storehouse followed by an evening tour and tasting at the Irish Whiskey Museum.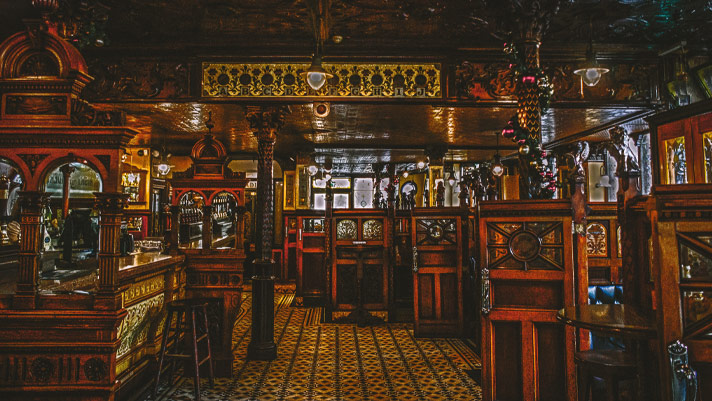 Taste of Scotland & Ireland: Take 10 days exploring the highlights of Scotland and Ireland. Your tour begins in the city of Glasgow. From there head north, passing along Loch Lomond on route to the Scottish Highlands. Stop at the Blair Athol Distillery and learn about how Scotch whisky is made. Visit St Andrews, the home of golf, until you reach Edinburgh, Scotland's capital. You'll have a day to wander through historic Old Town, explore Edinburgh Castle, and take in expansive views at the top of Arthur's Seat. Then ferry to Belfast where you can see where the Titanic was built.
From Belfast, travel south to Dublin for a day of sightseeing before visiting the Blarney Stone and the Ring of Kerry. From there, find yourself at Valentia Island for the Skellig Experience. Then it's off to see the dramatic Cliffs of Moher before your tour ends in Shannon.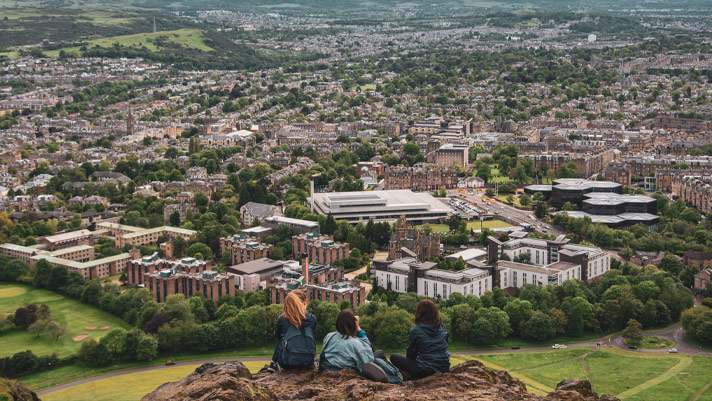 Arthur's Seat in Edinburgh, Scotland
Other Destinations
In addition to Scotland, CIE Tours offers tours to other points of interest in Great Britain. Take in Northern England with stops in Cambridge, York, the Lake District, and Oxford. Explore Southern England with stops at the Cotswolds, Stonehenge, Canterbury Cathedral, and London. Further afield, CIE Tours offers the Taste of Italy, a 7-day tour that showcases iconic destinations including Venice, Florence, Rome, and more.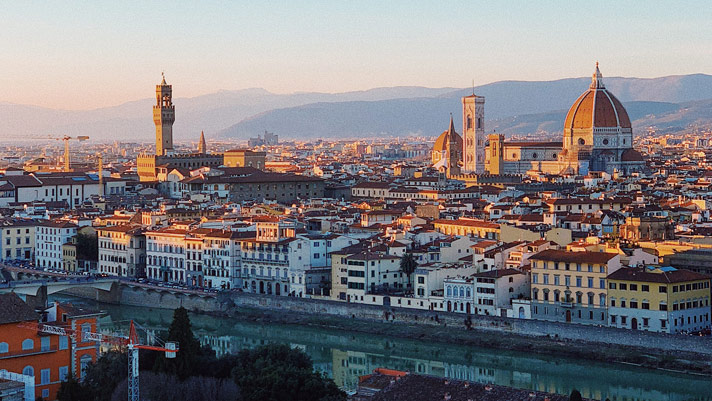 Explore Florence, Italy on the Taste of Italy tour
What's Included
Your vacation with CIE Tours includes a full daily breakfast and several meals, transportation (including buses, shuttles, and ferries), entrance fees to attractions, evening entertainment featuring Irish musicians, a welcome drink with your fellow group members, a travel itinerary, and WiFi on coaches. Plus, CIE Tours ensures you've got the basics on your journey. You'll receive a welcome package that includes a travel backpack, travel adapter, rain poncho, luggage strap and tags, and a documents wallet.
Tour Types
Let CIE Tours do the leg work when it comes to planning and the logistics with one of their tours.
Guided Tours: You'll have friendly, knowledgeable, and local tour directors sharing information and anecdotes with you as you explore Ireland on one of their luxury coaches. These coaches come with reclining seats and panoramic windows, so you won't miss a single thing as you travel from one destination to the next.
Guided Small Groups: CIE Tours features guided tours in smaller groups, ensuring that you have plenty of room. These guided tours have a capacity of 26 guests on a full-sized coach.
Independent Adventures: Choose from Classic Itineraries, where the planning will be done for you ahead of time and you can decide whether you want to get behind the wheel or hire a driver/guide. With Custom Private Driver Vacations, you can hire a personal driver who will act as your guide and make recommendations on this customizable trip.
Book With Confidence
When you're ready to explore the Emerald Isle with CIE Tours, turn to one of Avoya Travels' Independent Travel Advisors who will be happy to guide you through the booking process from start to finish.
Call the number at the top of this page to be connected with a Travel Advisor in the Avoya Travel NetworkTM who can help you get the best price, navigate COVID-19 restrictions, and answer any questions you have about CIE Tours.