Elevate your next getaway with a dreamy AmaWaterways Seine River cruise with stops in Paris, Normandy, and other charming European towns. Enjoy exceptional service, comfortable staterooms, and world-class gourmet dining while onboard.
AmaWaterways takes the planning and guesswork out with their included tours and shore excursions. Partnering with guides that bring local knowledge to each tour destination, they ensure guests get the most out of every experience. Tour types are broken down by activity level, including gentle, general, and active, so you can choose tours to your preferred comfort level. Journey on a guided city tour and visit historic landmarks, pedal through the next town, or sample regional fare on a special interest excursion. There is something for every traveler.
Ready to discover the perfect Seine River cruise onboard AmaWaterways? Below is a sneak peek at a couple of itineraries you can experience. Whether it's reliving iconic historical moments or enjoying a romantic wine-and-dine experience with your special someone, AmaWaterways' Seine River cruises have it all.
Contact a Travel Advisor in the Avoya Travel NetworkTM or browse here to see everything AmaWaterways has to offer for your next vacation.
Impressions of the Seine and Paris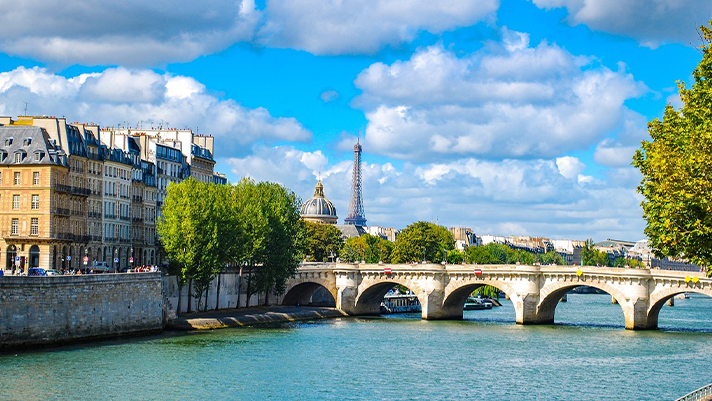 This 7-night Seine River cruise begins with a welcome cocktail and dinner on the first night. Wake up to a day of sightseeing in one of the most romantic cities in the world. Take a "City of Light" tour or pedal through Paris on a bike tour. Wander through the Luxembourg Gardens before window shopping along the Champs-Élysées. Take in famous sights along the way, like the Arc de Triomphe and the Eiffel Tower.
Next, sail to Mantes-La-Jolie where food lovers will delight in a tasting tour of local calvados (a type of apple brandy), cider, and cheese. History enthusiasts can sightsee on a city tour or a trip out to a Renaissance château. At the next port, guests can visit Claude Monet's gardens in Giverny or cycle through the town of Vernon on a guided bike tour.
On day five, join a walking tour of the medieval city of Rouen or sample local chocolates, macarons, and cheeses on the "Tastes of Normandy" tour. From Rouen, visit Caudebec-en-Caux and see the famous Bayeaux Tapestry or take a romantic stroll through the Harcourt Arboretum.
On the final day, take an excursion to Honfleur, a seaside town known for its charming harbor, or choose a full-day tour of the Normandy Beaches. The cruise disembarks in Le Havre the next day.
Paris and Normandy (Wine Cruise)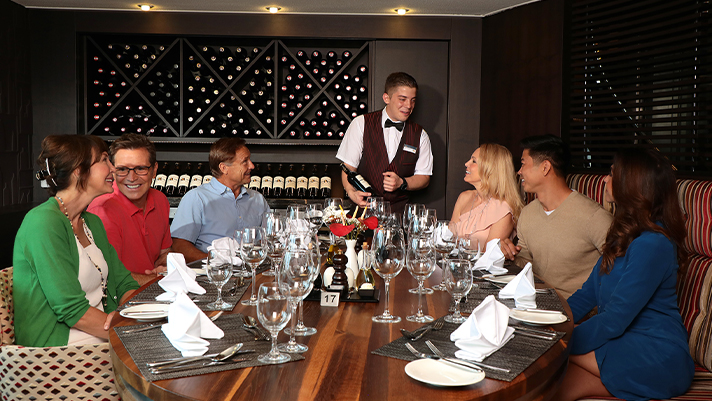 Are you a wine connoisseur or aspiring to be? Celebrate regional European wines onboard this 7-night Seine River cruise onboard AmaWaterways. A wine professional will offer insight and knowledge about local wines and varietals along the voyage. With curated wine tastings and visits to vineyards and cellars, there's plenty to enjoy on an AmaWaterways wine cruise.
After boarding in Paris, sail to Les Andelys. Perched high on the cliffs above the Seine are the medieval castle ruins of Château Gaillard. Guests can take a morning tour here, or for something a little more active, choose to hike up to the ruins. Travelers may also choose to join a guided bike tour through the town of Les Andelys instead
Next, visit the U.S. landing beaches or the British and Canadian landing beaches in Normandy. For something different, visit the Romanesque Normandy Abbey Route and stop at one of the historic abbeys in the area. The next day, visit Rouen's Medieval Quarter and see the Great Clock, a 14th-century astronomical clock. In the afternoon, sample delicious Norman cheese, cider, and other regional specialties on a tasting tour
In Giverny, see where Monet found inspiration for some of his most famous paintings or take an escorted tour of Château de Bizy and visit the exquisite palace and the gardens. On the last day, stroll through Paris or visit the Musee du Vin to complete your wine cruise experience.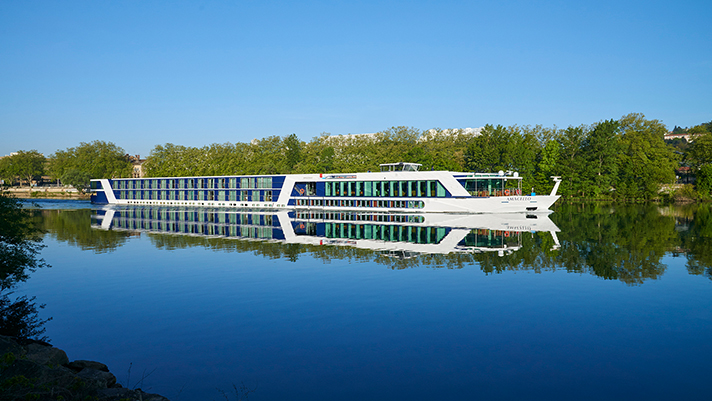 Named one of "The Best 10 Cruises for Food" by Food & Wine's 2023 Global Tastemakers List, AmaWaterways offers guests exceptional cuisine throughout the voyage. AmaWaterways focuses on offering regionally inspired dishes that will tantalize your tastebuds. Enjoy multi-course dinners with thoughtfully curated wine recommendations paired with each dish. During lunch and dinner, sip on unlimited glasses of wine, beer, or soft drinks. For light fare between lunch and dinner, head to the Main Lounge for tapas and sandwiches.
Make reservations to dine at The Chef's Table, a specialty restaurant that takes guests behind the scenes for a unique culinary experience. Watch the chef prepare one-of-a-kind dishes in the kitchen.
Unwind with evening entertainment provided by local musicians or dancers. Head to the Sun Deck for a couple's soak in the whirlpool or treat yourself or someone special to a massage while onboard.
After a full day of sightseeing, retire to your spacious stateroom and take in the sights from your own private French balcony as you glide along the Seine. Call it a day as you rest easy under a luxury duvet, Egyptian linen sheets, and down pillows. Traveling in comfort and style has never been better!
Set Sail on an AmaWaterways River Cruise With Avoya Travel
Ready to experience the romance and luxury of an AmaWaterways cruise along the Seine River? Connect with one of Avoya Travel's Independent Travel Advisors and they'll guide you through the booking process from start to finish, as well as ensure you get the best deal available.
Call the number at the top of this page to be connected with a Travel Advisor in the Avoya Travel NetworkTM who can help you get the best price and answer any questions you have about AmaWaterways.