Step onboard an open and airy AmaWaterways river cruise ship for a voyage that will take you from the Netherlands to Belgium in luxury and style. Your dreamy river cruise escape to Northwest Europe will explore all the sights and sweet smells of popular tourist destinations as well as some off the beaten path.
Catering to those who are looking for contemporary luxury and style, remarkable experiences and activities, palate-tantalizing cocktails and dishes, and the opportunity to relax and unwind, an AmaWaterways river cruise from the Netherlands to Belgium will create memories you won't soon forget.
Contact a Travel Advisor in the Avoya Travel NetworkTM or browse here to see everything AmaWaterways has to offer for your next vacation.
The Best Time to Visit Northwest Europe Onboard AmaWaterways
Almost any time of year is a wonderful time to explore Northwest Europe on an AmaWaterways river cruise.
In spring, the Netherlands is marked by the annual blooming of the region's signature tulips that seemingly blankets the landscape in every color of the rainbow. Tulip season runs from the beginning of April until around the end of May, giving you plenty of opportunity to explore the flowering fields, check out the windmills, savor world-renowned chocolate, and learn more about the rich culture of the region.
You can also enjoy this sailing from August through December and experience the fall foliage as you explore centuries-old castles, learn about the art of Belgium beer making, or for foodie enthusiasts, sample a delicious Belgium waffle on a culturally rich culinary tour. Whichever season you choose to explore, you're bound to have an unforgettable adventure.
Life Onboard an AmaWaterways River Cruise Ship
Unlike many globetrotting cruise ships that sail the seven seas, AmaWaterways ships are designed with warm and inviting charm in mind. Averaging about 450 feet in length, these ships' deck plans maximize space and create an ambiance that is anything but ordinary.
While sailing from the Netherlands to Belgium, enjoy top-rated amenities like floor-to-ceiling windows throughout the ship that allow you to fully enjoy the views while sailing; private balconies; formal and informal public seating lounges that are designed to look and feel like your living room at home; an exceptional selection of casual and fine-dining restaurants that allow you to enjoy your favorite international cuisine; a spacious rooftop deck and sun-soaked swimming pool; a hair and massage salon; a full-service fitness center; and live entertainment every night of your journey.
Each stateroom onboard an AmaWaterways river cruise ship is designed with posh comfort in mind. Indulge in features including granite countertops, deep-seated couches, and chairs, a private outdoor patio, high-speed internet, English-language TV stations, a spacious bathroom with a separate shower stall, a queen-sized bed dressed in crisp linens, and an interior decor palette that invites your mind, body, and soul to relax and unwind.
Exciting Land Excursions for Everyone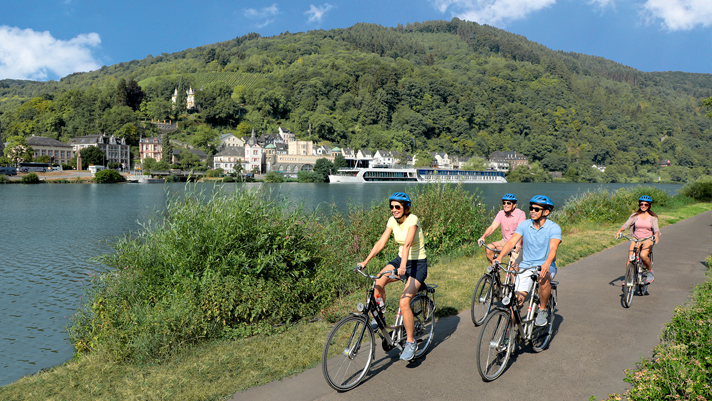 Whether you are looking to take it easy or go on a thrilling adventure, AmaWaterways pulls out all of the stops to ensure you get to explore Northwest Europe your way. Here are some of the exciting land excursions you can enjoy while docked at destination cities:
Amsterdam – While in Amsterdam, embark on a bike tour around one of Europe's most talked about cities and discover all of the attractions you really want to see. You can also sign up for a tour of Museum Speelklok or the breathtaking Castle de Haar.
Brussels – Known as the chocolate capital of the world, you cannot visit this world-renowned city without sinking your teeth into its most coveted sweets. Reserve your spot on a chocolate-tasting tour and learn about what makes Belgium chocolate so irresistible. You can burn some after-indulgence calories by taking a bike tour of the city or exploring the Beersel Castle on foot.
Antwerp – Home to the Red Star Line museum and the centuries-old Diamond District Houses, Antwerp is a city that can be explored solo or with the help of an expert guide. Not only will you be able to enjoy delicious cold-brewed beer, but you will also get to see ornate baroque buildings that date back to the Middle Ages.
Keukenhof Gardens – If you choose a springtime sailing, explore nature at its best while visiting Keukenhof Gardens during your Tulip Time tour of Holland and Belgium. Expertly landscaped to showcase the beauty of all of Holland's famous spring and summer bulb flowers, Keukenhof Gardens makes time stand still. After exploring the garden, venture south to Kinderdijk to explore the tulip fields and check out the giant decorative windmills Holland is known for.
Book Your River Cruise Escape With Confidence
Discover the Netherlands and Belgium on a dreamy river cruise vacation with AmaWaterways and enjoy a relaxing and culturally rich sailing experience that takes you straight into the heart of some of Europe's best-known and lesser-explored destinations.
Whether you are traveling with friends or loved ones or even by yourself, contact us and one of our Independent Travel Advisors will help you find the perfect river cruise escape to make your dream vacation a reality.
Call the number at the top of this page to be connected with a Travel Advisor in the Avoya Travel NetworkTM who can help you get the best price and answer any questions you have about AmaWaterways.