Home to the original Olympic Games event, stunning architecture, and an ancient culture that is deeply rooted in mythology, art, and science, Greece is sure to awaken all of your senses.
Whether your travel plans include pondering the meaning of life, studying the country's antiquities, or just kicking back and enjoying delicious food and cocktails like a local, Greece does not disappoint and is best explored with the help of an expert travel guide.
Here is a look at three perfectly curated escorted tour itineraries you should consider for an epic vacation to Greece:
Contact a Travel Advisor in the Avoya Travel NetworkTM or browse here to see everything an escorted tour vacation has to offer for your next vacation.
Oh My Goddess!: Greece by Design With Globus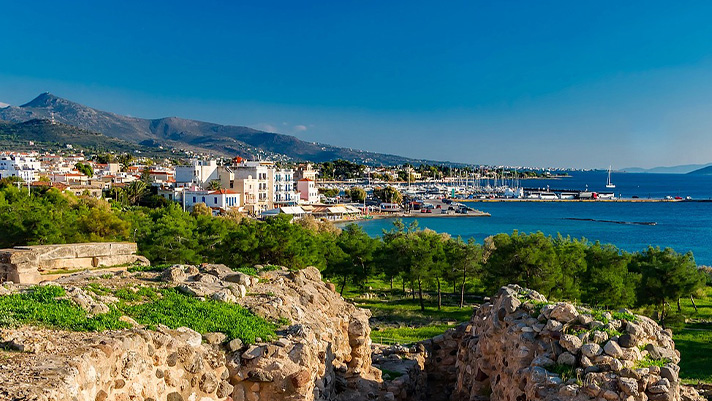 Aegina Town
Travel with Globus on the scenic Oh My Goddess!: Greece By Design 8-day escorted tour and explore with a tour company that offers flexible schedules that allow you to get creative and choose your own adventure. This tour to Greece is designed for the adventure seeker who wishes to maximize every moment of their vacation.
Your tour begins in Athens, where you will get to explore the Archaeological Museum, Acropolis Museum, Aegina Town, The Acropolis, Ancient Corinth & Daphni Monastery, and so much more. This city is widely considered the birthplace of Western civilization and is packed with shopping, dining, and cultural activities that appeal to just about anyone.
Next, your tour will take you to Delphi and Itea, where you can delve into the heart of Greek culture like a local and explore the secrets of Greek mythology, as well as learn how to taste the subtle nuances of fine olive oil through a group tasting event.
Lastly, this tour will take you to the historic Volos-Thermopylae battle site, where you will enjoy free time to explore the town on your own terms. The Oh My Goddess!: Greece By Design tour ends back in Athens with a special farewell dinner and social event.
Italy & Greece With Cosmos
Leaning Tower of Pisa
Take your vacation with Cosmos on the Italy & Greece 12-day escorted tour from Rome to Athens and enjoy an affordable journey to the hearts of Italy and Greece. This itinerary is offered throughout the year and gives you an up-close look at landmarks that date back to antiquity. While on the tour, your expert guide will take you to places, including Athens, Rome, Venice, and Patras, where you will see iconic sites like the Piazza Signoria, Leaning Tower, Colosseum, the Roman arena in Verona, and Acropolis and Parthenon in Athens.
On this journey, your first night is spent arriving in Rome, meeting with your tour director, and getting to know your travel companions. On day two, the adventure begins – you will explore all the most popular sites and attractions that Rome has to offer. This tour also will take you to the heart of Northern Italy, with stops in Florence and Venice, before you embark on an overnight sailing adventure down the Adriatic Sea to Greece. Once in Greece, more adventure awaits as your tour guide will take you to the landmark cities of Olympia, Nauplia, and Athens.
Travel with Cosmos and get two breathtaking countries bundled into one fun-filled vacation.
Footsteps of Apostle Paul With Globus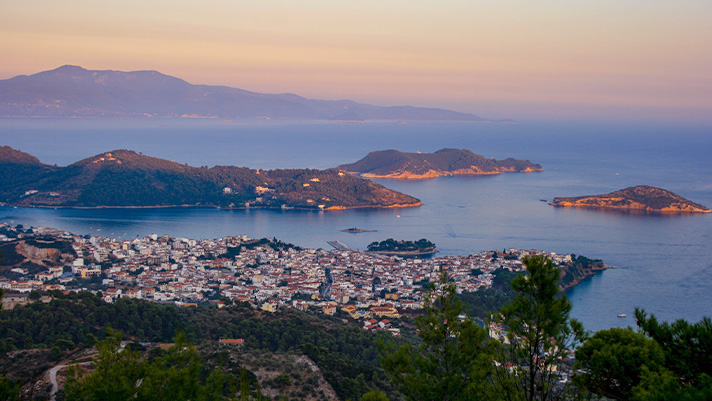 The Greek Isles
If you are looking for a vacation that allows you to explore the roots of your faith and spirituality on a deeper level, look no further than the Footsteps of Apostle Paul, a faith-based itinerary by Globus.
On this 10-day journey, you will travel in the footsteps of Apostle Paul after he was drawn by the light of Damascus to embark on a pilgrimage through the heart of Greece, the Greek Isles, and Turkey. Along the way, you will see iconic sites like the 15th-century prison tower in Thessaloniki, Aristotelous Square, Amphipolis and Apollonia, the Greek Orthodox church and Baptistry of Saint Lydia, the ancient ruins of the Philippi's Roman Forum, the Holy Monastery of Varlaam and the Holy Monastery of St. Stephen, and so much more.
Apostle Paul was instrumental in establishing many of the breathtaking ancient churches located in Greece, and you will get to explore the most revered locations on this faith-based journey. Along the way, you will ferry to the three highlighted locations and will have plenty of time to reflect and take in all of the scenery.
Book Your Tour to Greece With Confidence
Our Avoya Travel Independent Travel Advisors are here to help you find the best tour to Greece at the right price, so you can enjoy your vacation in luxury and style. If you have ever wanted to travel to Greece, a guided tour offers an excellent opportunity to see all the famous sites without having to work out all the details of your itinerary on your own.
Whether you are looking for help booking your guided tour or would just like more information on one of the tours offered, contact Avoya today and we can assist you in planning and booking your dream vacation.
Call the number at the top of this page to be connected with a Travel Advisor in the Avoya Travel NetworkTM who can help you get the best price, and answer any questions you have about escorted tour vacations.