May 2021 | Guest Blog
Hurtigruten Expeditions, the world leader in expedition cruising, has been at the absolute forefront of year-round sustainable travel for years. Hurtigruten is setting the standard of innovation with sustainability.
Not just with the most technologically advanced and greenest fleet but with continuous initiatives ranging from the launch of the world's first hybrid electric-powered expedition ship, to its Food Waste Project aimed at reducing food waste by 20% by next year, and so many other things in between.
"Competition in the expedition cruise industry is tough, but luckily for the environment, so is also the competition to be the most sustainable, which benefits us all. Expedition cruisers are more responsible travelers in general and want to ensure they leave a minimal footprint when they travel, which rightly puts more pressure on us to ensure that the guests of tomorrow can enjoy the same unique experiences as our guests today," said Carly Biggart, VP Sales, Americas for Hurtigruten Expeditions.
Hurtigruten CEO Named a '2021 AFAR Travel Vanguard'
Every year the highly acclaimed magazine, AFAR, selects key players that inspire both travelers and travel industry leaders to engage with the world more consciously and responsibly. Last month, AFAR named Hurtigruten Group CEO Daniel Skjeldam as one of its esteemed 2021 AFAR Travel Vanguards.
AFAR stated: "Our 2021 Travel Vanguard honorees have spent years working to contribute to responsible, sustainable, lasting change in the travel industry. As we begin to explore again, these visionaries are fitting guides to motivate us to tour, cruise, journey, stay, hike, and meet in more conscientious and connected ways."
Becoming the Most Sustainable Cruise Operator
AFAR particularly highlighted Skjeldam's push to become the most sustainable cruise operator and Hurtigruten's commitment to supporting the local businesses in the many remote destinations it serves worldwide.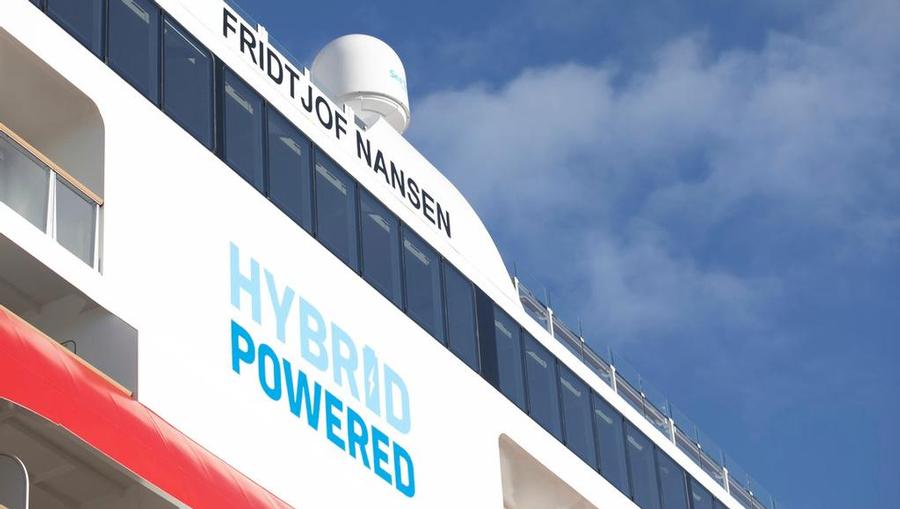 Featuring Hurtigruten's revolutionary battery hybrid powered propulsion system, MS Fridtjof Nansen will be a near identical twin to her sister ship MS Roald Amundsen.
Hurtigruten Donates 1% of Sales to Alaska Wilderness League
Hurtigruten's commitment to the unique regions it calls home becomes even more apparent with its 'Earth Week' sales last month. Through its Hurtigruten Foundation they will donate to support Alaskan wildland, creating a sale with a conscience.
The foundation donated 1% of the total cost of each Alaskan cruise sold during Earth Week to Alaska Wilderness League, which will help protect the Arctic National Wildlife Refuge, located in Alaska's northeast corner, as well as other wildlife reserves.
Comprising 19.6 million acres of wildland, the Arctic National Wildlife Refuge is the largest unit in the National Wildlife Refuge System.
Additionally, Hurtigruten Expeditions is the only major cruise operator in Alaskan waters to be certified by Adventure Green Alaska, a certification program that defines sustainable tourism as travel to natural areas that benefits local economies, respects the environment, and is sensitive to indigenous cultures.
"Sustainability is an integral part of Hurtigruten's DNA and our priority any day of the year. The MS Roald Amundsen became the world's first hybrid electric-powered expedition ship back in 2019, which was followed by MS Fridtjof Nansen last year. Soon most of our ships will be operating with biofuel from organic waste and battery power, which means we can confidently claim we have the greenest fleet in the industry," explained Biggart.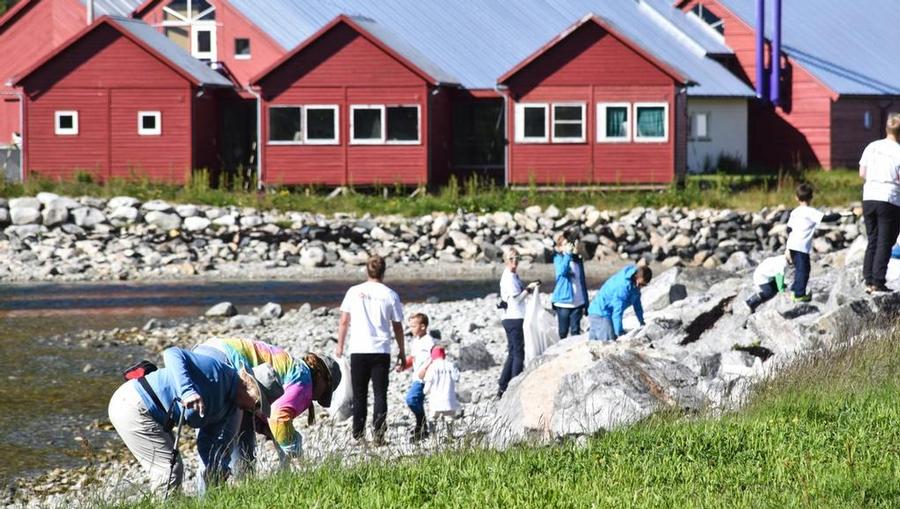 Hurtigruten is determined to be part of the solution to the problem of plastic pollution and was the first major travel company to ban single-use plastic.
"Another important aspect of our everyday focus on the environment we operate within is working closely with all the local communities in the destinations we serve to help empower them for the future. Our mission is that you arrive as a guest but leave as a friend, as you get to know and understand the local indigenous population. In Alaska, we take you further and closer to the remote communities than any of the large ships can ever get. And in Norway, where we initially started our operation, Hurtigruten has contributed to the livelihoods and welfare of small coastal societies since 1893. Since then, we have expanded that to many other remote destinations around the world."
The Expedition Cruise Difference
Expedition cruising differs significantly from cruising with the large, so-called white ships. You won't find any casinos or entertainment shows onboard, instead you will learn from the most passionate expedition leaders in the industry and are encouraged to do your own research and exploring in the ship's Science Center.
The impressive Science Centers are the heartbeat of Hurtigruten Expeditions' ships and staffed by a handpicked Expedition Team. Packed with?state-of-the-art?technology and high-tech gadgets – there is?no better place to learn about?the?remote locations and areas of natural beauty?on the itinerary.?
Excellent Expedition Teams
Hurtigruten Expeditions is specifically proud of its Expedition Teams, a dedicated group of experts that help guests discover and better understand each destination.
Experts in marine biology, arctic survival, photography, oceanography, and more, the team hosts lectures which delve into the history of locations, and informally brings this knowledge to life by leading activities on adventurous excursions.
Hurtigruten offers amazing Alaskan and Norwegian cruises departing 2021 through 2023. Contact a Vacation Planner in the Avoya Travel Network for booking information.
Alaska and British Columbia – Wilderness, Glaciers, and Culture Sailing Dates
Discover Alaska's many fjords, travel through the Gulf of Alaska and along the Inside Passage while exploring Gold Rush-era history, glistening glaciers, rare wildlife, primeval rainforest, and rich indigenous and Russian culture.
Northbound departures May 20 and June 13, 2022
Southbound departures May 31 and June 24, 2022
Alaska and British Columbia – Inside Passage, Bears, and Aleutian Islands Sailing Dates
Explore the highlights of Alaska's rugged coastline combined with the remote Aleutian Islands and crossing the Bering Sea.
Northbound departures July 7 and August 8, 2022
Southbound departure July 22, 2022
Northern Lights and Fjords Expedition Sailing Dates
Experience the Northern Lights while exploring Norway's spectacular coastline, and Hurtigruten offers its unique Northern Lights Promise.
2021 departures: November 3 and 17, December 1, 15, and 29
2022 departures: January 12 and 26, February 9 and 23, and March 9
Fjords Expedition Cruise Sailing Dates
Explore Norway's most famous fjords on one sailing: Hardangerfjord, Sognefjord, Nordfjord, Geirangerfjord, and Lysefjord.
2022 departures: March 23, April 2, and May 8.
Midnight Sun Expedition Sailing dates
Sailing from Dover in the UK, this expedition cruise takes in the best of Norway's spectacular and scenic coast on a summer adventure under the glow of the Midnight Sun.
Hurtigruten Expeditions' other popular destinations include Antarctica, including two once-in-a-lifetime Solar Eclipse sailings this November; the British Isles; Canada's Northwest Passage, the Caribbean and Central America; Europe; Greenland; Iceland; South America; and Svalbard in the Arctic North.
A History of Sustainable Innovation and Guilt-Free Travel
While the push for sustainability is an environmentally focused approach, it also creates numerous unique opportunities for travelers to explore the world without guilt.
In 2019, on Svalbard in the Arctic North, the land-based Hurtigruten Svalbard subsidiary introduced the world's first battery-powered snowmobiles.
The elective and emission-free snowmobiles are fully powered by renewable energy from the Arctic winds and Midnight sun, taking advantage of nature's uniqueness in this remote destination.
Back in 2018, Hurtigruten became the first cruise operator to remove all single-use plastic onboard, which saves 32 metric tons of plastic every year. The company's Food Waste Project aims to reduce food waste by 20% by next year as Hurtigruten is actively and continuously improving its already industry-best standards.
"We will continue to push the boundaries for innovation within sustainability constantly and hold both ourselves and our partners accountable rather than just throw it around as a buzzword,"concluded Biggart.
All of Hurtigruten's sustainability initiatives can be found here: www.hurtigruten.com/about-hurtigruten/our-corporate-social-responsibility/