Virgin Voyages is a new cruise line that aims to bring fresh life into the industry by revamping what it means to take a cruise vacation. Positioning itself as a lifestyle brand, Virgin Voyages centers the well-being of its travelers by placing an emphasis on relaxation and rejuvenation while you sail.
We've collected everything you need to know about this exciting cruise line, including why it might be the perfect choice for your next vacation.
Contact a Travel Advisor in the Avoya Travel Network™ or browse here to see everything Virgin Voyages has to offer for your next vacation.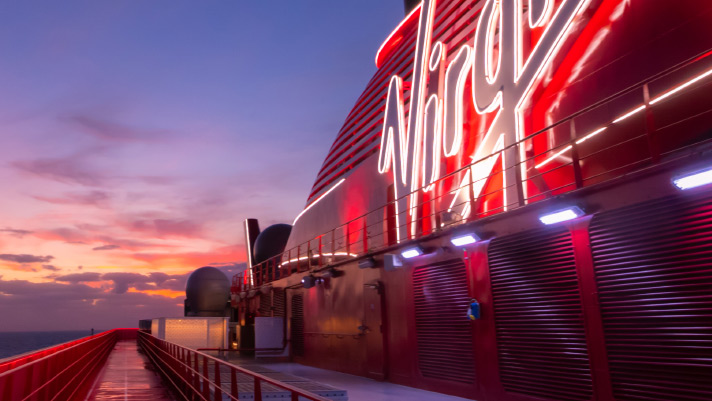 What Is Virgin Voyages?
As you likely guessed by the name, Virgin Voyages is brought to you by none other than Richard Branson's Virgin Group. The cruise line is a joint venture between Virgin Group and Bain Capital, and it is headquartered in Plantation, Florida. The cruise line aims to capture sleek yacht luxury, with intimate yet elevated spaces that create the experience of a boutique hotel at sea.
The fleet combines contemporary interiors from some of the top names in modern design with clean and efficient technologies that help to lower the environmental footprint of your trip. With one ship currently in the fleet and two more hot on their heels, Virgin Voyages is poised to take the sea by storm.
Who Cruises Virgin Voyages?
Virgin Voyages is a hip cruise line designed to provide a sanctuary at sea for people from all walks of life. The ships are adults-only (18+), which makes them a top choice among adult and young adult travelers without children who want to let their inner child loose. They are an excellent introduction to cruising for travelers who have not considered taking a cruise before and want to enjoy a modern experience tailored to their needs and expectations.
The cruise line places customer well-being at the forefront with the ideal mix of excitement and tranquility. Best of all, travelers get a wide range of included perks like food, beverages, tips, group workouts, and, of course, onboard WiFi.
Virgin Voyages Onboard Bar & Dining Experience
Perhaps the most important part of the onboard experience on any cruise is the dining. The 20 distinct eateries on Virgin Voyages are curated by a collective of Michelin-starred chefs. There are no big dining halls or buffets--instead, every unique spot has its own specialties made from fresh ingredients curated to satiate all cravings.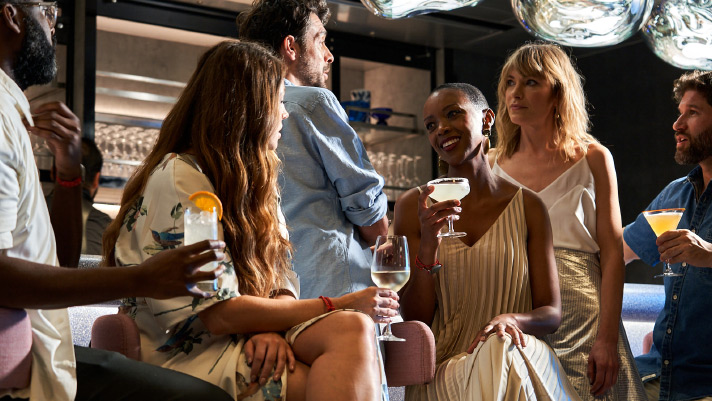 Socialize and enjoy a great cocktail at one of Virgin Voyages onboard bar and dining experiences.
The foodie-approved eateries include a Korean BBQ spot, steakhouse, noodle bar, pizza joint, and even 24-hour late-night bites. Virgin Voyages has also created an exceptional beverage program consisting of partnerships with esteemed mixologists to bring you quality drinks made using only the best ingredients.
Once you've had your fill, it's time for entertainment. Virgin Voyages swaps traditional Broadway cruise productions with modern and immersive experiences made by popular creators who have their fingers on the pulse of today's entertainment.
The festival-like lineup includes the late-night cabaret "Never Sleep Alone," a Romeo and Juliet retelling called "Dual Reality," a series of micro-plays called "Phantom Folktales," and UNTITLED DANCESHOWPARTYTHING, an absurd dance party you'll never want to end. Even more new shows and entertainment options are slated to be added.
Virgin Voyages Luxurious Amenities
The fitness and spa programming on Virgin Voyages ships have also received the hip and modern Virgin makeover. There are a variety of personal and wellness spaces onboard where you can pause for a moment to breathe, take in that Vitamin "Sea", and feel fully restored.
Earlier risers can get ready to face the day with sunrise yoga, those looking for inner peace can take part in meditation sessions, and those that don't want to lose their gains can attend HIIT workouts. Then, head to the Redemption spa for everything from hot stone massages and mud baths to anti-aging seaweed wrap treatments.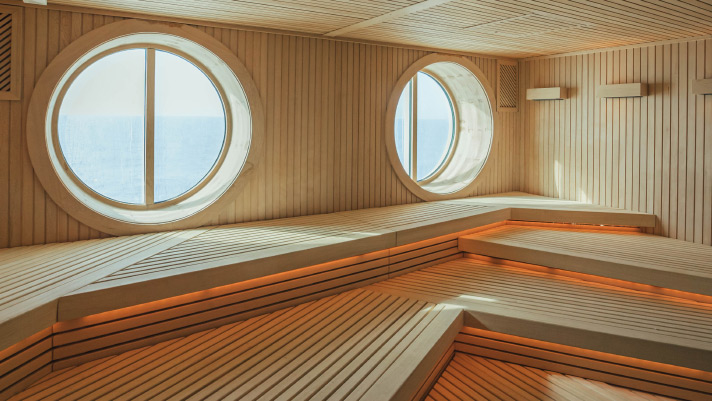 Unwind in the luxurious spa onboard featuring a state-of-the-art sauna.
The Virgin Voyages onboard experience is complete with luxurious cabins where you can escape to relax and enjoy a refreshing sleep every night. The rooms utilize a host of smart tech that allows you to make changes to your space at the touch of a button, like adjusting the lighting or the configuration of your bed.
There are a plethora of different cabin options for everyone from those sailing alone to large crews, and 24-hour room service ensures that you can always get your cravings met, even in the middle of the night.
Virgin Voyages Ships and Destinations
Virgin Voyages ships are designed to be your dream superyacht and take you to your dream destinations. The first and only current ship in the fleet's operation is Scarlet Lady, a 17-deck vessel that provides a lavish retreat away from your daily life. Scarlet Lady sails out of home ports in Miami and San Juan to destinations across the Caribbean.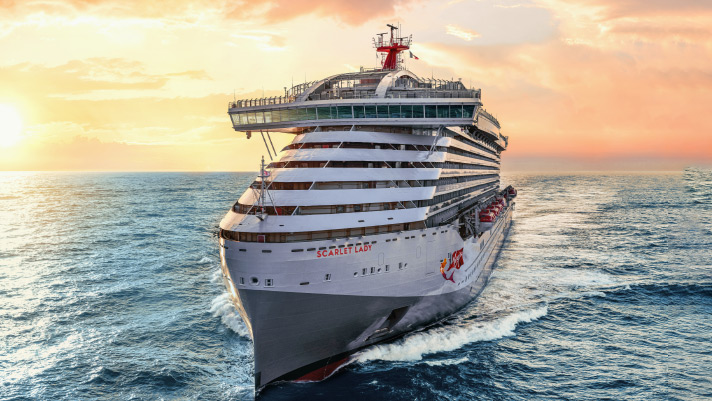 Virgin Voyages Scarlet Lady
The second ship of the Virgin Voyages fleet, which is currently undergoing sea trials, is called Valiant Lady. Once in operation, Valiant Lady will sail from homeports in Athens, Greece, and Barcelona, Spain all around the Mediterranean. They will also soon be adding Transatlantic cruises, as well as a third ship called Resilient Lady.
If you are interested in seeing what this exciting new cruise line is all about for yourself, then you can book your next vacation with Virgin Voyages through Avoya. Cruises aboard Scarlet Lady are available now, while cruises aboard Valiant Lady and Resilient Lady will begin in 2022 and can be booked today.
Call the number at the top of this page to be connected with a Travel Advisor in the Avoya Travel NetworkTM who can help you get the best price, navigate COVID-19 restrictions, and answer any questions you have about Virgin Voyages.