Carnival Cruise Line is one of the most popular cruise lines sailing today, and it's no wonder why with their affordable fares, variety of family-friendly activities and shore excursions, and access to several exclusive private islands for guests.
Plus, Carnival excels at packing plenty of fun into a short getaway. Many Carnival cruises to the Caribbean are 3- to 7-nights long and depart from several points in the United States. While there's plenty to see and do onboard the ship during your voyage, there is just as much fun to experience onshore at top port stops in the Caribbean.
Contact a Travel Advisor in the Avoya Travel NetworkTM or browse here to see everything Carnival Cruise Line has to offer for your next vacation.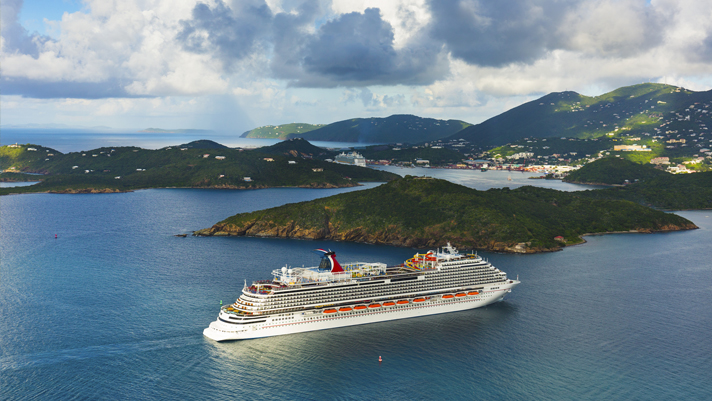 Carnival sails across three regions in the Caribbean: Western, Eastern, and Southern.
The Western Caribbean is perfect for adventure lovers who want to see it all, by land or by sea. Snorkeling in the ocean, riding in adventure jeeps, and visiting Mayan ruins are just a few top activities that await. Port stops include places like Grand Cayman, Mahogany Bay, and Cozumel.
The Eastern Caribbean offers guests a chance to unwind on one of several of the Caribbean's small island beaches. Port stops in the Eastern Caribbean include places like Grand Turk, Antigua, and Half Moon Cay.
On a Carnival cruise to the Southern Caribbean, away from some of the more crowded Caribbean spots, guests are treated to remote island adventures and can't-miss scenery with impressive volcanoes and lush tropical rainforests. Port stops include Aruba, Dominica, and Cartagena, among others.
Take a look at our top ports of call to visit on a Carnival Cruise Line vacation to the Caribbean.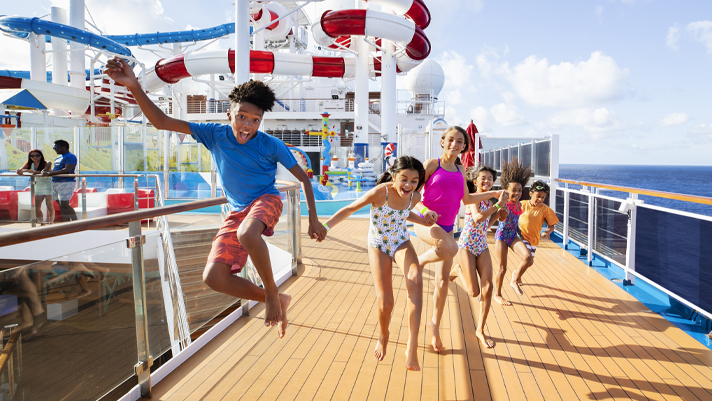 Experience a day of fun-filled activities for the entire family.
Amber Cove, Dominican Republic
Activities for kids and adults abound at Amber Cove, one of Carnival's private port destinations. Swim with the dolphins or head out on a catamaran to sail and snorkel. Get an adrenaline rush with a zipline adventure or head to Coconut Cove where you can kayak, paddle board, or unwind by the beach.
Enjoy an authentic Dominican buffet for lunch and sip on tropical-inspired cocktails from the open bar. Learn about the region's history with a visit to Fort San Felipe. Completed in 1577, this Spanish fortress was built to protect Puerto Plata from pirates.
Half Moon Cay, The Bahamas
Relax on the stunning beaches of Half Moon Cay.
Recently named the best private island by Porthole Cruise Magazine for the 20th year in a row, Half Moon Cay continues to impress. It boasts a crescent-shaped beach that's made for soaking up the sun. There's plenty to see and do here.
Saddle up for horseback riding along the beach, kayak through a protected lagoon, or snorkel with stingrays. For guests looking to relax for the day with a little extra privacy, clamshell sunshade rentals are just the ticket. For families or small groups, beach villas and cabanas are also available to rent for several hours.
Mahogany Bay, Honduras
Cast off to Mahogany Bay on Isla Roatan, designed by Carnival. Here guests will find entertainment, restaurants, bars, and shops. Shore excursions from Mahogany Bay include options that range from relaxed guided tours to adrenaline-pumping activities. Visit the area's local wildlife on a tour to visit macaws, monkeys, and sloths.
Take to the sea by kayak near Gumbalimba Park or explore the island by glass-bottom boat before heading to the West End village for shopping, wandering, and picture-perfect coastline views. For those looking for thrills, the Extreme Zip-Line is a must-do activity.
Explore the ancient ruins in Tulum, Mexico.
Onshore or at sea, Cozumel offers a variety of fun-filled activities for Carnival cruise guests. Snorkel or scuba dive near the island's coral reef. Tantalize your tastebuds during a gourmet food experience with traditional Mayan cuisine that's perfect for adults and older kids. Explorers of all ages will appreciate a guided tour to the nearby ancient Mayan city of Tulum.
Head to Playa Uvas Beach Club – the spot to relax – and kick back on a beach chair or spend time snorkeling, kayaking, or paddle boarding. A visit to Playa Uvas Beach Club also includes two hours of unlimited food and beverages plus a cooking class and a tequila tasting.
Book with Confidence
When you're ready to set sail on a Carnival cruise to the Caribbean, consult one of Avoya Travel's Independent Travel Advisors, who will be happy to guide you through the booking process from start to finish and find the best deal available.
Call the number at the top of this page to be connected with a Travel Advisor in the Avoya Travel NetworkTM who can help you get the best price and answer any questions you have about Carnival Cruise Line.