5-minute read | July 28, 2021
Indulge in The Finest Cuisine at Sea® aboard a luxurious Oceania Cruises ship and experience the magic of delicious food while sailing to some of the most coveted destination ports around the world.
Vacations at sea are back for the 2021 sailing season and Oceania Cruises has ramped up the guest experience with its OceaniaNEXT initiative to offer a whole host of new and improved restaurant offerings for you to enjoy.
With Oceania Cruises, not only do you get to explore some of the hottest tourist spots around the world, but you will also get to savor the tastes of culturally relevant and destination-inspired gourmet food for the entirety of your cruise.
Oceania Cruises has partnered with renowned chefs, including Jacques Pepin and Franck Garanger, to bring you world-class Michelin star-rated food that tantalizes your tastebuds as you sail. Let's take a quick look at what OceaniaNEXT is as well as some of the enhanced gourmet dining experiences you can enjoy on your journey near or abroad as a result of this important cruise experience transformation.
What is OceaniaNEXT?
OceaniaNEXT is the newest Oceania Cruises transformation initiative, which was designed to modernize the Oceania sailing vessels and recreate the overall cruise experience. As part of the project, Oceania Cruises worked with its executive chefs to reinvent the menu offerings at its restaurants and elevate the gourmet dining experience to a whole new level.
New and Improved Restaurants
Dining while on a cruise vacation has never been so exciting, here are some of the new and improved restaurants you can enjoy when cruising with Oceania:
Jacques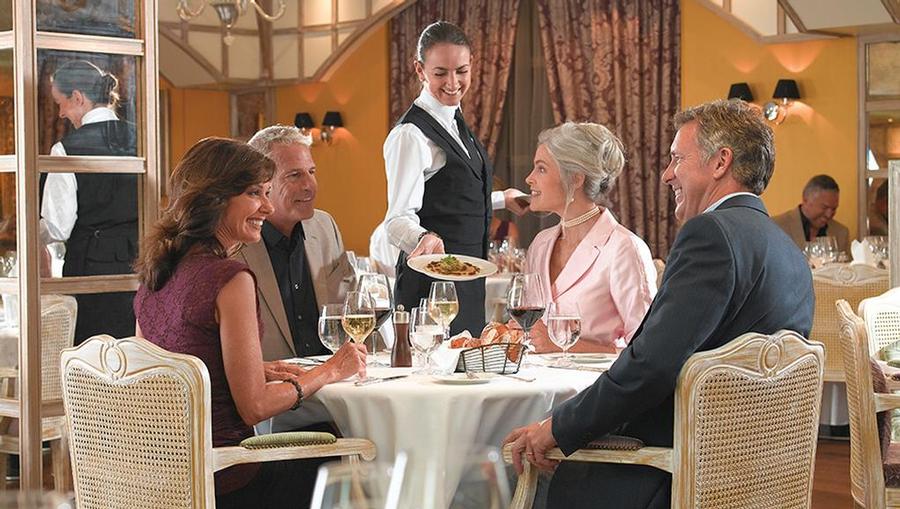 Available aboard the Marina and Riviera vessels, Jacques is where your passion for fine French cuisine is actualized. Jacques is the mastermind of globally renowned chef Jacques Pepin and it is home to artfully inspired gourmet dishes from all regions of France. Jacques is open for dinner each night of sailing and reservations are required. This elegant restaurant is adorned in antiques and fine linens and serves up an array of mouthwatering dishes, which include seasoned sea bass, succulent rotisserie chicken, fresh crab salad, baked escargot in butter sauce, and other tantalizing specials that will take your palate on a culinary tour de France.
Terrace Cafe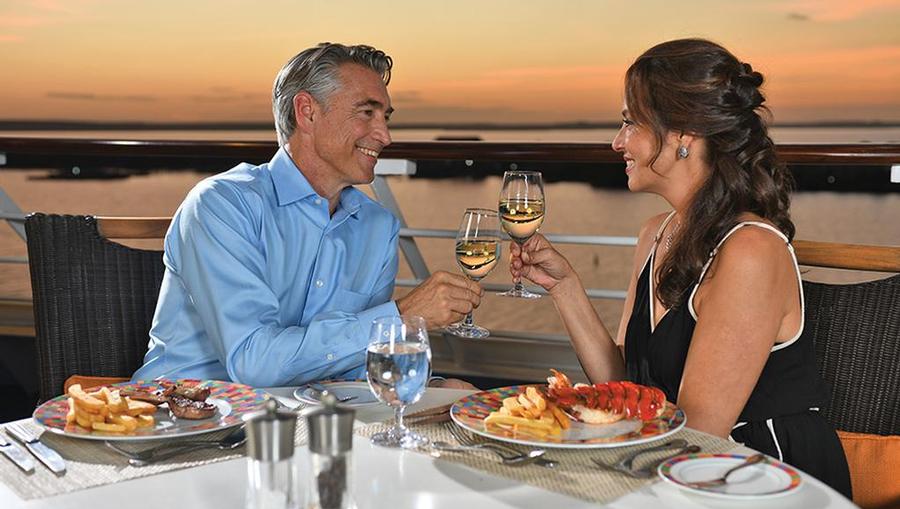 Open daily for breakfast, lunch, and dinner, Terrace Cafe is a casual eatery that boasts a luxurious ambiance. This international restaurant and buffet features floor-to-ceiling picture windows that allow the dining room to be sunbathed with natural light all day long. Lunch and breakfast are served buffet style while dinner is a more formal affair. By night, enjoy the twinkling of thousands of stars in the sky while dining on a fresh plate of sashimi, a tender juicy steak, or lobster tails dipped in clarified butter with a glass of fine wine.
Horizons - Afternoon Tea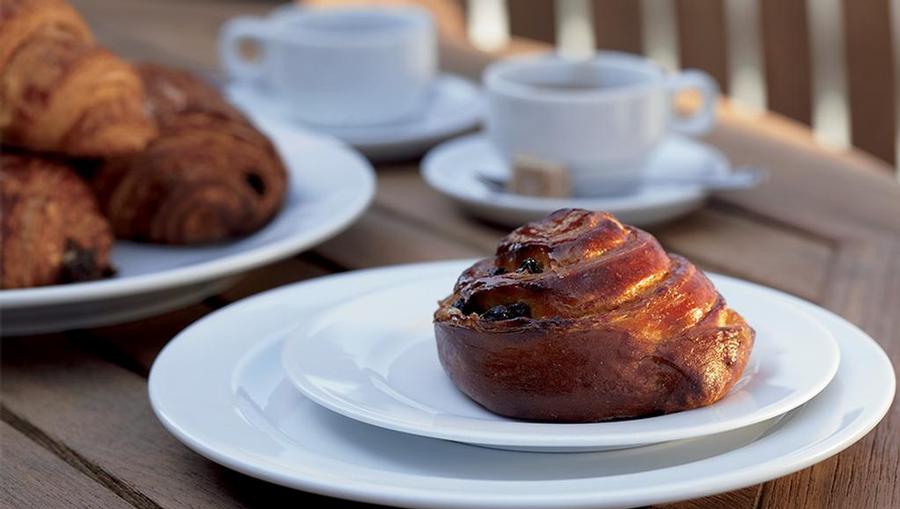 Celebrate high tea time like a true British lady or gentleman at Horizons tea lounge offered aboard all of Oceania's cruise ships. This event takes place at 4pm each afternoon and no reservations are required. Dress up and enjoy delicious tea flavors from around the world while nibbling on elegant finger foods and listening to a live quartet gently playing in the background.
Toscana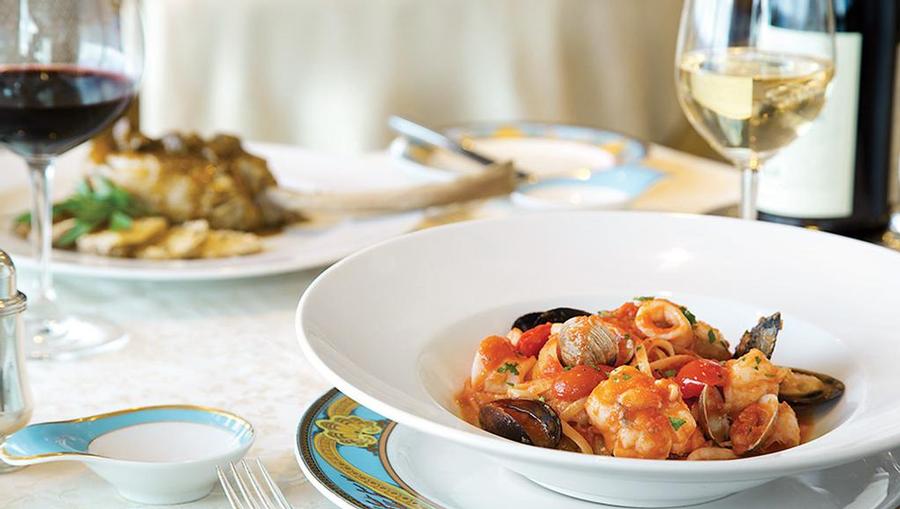 Inspired by generations of indulgent family recipes, Toscana is your go-to spot for homestyle Italian cuisine served in an elegant upscale restaurant. Toscana is open for dinner with reservations and is available aboard the Nautica, Riviera, Insignia and Marina cruise ships. Some of the decadent options available on Toscana's menu include Osso Buco alla Milanese, artichoke and parmesan cheese timbale with a rich black truffle sauce, and house-baked bread with your choice of infused olive oil. Finish the evening with a sinfully delicious Italian dessert and a glass of fine vino off the wine list.
Red Ginger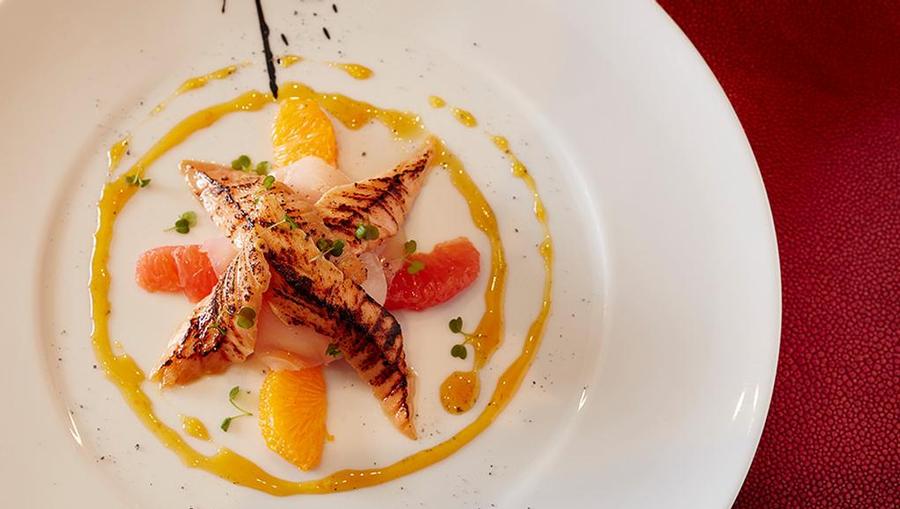 Step into the heart of Asia where fresh seafood, steamed vegetables, fluffy rice and roasted meats collide with bold and fragrant spices when dining at Red Ginger. The executive chefs at this restaurant doll out artistic culinary masterpieces that are almost too beautiful to eat. Red Ginger is available aboard the Marina, Riviera, and Sirena cruise ships and reservations are required. This restaurant boasts a relaxing feng shui ambiance and is decked out in contemporary Asian decor, which provides a relaxing atmosphere for enjoying a meal.
Waves Grill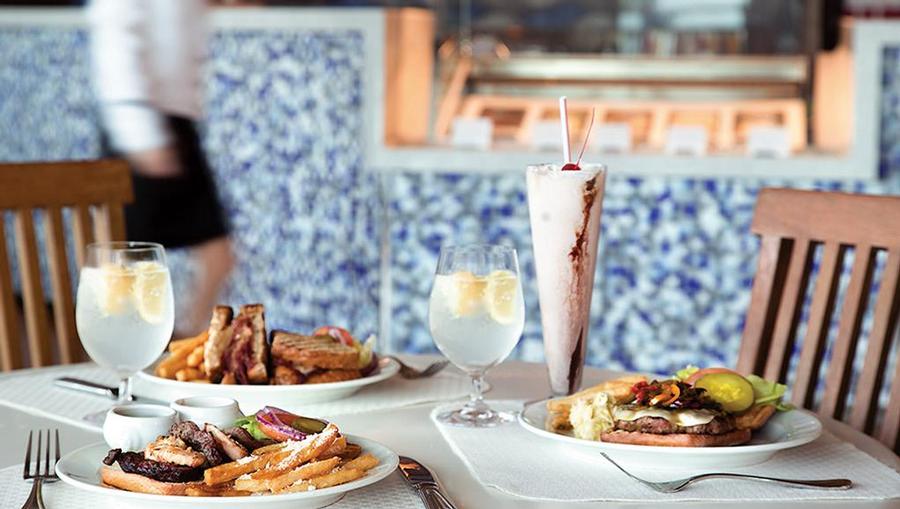 Celebrating classic American food, Waves Grill is open daily for lunch and dinner and is available aboard all of Oceania Cruises ships. Waves Grill is a casual open-air eatery where you can dine on burgers and fries, grilled and fresh deli sandwiches, fish and chips, salads and other quick-serve meals. This restaurant also offers ice cream treats, milkshakes, and sorbet. If you are sailing aboard the Marina or Riviera vessels, stop by the raw juice and smoothie bar for a nutrient-rich drink.
Whether you are sailing along the Caribbean coast, heading north to Alaska, exploring the French Rivera, or on an adventure in the Meditteranean Sea, you are sure to enjoy all of the culturally relevant culinary options available aboard your cruiseliner. Oceania has partnered with the most celebrated executive chefs in the world to bring you dining options that are pleasing to all of your senses. At Avoya Travel, we are here to help you plan a dream cruise vacation of a lifetime, contact us if you have any further questions about the dining options available aboard your ship.
Check out our featured Oceania Cruises Deal and speak to a Travel Planner in the Avoya Travel NetworkTM today to cash in on exclusives.