Choosing the perfect cruise line for the best family vacation can be a bit like navigating uncharted waters. With a plethora of different family cruises available for travelers with various needs and preferences, it's essential to select one that provides not only fun and adventure but also a comfortable and enjoyable experience for the entire family.
Among the best family-friendly cruise lines that strike a balance between excitement for the young ones and relaxation for the adults are Royal Caribbean, Carnival Cruise Line, Norwegian Cruise Line, and MSC Cruises. Explore what makes each one stand out and discover which option is best for your family vacation.
Contact a Travel Advisor in the Avoya Travel NetworkTM to learn more about these cruise lines and what they have to offer for your next family vacation.
1. Royal Caribbean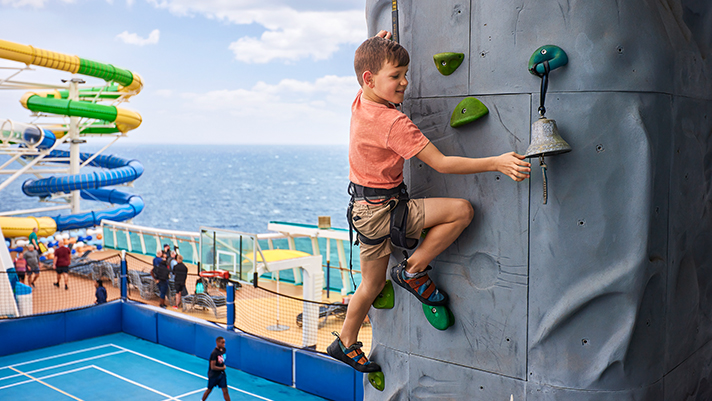 Royal Caribbean is often the top choice for family cruises, and it's easy to see why. The cruise line is renowned for its wide array of family-friendly activities and amenities. The Adventure Ocean youth program offers a range of entertainment and educational activities for kids and teens, such as science experiments, arts and crafts, and theme nights, ensuring that younger passengers are always engaged.
Beyond the plethora of kid-centric activities, Royal Caribbean provides a rich tapestry of entertainment for the whole family. The ships feature Broadway-style shows, ice-skating rinks, rock-climbing walls, and zipline adventures. The family suites are spacious, comfortable, and designed with families in mind, with features like bunk beds and separate bedrooms. Symphony of the Seas, Spectrum of the Seas, and Wonder of the Seas also boast the one-of-a-kind Ultimate Family Suite, a two-story home away from home that offers your very own in-suite slide, an in-suite cinema, and exclusive red-carpet experiences.
As for adults, they can unwind in the numerous bars, lounges, and spas available onboard. In essence, Royal Caribbean offers something for every member of the family, making it a preferred choice for a memorable family vacation.
2. Carnival Cruise Line
Carnival Cruise Line is synonymous with fun, vibrancy, and affordability. It's a cruise line that primarily focuses on ensuring that families have an unforgettable experience by emphasizing fun for all ages.
For little ones aged two to five, every Carnival cruise offers Zumbini, a fun activity class designed to burn some extra energy. Then there's Camp Ocean, where kids up to 11 can participate in various activities like arts and crafts, dancing, and movies. Teens also have exclusive clubs where they can socialize, play video games, and attend themed parties.
Together, families can enjoy the thrilling WaterWorks water park, watch the world of Dr. Seuss come to life with Seuss at Sea, and peddle the SkyRide around the ship while suspended high above the deck. Adults are not left behind either with tranquil spas, fitness centers, and diverse dining options to explore, offering a perfect blend of leisure and amusement.
When it comes to family-friendly accommodations, several of the cruise line's ships feature the Family Harbor staterooms and suites. Located near the Family Harbor lounge, these rooms offer perks like free dining for kids at most onboard specialty restaurants and one free evening of babysitting.
3. Norwegian Cruise Line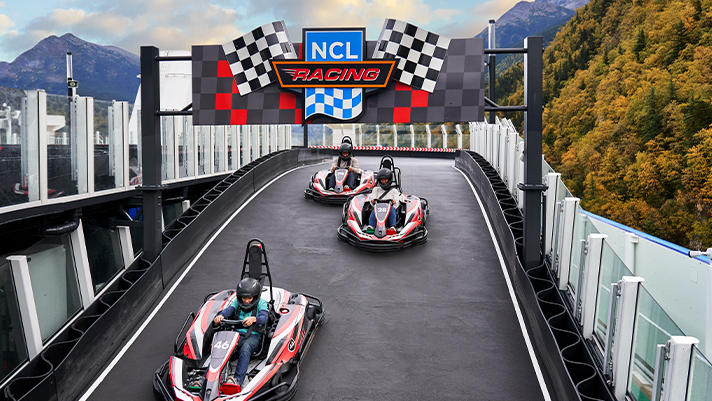 Norwegian Cruise Line's freestyle cruising philosophy is a magnet for families craving flexibility and variety. Kids between three and 12 will have a blast at the Splash Academy, which offers activities like arts and crafts, sports, and video games. For the older ones, Entourage is the teen hangout zone where they can enjoy a variety of digital entertainment options in a cool and relaxed setting.
Norwegian also offers a diversified entertainment and activity portfolio that family members can enjoy together. The ships feature multi-story waterslides, mini-golf courses, and climbing and rappelling walls for family fun. The Broadway-style shows, comedy acts, and live music ensure there's never a dull moment. Adults can also indulge in the vast array of dining options, relaxing spas, and fitness centers.
Multi-room suites and interconnected staterooms, many conveniently located near the kid's area, are designed to provide comfort and convenience for families, solidifying Norwegian Cruise Line as a top family-friendly choice.
4. MSC Cruises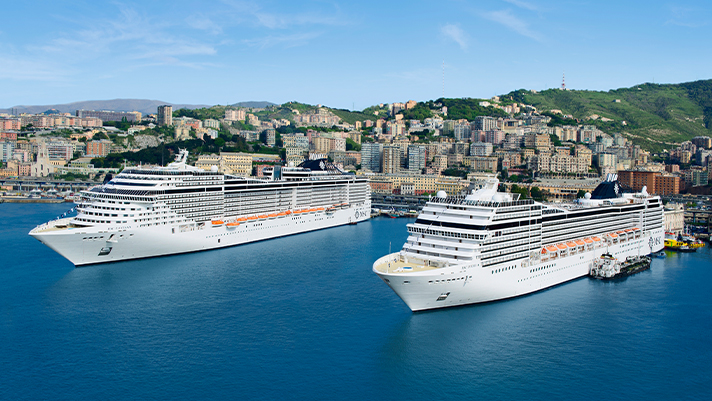 MSC Cruises takes pride in its Mediterranean hospitality and is an emerging favorite among families. The dedicated Kids Clubs host a variety of activities, including quizzes, sports tournaments, and a family disco!
Every cruise also features a special LEGO Experience On Board, which is an entire day dedicated to LEGO activities for the whole family. When the sun beckons, you can head to one of the pools or cool off in the water park.
Another factor that sets MSC Cruises apart is its digital experience. Families can immerse themselves in 4D cinema or enjoy a fully immersive VR experience. Those looking for analog thrills can drive a full-size MSC Formula racer or slide down a zip-line! Adults can savor culinary delights, relax in the MSC Aurea Spa, and enjoy Broadway-style shows.
The family cabins and connected cluster cabins are tailored to accommodate large families, reinforcing MSC Cruises' appeal for family vacations. The cruise line also places a special focus on family excursions that provide a discount for kids.
Embark on an Unforgettable Family Adventure
When it comes to family-friendly cruise lines, Royal Caribbean is a treasure trove of activities, Carnival Cruise Line caters expertly to all ages, Norwegian emphasizes flexibility and variety with its freestyle cruising, and MSC Cruises is a winner for its onboard entertainment.
Start planning your family vacation with the help of Avoya Travel's Independent Travel Advisors, who are happy to provide you with even more information about each cruise line, in addition to finding exclusive deals and discounts.
Call the number at the top of this page to be connected with a Travel Advisor in the Avoya Travel NetworkTM who can help you get the best price and answer any questions you have about booking your family cruise vacation.