With some of the latest and greatest cruise ships to sail the open seas on the market, Royal Caribbean prides itself on being the most fun-filled, family-friendly cruise out there. And they've even got the accolades to prove it.
Besides being voted Best Cruise Line in the Caribbean and Best Cruise Line Overall by Travel Weekly's Readers Choice Awards, Royal Caribbean has also been voted the best cruise line for first-timers, families, and couples by Cruiseline.com's Member Choice Awards for 2022!
With award-winning ships like the Symphony of the Seas and ships with record-breaking waterslides and waterparks like the Harmony of the Seas, Royal Caribbean goes above and beyond guest expectations to provide the best experience possible. Each ship has unique properties suited to every type of traveler's needs – and then some. From arcades and kid-friendly play areas to world-class craft cocktails and family game nights, fun is the word when it comes to Royal Caribbean.
But don't just take our word for it. Hop onboard a Royal Caribbean cruise yourself and discover the fun firsthand. Need a little more convincing? Check out the best Royal Caribbean ships to experience below.
Contact a Travel Advisor in the Avoya Travel NetworkTM or browse here to see everything Royal Caribbean has to offer for your next vacation.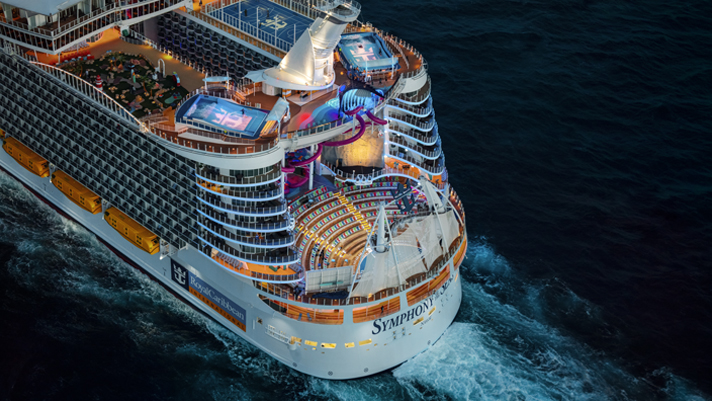 Symphony of the Seas
First up is one of Royal Caribbean's largest ships in the fleet, Symphony of the Seas. Not only is it part of the Oasis Class, an elite fleet of Royal Caribbean's grandest ships, but it was even awarded Best Individual Cruise Ship in 2022 by Travel Weekly.
Symphony of the Seas lives up to its reputation, jam-packed with outstanding amenities, show-stopping entertainment, specialty dining opportunities, and so much more. Start your day off with a daring ride down Ultimate Abyss™, a 10-story slide that is the tallest at sea. Or, for a more low-key activity, try out glow-in-the-dark laser tag or mini golf with your friends and family.
When it's time to wind down for the night, families have the ultimate advantage. Symphony of the Seas is one of the few lucky Royal Caribbean cruise ships that offers the Ultimate Family Suite, a Star tier stateroom that is designed to keep kids entertained and parents relaxed.
This eclectic suite is complete with a private game room with in-suite movies and video games, an in-suite slide, a hot tub hangout area, table tennis, and tons more. As part of the Star tier, you even get VIP access to certain drinks, shows, specialty dining, and your own personal Royal Genie who will help arrange anything you need while onboard.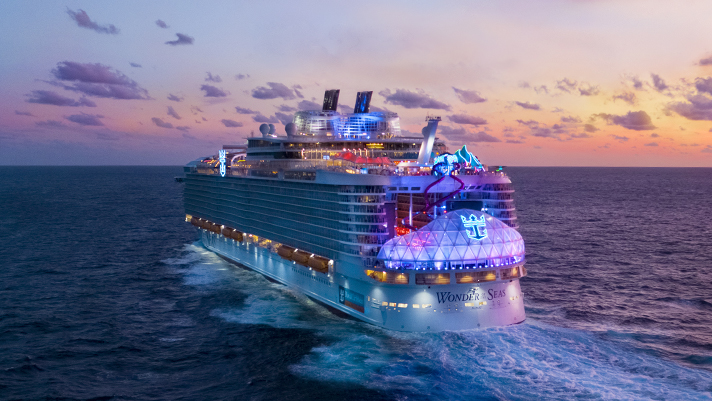 Wonder of the Seas
When it comes to Royal Caribbean, bigger is always better. Experience what it's like to sail on the biggest cruise ship in the world onboard Wonder of the Seas. With its grandiose design and eight original neighborhoods to explore, this is the perfect ship for a jam-packed family vacation.
Onboard the ship, you'll also be able to enjoy some of the most delicious cuisine at sea, such as Royal Caribbean's Southern-inspired restaurant The Mason Jar. From creole-style lobster n' crawfish gumbo to classic chicken and waffles, you'll always be more than satisfied when dining onboard.
Better yet, in between meals head on over to Cantina Fresca, a Mexican-style cocktail bar that serves a specialty pineapple jalapeño margarita. Or, for all types of drinks, you can enjoy the two-story poolside bar, The Lime & Coconut.
If you're traveling with young kids or teens, Wonder of the Seas has some of the coolest hangout spots out of all the ships. With exclusive outdoor patios and a hidden speakeasy-style entrance for the teens' club and mind-enriching "choose your own adventure" style playrooms for kids, keeping your sailors under 18 entertained will be a breeze.
The Blaster on Navigator of the Seas
Don't have time for a long vacation? Royal Caribbean's Navigator of the Seas specializes in short cruises or long weekend sailings. If you want the Royal Caribbean experience but don't have the time, this ship is perfect for you!
Unlike other ships, Navigator of the Seas is the only one to offer the longest waterslide at sea known as The Blaster®. Composed of over 800 feet of twists and turns – plus five powerful waterjet blasters – this waterslide is the perfect ride for thrill seekers.
You can even double up the adrenaline on Riptide, the only headfirst mat racer waterslide to sail the open seas. This tube-encased waterslide curves right over the edge of the ship for a once-in-a-lifetime view.
After all the fun, you're welcome to freshen up before a night out at To Dry For®, a hairstyling and blow-dry salon. Whether you want to glam up before dinner at one of Royal Caribbean's fine dining restaurants or simply crave the perfect up-do for shore excursion photos, their team of hair stylists will style you for any occasion.
Harmony of the Seas
Want an award-winning ship for the most rewarding vacation? Hop onboard Harmony of the Seas, the third addition to the Oasis class and the award winner for Best Cruise Ship from Travel Weekly's Readers Choice Awards in 2018!
This Royal Caribbean cruise ship offers the perfect combination of family-friendly entertainment with adult-only spaces to ensure couples, families, and friends traveling together all have an unforgettable adventure.
For instance, Harmony of the Seas offers one of the most unique children's spaces for young kids. Relax freely while little ones transform into Aquanauts (astronauts of the sea) upon entrance. In this underwater-themed play area, your three- to five-year-olds can enjoy kid-friendly science experiments and ocean-animal-themed toys all day long!
While they're exploring the seas, you can make your way to the adults-only Bionic Bar, a revolutionized bartending experience. Whether it's a classic cocktail or an original concoction, two robotic bartenders will make your drink to perfection from a chandelier of liquor above them.
Spend the days at sea ziplining nine decks above the Boardwalk® or riding the mind-blowing triple waterslide, Perfect Storm. What's a Royal Caribbean cruise without insane thrills?
When it's time to unwind, you can sit back and relax while professional extreme sports athletes perform for you! Slackliners, Highliners, and more professionals will perform incredible stunts high above the AquaTheater for your enjoyment – so you can take that much-deserved break from the action.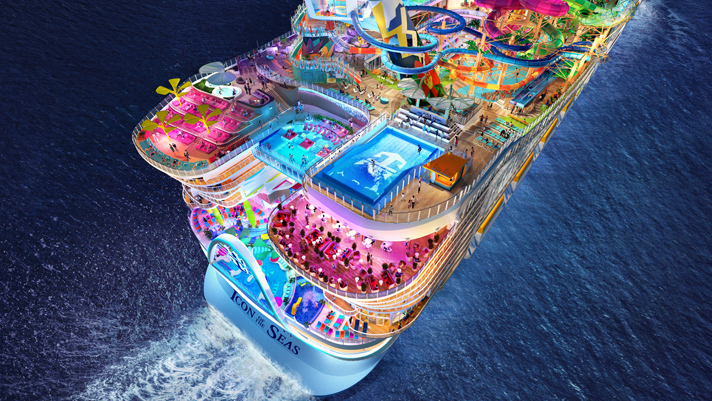 Icon of the Seas
Everyone wants to be a part of the next big thing. Lucky for you, Royal Caribbean's newest ship is shattering records with its innovative design and iconic features. Set to be released in 2024, the record-breaking cruise ship, Icon of the Seas, is the perfect cruise ship for innovation lovers and trendsetters.
Featuring the largest waterpark at sea, Category 6, and Pressure Drop, the first ever open freefall waterslide to sail the seas, Icon of the Seas is making a name for itself before it even sets sail.
This magnificent cruise ship will even be home to Royal Caribbean's newest family suite, Ultimate Family Townhouse. With three levels composed of a cinema room, a monster-themed daybed, three full bathrooms, a slide to the living room, and so much more, families big and small are sure to be entertained all cruise long.
Leave It to the Experts
Want to experience the best of the best? Book a Royal Caribbean cruise and be amazed at the outstanding quality, stupendous service, and top-notch entertainment that is offered on every one of their ships.
Better yet, with Avoya Travel's access to exclusive deals and expert travel knowledge, rest assured you will be in good hands on and off the ship. Contact us to speak to one of our Independent Travel Advisors to start planning your perfect Royal Caribbean adventure and experience one of these magnificent cruise ships for yourself.
Call the number at the top of this page to be connected with a Travel Advisor in the Avoya Travel NetworkTM who can help you get the best price and answer any questions you have about Royal Caribbean.