Located along the shoreline of the Yucatán Peninsula, Dreams Jade Resort & Spa is one of Cancun, Mexico's best-kept secrets. It is a luxury playground for those who wish to enjoy a family vacation or an adults-only getaway amid cascading palm trees, crystal clear ocean water, and white sandy beaches that beg to be lounged on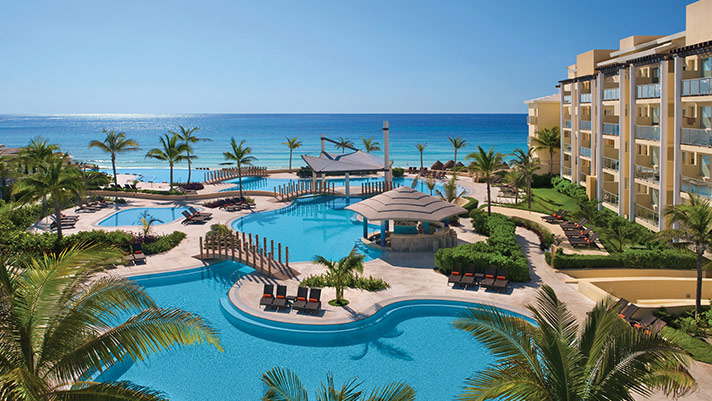 Pool View of Dreams Jade Resort & Spa
With 550 lavish and modern suites to choose from, you are sure to find the ideal floor plan to suit your party's needs. Every suite at this resort features an interior color palette that is inspired by the brilliant turquoise water, which is just footsteps away. Here is a look at the best suites at Dreams Jade in further detail.
Contact a Travel Advisor in the Avoya Travel Network™ or browse here to see everything Dreams Jade Resort & Spa has to offer for your next vacation.
Junior Suite with an Ocean or Tropical View
With large, picturesque windows that overlook the ocean or the tropical landscape that frames out the resort, the junior suite is one of the best resort rooms with a budget-friendly lodging option that is anything but ordinary. Each junior suite measures an impressive 700 square feet and is decked out in soft furnishings as well as tropical decorative accents.
Most suites offer a private terrace or balcony with outdoor seating. The junior suites accommodate up to four guests and come with a king-size bed, two double beds, and living space seating for everyone.
Dreams Jade Junior Suite with Tropical View
Family Suite with a Tropical View
If you are traveling with your family, the family suite is the ideal lodging option. Measuring in at 1,400 square feet, the family suite is two junior suites connected so parents and children can have their privacy while still being in close proximity to one another. Each family suite boasts gorgeous tropical views and comes with one king-size bed and two double beds.
Family suites feature plenty of living space so you can relax and unwind after a long day of sightseeing and spend time together watching movies and doing other activities.
Additionally, the family suite also features a spacious bathroom complete with a hot tub and a separate rain shower. This suite accommodates a family of six which makes it one of the best suites at Dreams Jade.
Preferred Club Suite
Upgrade to a preferred club oceanfront suite or ocean-view suite and enjoy all of the amenities offered with a junior suite and more! The ocean-view suite is 443 square feet and comes with your choice of a king-size bed or two double beds, while the oceanfront suite is 765 square feet in size.
Both floorplans include a spacious bathroom with a separate rain shower and accommodate up to four guests, making them ideal for families or couples on a romantic getaway who would like a more spacious suite to lodge.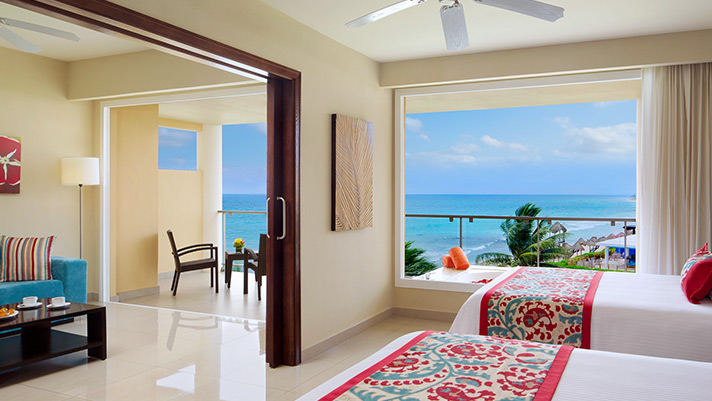 Dreams Jade Preferred Club Suite with Ocean View
In addition to a luxurious place to enjoy some downtime, preferred club members also get to take advantage of exclusive perks, like daily breakfast service, expedited check-in and check-out, access to a private adults-only swimming pool and lounge, top-shelf liquor, gourmet dessert offerings, and afternoon hors d'oeuvres made by professional chefs.
Preferred Club Governor Suite
Offering the best in relaxation and tranquility, the Preferred Club Governor Suite is designed for those who are looking for a lavish stay and a real VIP experience. The Preferred Club Governor Suite is decked out in natural decor, like tan marble flooring, dark wood furniture, wooden accent walls, and a separate bedroom suite with a king-size bed. Each Governor Suite is 1,088 square feet in size and boasts stunning ocean views on a private double balcony or terrace.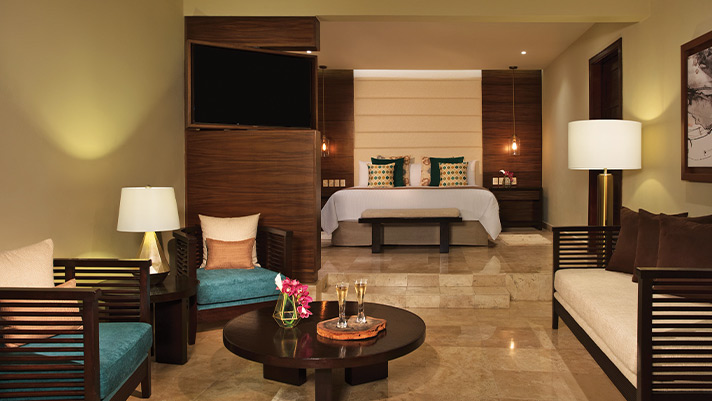 Dreams Jade Preferred Governor Suite
More About Dreams Jade Resort & Spa
Dreams Jade Resort & Spa is an all-inclusive luxury vacation getaway where the staff rolls out the red carpet for all their guests. In addition to relaxing suites with stunning views, take advantage of amenities like a lavish day spa with 13 private rooms where you can reserve a professional massage, hydrotherapy, or a custom beauty treatment from the salon menu.
Dreams Jade also has nine different casual and fine dining restaurants, which serve everything from locally inspired Mexican dishes to poolside pizza and authentic Italian fare. If you are craving an ice-cold beer, a glass of wine, or a signature cocktail, the property has several indoor or outdoor bars to choose from.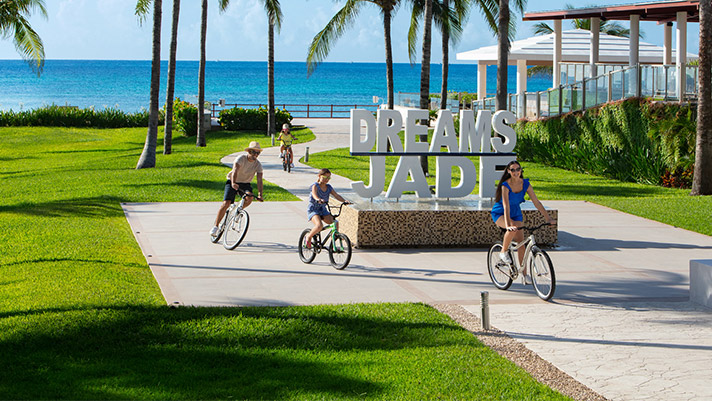 Dreams Jade Resort & Spa Family Activity
You can also keep up with your health and wellness routines at the resort's fitness center or get in on a water aerobics or yoga class. Other activities available at the resort include archery, mini-golf, beach volleyball, Euro-bungee, batting cages, movie nights, and the popular Turtle Release Program, which you can watch as baby turtles are released out to sea during hatching season.
If your idea of the perfect vacation involves an abundance of warm, tropical weather and an all-encompassing experience where fun and pampering experiences are right at your fingertips, consider booking your stay at Dreams Jade Resort & Spa in Cancun. At Avoya, we are here to help you make the most out of your vacation, so contact us today so we can help you put together the perfect cruise getaway.
Call the number at the top of this page to be connected with an Independent Travel Advisor in the Avoya Travel NetworkTM who can help you get the best price, navigate COVID-19 restrictions, and answer any questions you have about Dreams Jade Resort & Spa.