Travel north to Alaska, or otherwise famously known as The Last Frontier, on an indulgent Oceania Cruises voyage and experience the peace and tranquility of the great outdoors like never before. Oceania Cruises offers luxury cruising at its finest and provides each guest with a uniquely elegant vacation experience in one of the most ruggedly beautiful destinations in the world.
With a team of exceptional passenger service members to cater to your every need and a host of posh amenities to revel in, all you have to do is sit back, relax, and enjoy the journey. Let's take a quick look at the Oceania Cruises experience when sailing across Alaska in closer detail:
Contact a Travel Advisor in the Avoya Travel NetworkTM or browse here to see everything Oceania Cruises has to offer for your next vacation.
The Ship
Oceania Cruises' Regatta is an impeccable ship that creates an incredible vacation experience filled with exciting activities onboard while transporting you to adventurous land excursions at the various ports of call on your Alaska itinerary. Get ready for Oceania to roll out the red carpet for you and all of their guests with the Your World. Your Way.® travel promise.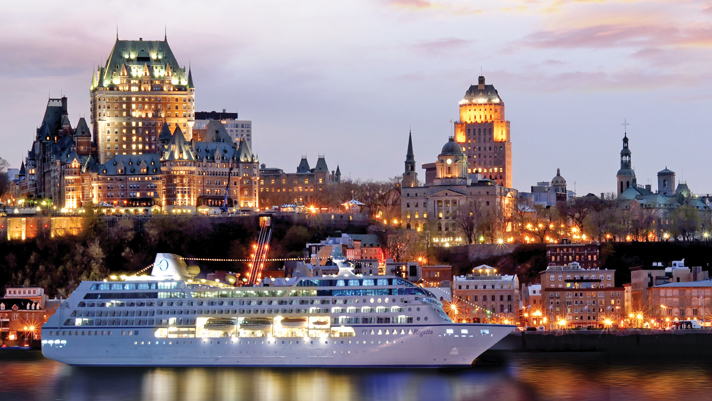 Beautiful Regatta docked in Quebec
Onboard Regatta, discover a re-inspiration of classic elegance that accommodates 684 guests with 400 professionally trained staff, which allows each traveler to receive personalized service. The interior of the Regatta will leave you feeling relaxed and rejuvenated with its soothing color palette that is inspired by the sea and sky.
At the end of the day, retreat back to the comfort of your stateroom where you can sleep on an Ultra Tranquility Bed, enjoy 24-hour room service, and spend some quiet time with friends or the one you love. Every guest who sails with Oceania Cruises is treated to a nightly turndown service complete with Belgian Chocolate treats, daily maid service, and a luxuriously soft robe and slippers that are just the right size.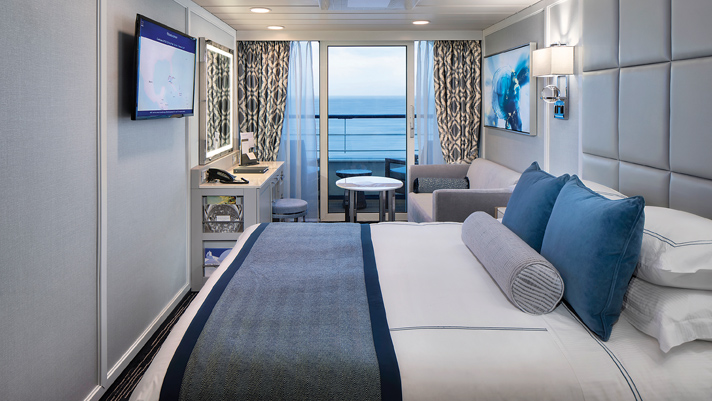 Unwind in the Veranda Stateroom
The Cuisine
Tantalize your tastebuds by relishing a host of fine and casual dining restaurants that make up The Finest Cuisine at Sea®. Oceania Cruises has partnered with world-renowned chefs, including Master Chef Pépin, Corporate Executive Chef Franck Garanger, Executive Chef Viktor Malek, and Executive Chef Frederic Camonin, to bring you extraordinary menu offerings that are crafted of only the finest ingredients.
The Grand Dining Room is offered onboard all cruise ships and it is designed to mimic the look of a marquee five-star hotel in Europe. Additionally, as you sail, you can enjoy the delicious gourmet fare at specialty restaurants like Toscana, Polo Grill, and Red Ginger, just to name a few.
The Ports of Call and Activities Offered in Alaska
Feast your eyes on all of the stunning rugged beauty Alaska has to offer while sailing along its southern coastline in the comfort of an Oceania Cruises luxury cruise vessel. Depending on the specific sailing you choose, your journey will begin in Los Angeles, Seattle, or Vancouver B.C and will take you up to scenic ports of call in Ketchikan, Sitka, Skagway, Icy Straits, and Juneau, with a special in-water visit to Hubbard Glacier.
Oceania's land excursions are perfect for getting to know Alaska and its rich history and culture better. Every port stop has plenty of free time carved out so you can choose an adventure that interests you. For example, explore old gold mining villages in Juneau and Skagway with a local tour guide and learn about how this luxurious precious metal helped to shape the economy.
Stroll the ports of call on your itinerary by foot, by transit, or by rideshare on your own and try out the local cuisine, shop the boutiques, or go on a nature hike into the vast wilderness that makes up the region.
Make the most of your Oceania Alaska cruise by signing up for some of the upgraded land excursion adventures this cruise line has to offer. Go up in a helicopter and get a remarkable bird's eye view of the snowcapped mountains and grassland meadows that make up the Alaskan wilderness. Oceania partners with local wilderness guides who take cruise groups on nature hikes, kayaking trips, and cultural outings. Book a 7- to 12-night cruise and explore Alaska your way.
The Onboard Activities
As you cruise to Alaska, take advantage of the many onboard activities offered on your Oceania Cruises ship. Aquamar Spa + Vitality Center offers guests the opportunity to focus on rejuvenating the mind, body, and soul while sailing.
This all-encompassing health and wellness center features a fitness facility complete with floor-to-ceiling windows that overlook the ocean, a beauty salon, an indulgent day spa with a lengthy menu of customized relaxation treatments, and a vitality center where you can learn how to nourish your body in a way that caters to your personal health and wellness goals.
All Oceania ships feature cocktail lounges, country club-inspired bars, and social rooms where you can relax with a good book or play cards and table games with fellow cruise guests.
Alaska is truly a nature lover's playground. It is a place where moose, buffalo, elk, bears, and more majestic wild animals roam freely and a place where you can really tap into your untamed spirit. Book your Oceania Alaska cruise with Avoya Travel today and experience Alaska your way.
Call the number at the top of this page to be connected with a Travel Advisor in the Avoya Travel NetworkTM who can help you get the best price, navigate COVID-19 restrictions, and answer any questions you have about Oceania Cruises.