5-minute read | July 20, 2021
After more than a year of staying safe, staying home, and practicing social distancing, our collective patience is about to pay off. Regent Seven Seas Cruises is getting ready to return to cruising this September with the Seven Seas Splendor, to be followed soon after by the other four ships in the luxurious fleet.
Enhanced health and safety programs, abundant personal space, and incredible itineraries make Regent Cruises a top choice for your return to travel. Cruise the ocean in luxury and take in the sights at beautiful destinations as the world opens back up.
Sail to beautiful destinations all around the world with peace of mind offered by the cruise line's robust new health and safety program...
Keeping You Safe at Sea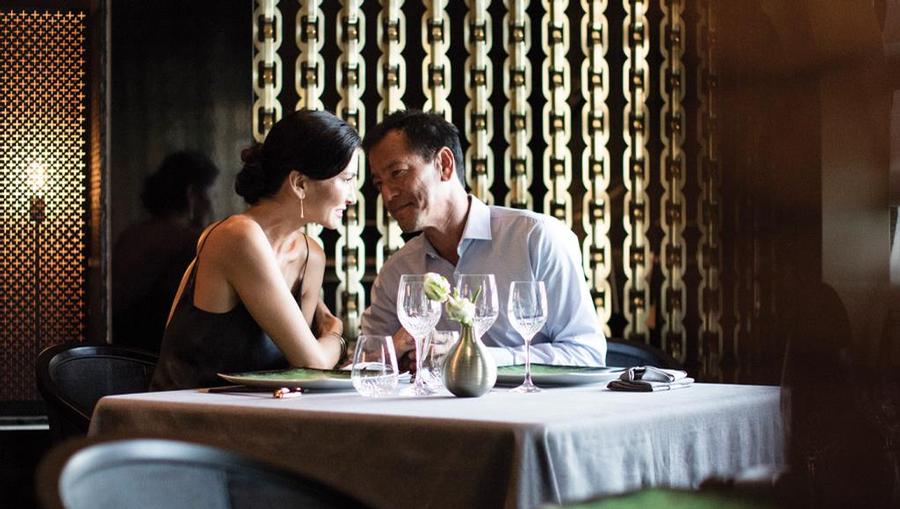 Enjoy fine dining onboard Seven Seas Explorer and fleetwide.
The Regent Cruises 2021 return strategy is centered on providing enhanced protections against COVID-19 while delivering an even better travel experience than pre-COVID. A new Regent Seven Seas Cruises' SailSAFE™ Health and Safety Program will allow guests and crew to travel the world as safely as possible.
New Safety Rules:
Vaccinations for Two Weeks
All individuals on board will need to be fully vaccinated for two full weeks before boarding, and everyone will also need to undergo pre-embarkation screenings like a touchless temperature check and a health questionnaire.
Capacity Control
As Regent Cruises begins sailing, guest capacity will be controlled to allow for easy physical distancing, and hand sanitizer stations will be prominently placed throughout the ship for easy accessibility.
Frequent Cleaning and Disinfenction
A program of continuous cleaning has been designed for frequent disinfection of high-traffic touchpoints in public areas, as well as for daily, non-toxic disinfection of guest accommodations.
Medical-Grade Air Filters
All ships will be upgraded with medical-grade air filters and new air treatment technology using bio-polar ionization has been adopted in the fleet's public spaces.
More Onboard Medical Staff and Resources
Regent's Return to Service also includes enhanced onboard medical capabilities with additional staffing and capacity. Every ship in the fleet will have a dedicated onboard Public Health Officer and Infectious Disease Prevention Officer, and all guests are to receive complimentary consultations for respiratory illnesses and dedicated isolation if need be.
Regent Cruises has also partnered with local destinations to extend guest safety to onshore excursions. The cruise line will be monitoring the health environment at every destination and modifying itineraries as needed.
Luxury Travel with Lavish Personal Space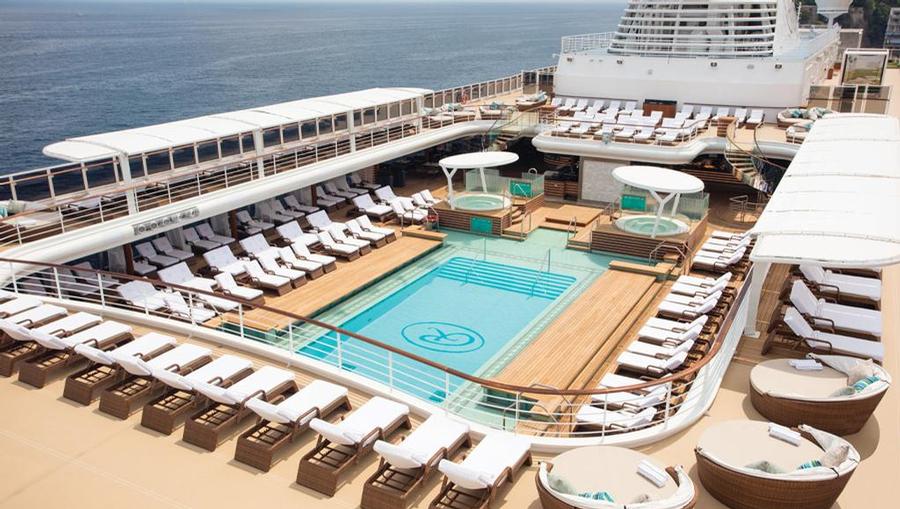 Personal space is more important than ever, and the Regent fleet was already designed to provide guests with all of the spacious comforts. The cruise line believes that lavish personal space is central to a luxury travel experience – meaning spacious social areas, spacious suites, and numerous dining options.
Spacious Social Areas and Entertainment Options
Guests numbers are kept to a minimum, with ships hosting only 490 travelers on the Seven Seas Navigator and up to only 750 travelers on the Seven Seas Splendor. This allows for a staff-to-guest ratio of around 1:1.5.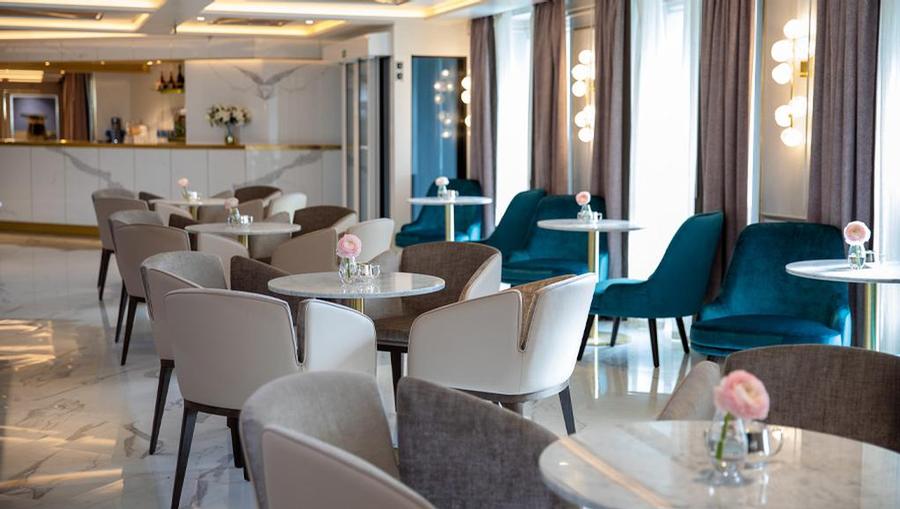 Social areas and facilities aboard the Regent Cruises fleet rival those found on much larger ships, which translates to no waiting, no lines, and no crowds. A large pool deck area means that you can always find a sun lounger to recline on or a private space to relax in, and there is one-on-one instruction available in the fully equipped, state-of-the-art fitness center.
Evening entertainment options offer spacious and comfortable seating, as well as intimate cabaret-style tables meant only for two. A selection of personalized onboard enrichment opportunities, like classes and activities, are also available.
Dreamy Suites
Let's not forget the Regent suites, which are a spacious and private escape just for you. Every suite offers world-class amenities like ocean-view balconies, separate seating areas, and large walk-in closets. Distinctive Suites provide even more living space as well as exclusive benefits like a private butler, lavish bath amenities, and priority boarding. Regent Suites--the pinnacle of luxury aboard Regent Cruises--have over 4,000 square feet of living and relaxation space, an in-suite spa, exclusive dining experiences, and more.
All travelers are guaranteed space, comfort, and luxury no matter their accommodations.
Get Set to Sail with Regent
Regent's Return to Service promises new and exciting adventures all over the world. Over the course of the 2021 and 2022 seasons, each ship in the fleet will be departing for previously published itineraries and some exciting new voyages.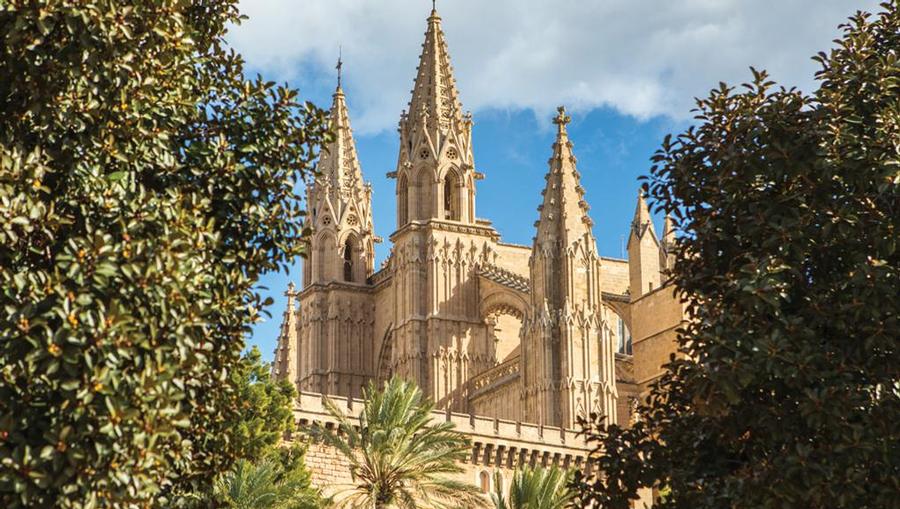 Related: A Look at Regent Cruises Itineraries Returning 2021-22
When Will Regent Begin Cruising?
The Regent Cruises 2021 itinerary begins with the Seven Seas Splendor, which will depart from London on September 11. For her inaugural season, this ultra-luxurious ship and newest addition to the Regent fleet will sail through Europe and the Mediterranean.
Next to set sail in 2021 is the Seven Seas Explorer, which will depart from Venice on October 16, 2021. The ship will complete two voyages throughout the Mediterranean before heading across the Atlantic for a brand new Caribbean season.
The last trip of the Regent Cruises 2021 season will begin on December 18, when the Seven Seas Mariner sails from Miami to San Francisco.
In the New Year, the Seven Seas Mariner will depart from San Francisco on January 5 to begin its epic 2022 World Cruise. On January 6, 2022, it will be time for the Seven Seas Navigator to set sail from Miami and on journeys throughout the Southern Caribbean, including multiple round-trip voyages to Barbados.
Finally, the Seven Seas Voyager will leave for its long-awaited return to the sea on February 15, 2022. The ship will depart from Barcelona and onto itineraries including the Mediterranean and Northern Europe.
Check out our featured Regent Cruises Deal and speak to a Travel Planner in the Avoya Travel NetworkTM today to cash in on exclusives.