All aboard for an adventure that will take you through picturesque landscapes and charming towns in absolute comfort and style. One of the oldest forms of travel, a train ride offers the ability to wind through breathtaking mountains, cut through meadows and valleys dotted with wildflowers and foliage in a multitude of different colors, travel over bridges overlooking cascading waterfalls and raging rivers, and traverse cities and villages with architecture that complements the surrounding natural beauty.
Sometimes the most memorable trips are marked not just by the destination but by the journey to get there. For your next vacation, discover the path less traveled by booking a scenic train ride and enjoy the slower pace that a luxurious rail journey has to offer.
Here is an overview of Avoya's top train vacation recommendations and some of the epic adventures each has in store for you.
Contact us to be connected with a Travel Advisor in the Avoya Travel NetworkTM to learn more about your vacation options and how you could save on your dream getaway.
Amtrak Vacations
With itineraries to stunning destinations, including Glacier National Park, New Orleans, the Canadian or American Rockies, Washington D.C., Yellowstone National Park, the American Southwest, and more, Amtrak Vacations helps you to explore the United States and Canada in one-of-a-kind style. Amtrak Vacations' rail journeys range from 3- to 9-nights depending on the distance traveled and the stops along the way and work for most budgets. Enjoy a journey full of beautiful scenery and experiences filled with unforgettable moments.
Onboard an Amtrak train, discover the comfort of roomy lounge cars where relaxation is a way of life. Kick back and enjoy abundant natural beauty from train cars that offer picture windows and a sunroof. Book a first-class roomette and enjoy amenities like private sleeping and seating quarters and complimentary meals throughout your travel. Amtrak Vacations also offers flexible reservation-free dining as well as traditional dining and fine dining options.
Railbookers
Whether your travel bucket list includes exploring the United States, Europe, Australia, or Canada, Railbookers has a train travel vacation package that is just for you. The travel experts at Railbookers work hard behind the scenes to put together comprehensive train vacation itineraries that make exploring the world easy.
Some of the most popular vacation itineraries include Zurich to Basel via the Bernina and Glacier Express Trains, Grand Alaska Adventure with Alaska Railroad Southbound, or a classy Italian adventure on a train ride that will reveal the wonders of Venice, Florence, and Rome. For the most thrilling train adventure, book the Around the World in 80 Days tour, visiting 13 different countries and over 20 of the most popular cities.
Railbookers offers accommodations to fit your style. Depending on which continent you are traveling in, Railbookers works with an array of notable brands to provide you with a luxury vacation experience. If Africa is your travel destination, you will most likely ride with Blue Train or Rovos Rail, while European travelers will hop aboard Eurostar, Eurocity, Deutsche Bahn, SNCF in France, or Trenitalia in Italy.
Europe's selection of high-speed and inter-city trains provides a quick and efficient way to get just about anywhere, and each train line offers its unique perks. For longer-distance trips, you can reserve your spot on an overnight sleep car, so you can maximize your vacation and do your traveling at night if you choose.
Rocky Mountaineer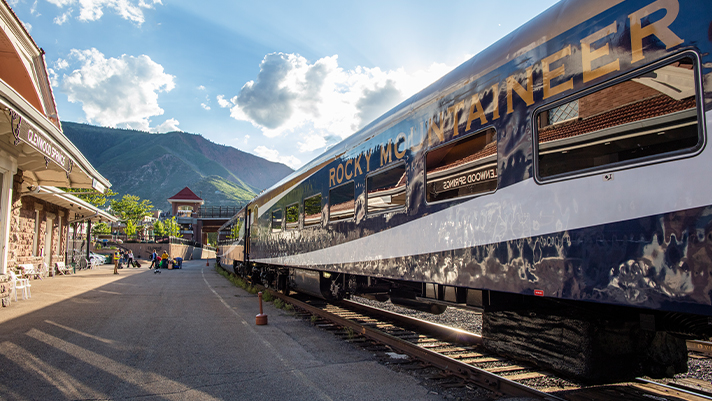 Enjoy all of the grandeur and majesty of the Rocky Mountains from the comfort of a luxury glass dome coach when you take a ride on a Rocky Mountaineer train. Single-deck and double-deck trains are available, and each features plush seats for the ultimate comfortable ride. Guests are treated to cocktails and menus that are inspired by the regions they travel to. Take a quick excursion for the day or venture out on a multi-day adventure. With Rocky Mountaineer, you will spend time exploring all the beauty of the Rocky Mountains region by train and then retreat to a relaxing hotel room for a good night's sleep.
An expert guide leads each Rocky Mountaineer adventure, so you get the most out of the experience. With Rocky Mountaineer, choose from luxury tour itineraries, including First Passage to the West, where you will travel through Vancouver, Kamloops, and Banff; Journey Through the Clouds, with stops in Vancouver, Kamloops, and Jasper; Rainforest to Gold Rush, with stops in Vancouver, Kamloops, Whistler, Quesnel, and Jasper; or the picturesque Rockies to Red Rocks Tour, with stops in Moab, Glenwood Springs, and Denver. Rocky Mountaineer will take you on an epic adventure to some of North America's most stunning natural attractions.
Book Your Dream Train Journey With Avoya Travel
Take a step back in time and fall back in love with one of the oldest modes of transportation by booking your reservation on a train vacation today. Whether you want to explore the world or regions a little closer to home, an Avoya Travel Independent Travel Advisor is ready to help you choose your perfect adventure. Contact us today to start planning your rail adventure.
Call the number at the top of this page to be connected with a Travel Advisor in the Avoya Travel NetworkTM who can help you get the best price and answer any questions you have about booking your vacation.