Royal Caribbean is a leader in the cruise industry when it comes to creating an experience geared for guests of all ages. Get ready to set sail on an epic vacation that is full of fun, age-appropriate activities, and enriching adventures that allow you to bond with your family in style.
Here are the top 5 reasons why a Royal Caribbean is the perfect family cruise for your next vacation:
Contact an Independent Travel Advisor in the Avoya Travel NetworkTM or browse here to see everything Royal Caribbean has to offer for your next vacation.
1. Perfect Day at CocoCay
What is more amazing than sailing down into the heart of the Caribbean onboard a fun-filled and family-friendly Royal Caribbean cruise ship? Spending a day at CocoCay while on your cruise! Perfect Day at CocoCay is an exclusive island vacation destination that is privately owned and operated by Royal Caribbean.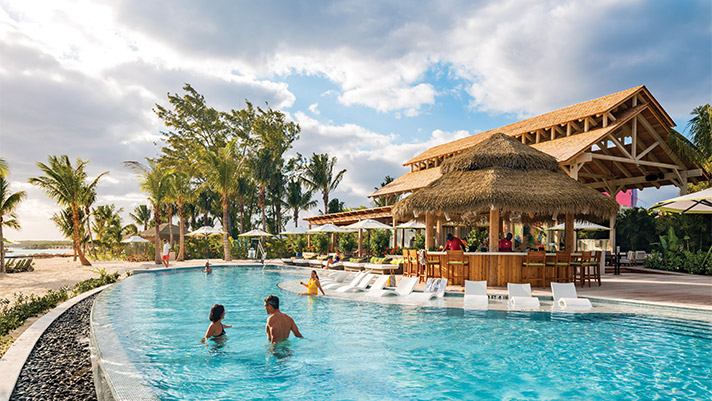 Enjoy Perfect Day at CocoCay, the exclusive Royal Caribbean private island.
CocoCay is home to Thrill Waterpark®, which is packed with adrenaline-pumping waterslides and other kid and adult-friendly water activities; the Zip Line, which stretches an astonishing 1,600 feet and transports you to the other side of the harbor; Floating Cabanas, where you are invited to relax and unwind with your family while sipping on tropical drinks and taking in remarkable views of the Caribbean; Chill Island, which is a beachfront recreation spot where you can lounge on the sand, play beach games, grab a meal at the grill, and enjoy making memories with your kids; Captain Jack's, which is an outdoor live entertainment bar and grill located along the beach harbor; and Up, Up and Away, where you can get a bird's eye view of the entire island while up in the sky in a helium balloon.
2. Youth Programs
No matter your child's age, the crew onboard all Royal Caribbean ships roll out the red carpet for them with an array of age-appropriate activities that encourage learning and allow them to enjoy an epic vacation at sea.
Enroll your children into the Adventure Ocean® youth program and allow them to take part in a variety of activities that teach them about science, math, culture, and art as part of their cruise experience.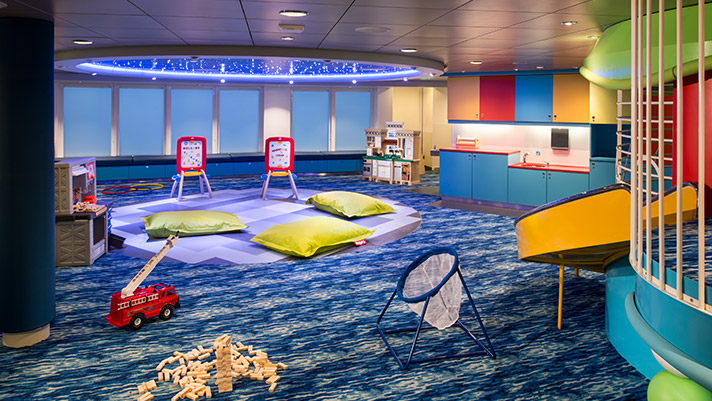 Let the little ones play at the Aquanauts and enjoy age-appropriate activities.
Aquanauts is reserved for cruise passengers 3 to 5 years of age and is a day program where they will conduct science experiments and earn their Certified Jr. Adventure Scientist designation. The Explorers program is for kids ages 6 to 8 and includes science and maritime learning activities as well as themed parties that allow them to make friends with fellow passengers. The Voyagers program is geared toward kids ages 9 to 12 and puts an emphasis on making learning "cool" through science experiments, theatrical lectures, and art projects.
Teen passengers are welcome to socialize and enjoy some chill time at the Teen Lounge, where they can enjoy drinks and snacks while watching TV, playing games, and meeting others in their age group. The Teen Lounge also hosts after-hours parties where they can hang out without their parents later into the night.
For the babies and tiny tots, Royal Caribbean hosts story time, art, and playtime activities for little ones and their parents.
3. Sun-Drenched Days at Sea
While sailing, head up to the top deck of any Royal Caribbean cruise ship where you will find a variety of fun-in-the-sun activities for passengers of all ages. Most ships in the fleet are equipped with a roof deck waterpark with waterslides, a swimming pool, a wave pool, and plenty of hot tubs for all passengers to enjoy.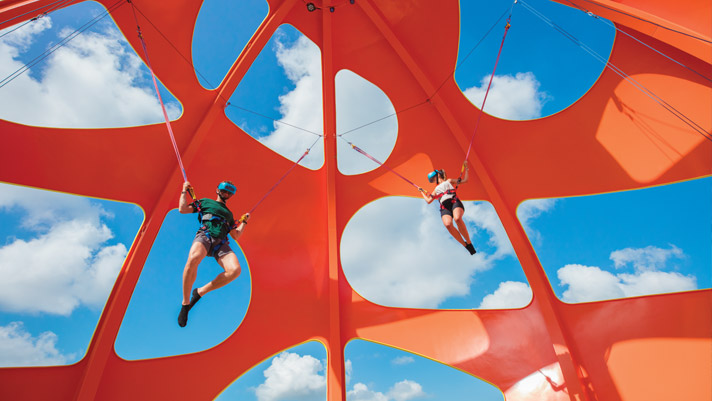 Take a big jump on the Skypad Trampoline onboard your Royal Caribbean cruise.
The roof deck recreation areas also include activities like a swim-up bar and eatery, a basketball court, a rock-climbing wall, a skating rink, zip-lining, miniature golf, and more. If relaxing is more of your family's vibe, there is plenty of outdoor deck space to pull up a chair and enjoy the views day and night.
4. Endless Onboard Activities
Cruises with Royal Caribbean include complimentary and paid activities like an onboard library and card room, The Arcades video game facility, a go-kart center, a beauty salon that caters to guests of all ages, an escape room where you must strategize as a family to solve a mystery, dance classes, and cooking classes. The onboard activities are endless and will make a memorable and fun-filled vacation for the entire family.
5. Live Entertainment
All Royal Caribbean cruise ships feature a state-of-the-art music and entertainment theater as well as several guest lounges that cater to adults, children, and teens. While at sea, be sure to book your seats for some high-caliber entertainment that is worthy of the most prestigious stages on land.
Be entertained with Broadway show classics like Grease.
From the spectacular AquaTheater's original productions that will have you in awe onboard the Oasis Class ships to Broadway musicals, like Grease, CATS the Musical, and Hairspray, you are sure to find a performance everyone in your family will enjoy. Most ships also include adults-only comedy shows as well as social clubs, a wine bar, and a cocktail lounge.
If a fun-filled vacation with activities geared toward all ages is your idea of the perfect family vacation, book a Royal Caribbean cruise with Avoya Travel. We will help you find your dream cruise at the best value, so you can focus your attention on all the adventures that await you while exploring the most coveted destinations at sea.
Call the number at the top of this page to be connected with an Independent Travel Advisor in the Avoya Travel NetworkTM who can help you get the best price, navigate COVID-19 restrictions, and answer any questions you have about Royal Caribbean.