If you're daydreaming about sun-kissed beaches, azure waters, and an escapade that will etch memories for a lifetime, a Caribbean escape should be on your horizon. One of the first choices to make when planning your dream Caribbean vacation is where to set sail from.
Well, you're in luck because cruises out of Galveston, Texas offer everything you could be looking for. Galveston is not just a historic town with Victorian charm; it has swiftly climbed the ranks as the top port to set sail from to explore magical Caribbean destinations.
Let's dive into what makes Galveston the capital for cruises out of Texas.
Contact us to be connected with a Travel Advisor in the Avoya Travel NetworkTM to learn more about your vacation options and how you could save on your dream cruise getaway.
Why Start Your Caribbean Vacation from Galveston?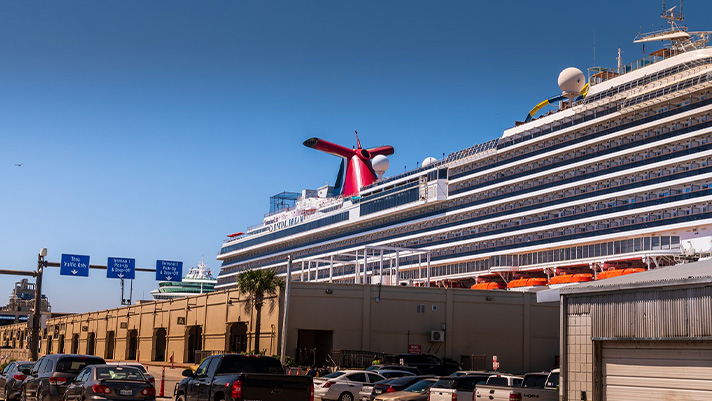 Cruise Port in Galveston, Texas
Galveston, a jewel on the American southern coast, has emerged as one of the most coveted departure points for Caribbean cruises. But what about this historic city that makes it an ideal starting point for a tropical escapade?
First and foremost, its strategic location offers seamless access to the Caribbean, cutting down long transit times found in other ports. Its proximity to major Texan cities like Houston ensures easy accessibility, making the commute for travelers a breeze.
Moreover, Galveston offers a diverse range of pre-cruise attractions, from historic districts to sunny beaches, allowing travelers to kick-start their vacation early. The city itself boasts a rich maritime history and a beautiful seafront, setting the mood for an unforgettable getaway even before you board. With state-of-the-art cruise terminals and world-renowned cruise lines anchoring here, starting your Caribbean voyage from Galveston is a choice soaked in convenience and charm.
Set Sail With the Best Cruise Lines in the World
Part of what makes cruises out of Galveston such a popular choice for vacationers is the selection of top cruise lines that set sail from its waters, including Carnival Cruises, Royal Caribbean, Princess Cruises, Norwegian Cruise Line, and Disney Cruises.
Carnival Cruise Line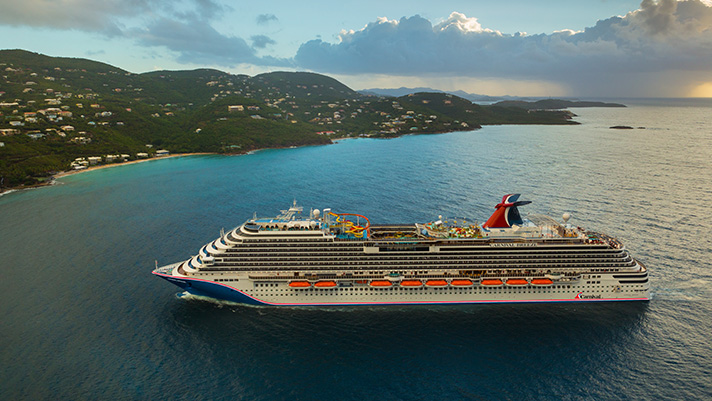 Carnival Breeze in the Caribbean
A flagship of fun and festivity, Carnival Cruise Line is synonymous with vibrant onboard experiences.
Cruises out of Galveston onboard Carnival are tailored for diverse preferences, ranging from quick 4-night getaways for the busy traveler to elaborate 14-night voyages for those wishing to fully unplug. Guests are treated not just to an array of entertainment – from live shows to pool deck parties – but also to an extensive culinary journey with diverse dining options.
Royal Caribbean
Then there's Royal Caribbean, the embodiment of adventure at sea. Setting sail from Galveston, it takes passengers to the Caribbean's hidden gems and popular spots alike.
With trip lengths that vary from quick weekend getaways to immersive two-week adventures, Royal Caribbean promises unbeatable amenities, exhilarating onboard activities, and captivating shore excursions. Featuring rock climbing walls, surf simulators, and robotic bartenders, the cruise line couples traditional comforts with modern innovations.
Princess Cruises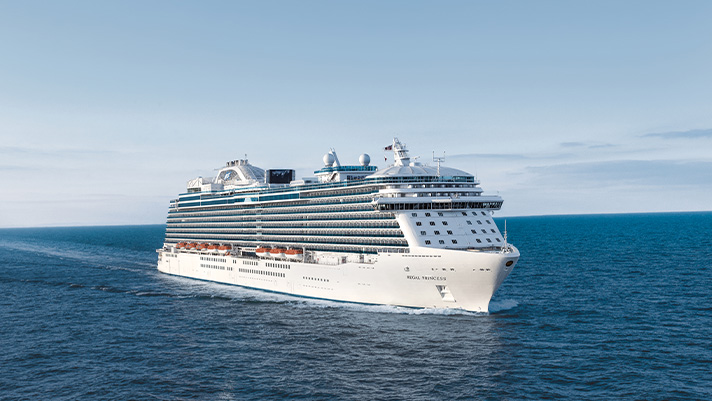 Regal Princess at Sea
Setting the gold standard for sophistication on the seas, Princess Cruises is a top choice for those seeking a serene and elegant cruising experience.
From Galveston, voyages with Princess can range from a week to longer, allowing travelers to bask in the line's renowned service. Coupled with gourmet dining options that cater to diverse palates and world-class entertainment offerings, it's no wonder Princess holds its position as a pinnacle of sophisticated cruising.
Norwegian Cruise Line
For cruises out of Texas that focus on flexibility and freedom, go with Norwegian Cruise Line. Whether you opt for a shorter trip or an extended journey lasting up to two weeks, you're assured a modern cruising experience.
Beyond their celebrated "Freestyle Dining," which allows guests to dine without fixed times or pre-assigned seating, Norwegian boasts expansive sundecks, Broadway-style performances, and even go-kart tracks on select ships. For those looking for a cruise that molds around their desires, Norwegian is the go-to.
Disney Cruises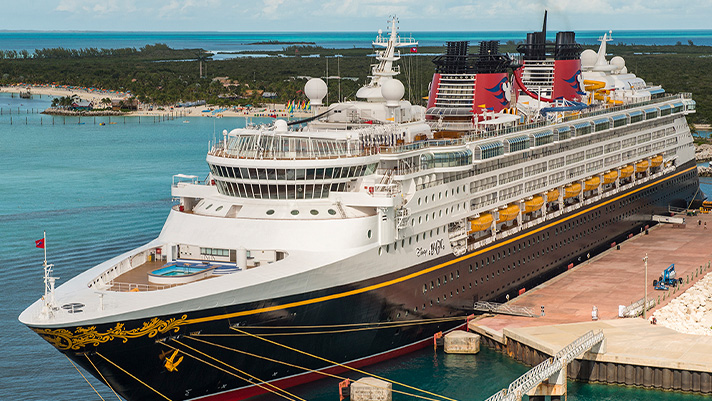 Disney Magic at port in the Caribbean
Finally, a voyage with Disney Cruises is a magical journey right out of a fairy tale. Setting sail from Galveston, Disney crafts cruises that cater to families, honeymooners, and solo travelers.
Whether it's a short escape or an extended journey through the Caribbean, every moment is drenched in enchantment. From the iconic evening fireworks at sea to the themed dining experiences that transport guests to different worlds, every detail is meticulously planned.
When Is the Best Time to Book Cruises Out of Galveston?
To experience the Caribbean at its best, it's ideal to sail from Galveston between late winter and early spring. This period not only offers pleasantly warm weather but also avoids the peak of the hurricane season, ensuring smooth sailing.
The hurricane season in the Atlantic typically spans from June to November. The Gulf of Mexico, serving as the pathway for cruises out of Texas, can be seriously affected during the hurricane season. Don't worry – modern cruise ships are equipped with advanced weather-tracking systems to ensure passenger safety, but they may reroute if necessary to avoid dangerous conditions. Many travelers prefer to avoid hurricane season to minimize possible itinerary disruptions.
Start Your Journey Today With Avoya
Navigating the myriad options of cruises out of Galveston can be both exciting and a tad overwhelming. This is where Avoya Travel and our Independent Travel Advisors come in. Unlike traditional agents, our experienced experts dive deep into personalizing services for each traveler.
This custom touch ensures that every cruise recommendation, from cabin type to onboard activities, is tailored to your vision of the perfect vacation. Take advantage of exclusive deals and all sorts of extras to enhance your experience even further.
Call the number at the top of this page to be connected with a Travel Advisor in the Avoya Travel NetworkTM who can help you get the best price and answer any questions you have about booking your cruise vacation out of Galveston.