For your next getaway, bring the whole family to Club Med Cancún and experience the best that this all-inclusive resort has to offer. Located on the Riviera Maya, this Cancun resort features family-friendly accommodations, land and water activities, and dining and drink options that are sure to please both kids and adults.
Guests can snorkel around the nearby Belize Barrier Reef, the second-largest coral reef in the world. And, with three white sandy beaches to choose from, beachgoers can relax and play to their heart's content, all from the comfort and convenience of the Club Med Cancún property.
Contact a Travel Advisor in the Avoya Travel NetworkTM or browse here to see everything Club Med's all-inclusive resorts have to offer for your next vacation.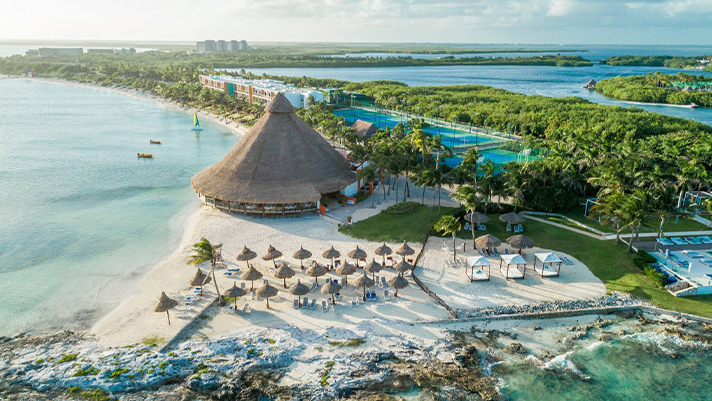 What's Included in Your Stay
Club Med Cancún's all-inclusive resort package includes free roundtrip transfers to Cancún International Airport when transportation is included in your stay, accommodations in the reserved room category, access to land and water sports and activities, kid and teen clubs, on-site entertainment, and all-day dining at the three on-site restaurants.
Along with beach access, the resort boasts a dedicated children's pool and a family pool. A main outdoor swimming pool, complete with umbrellas and loungers, makes the perfect spot for unwinding after a day of sightseeing at nearby Tulum or paddleboarding in the sea.
Choose from 28 included sports and activities like high-intensity training and yoga at the fitness school. Pick up a game of pickleball or refresh your backhand with group tennis lessons. Take dance lessons or learn new culinary tips with on-site cooking demos. Guests can add extra activities too, like golf and wine tasting. When it comes to resort entertainment, enjoy onsite circus acts and live performances for all ages.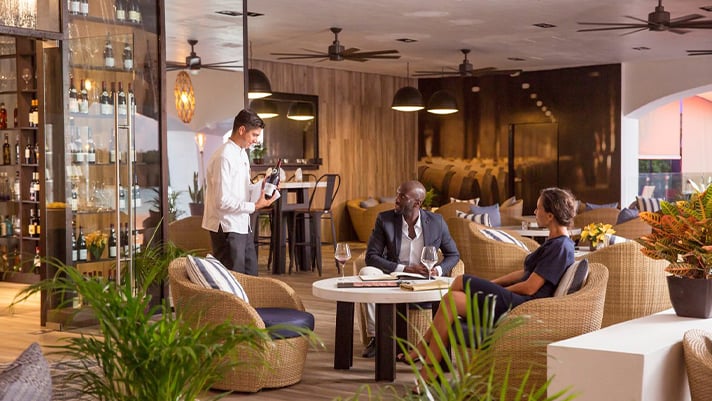 Satisfy everyone's food cravings with delicious and authentic Mexican fare at the Taco Arte Beach Lounge. This restaurant boasts oceanfront views and flavorful food options. La Hacienda restaurant incorporates foods from around the globe alongside local cuisine, while specialty restaurant La Estancia takes inspiration from Argentina with its selection of roasted and char-grilled meat options.
Healthy dining options abound at Club Med Cancún, with vegan dishes and fresh and organic foods available. Kids will love daily snack time with sweet and savory fare options including cookies, popcorn, and fresh fruit.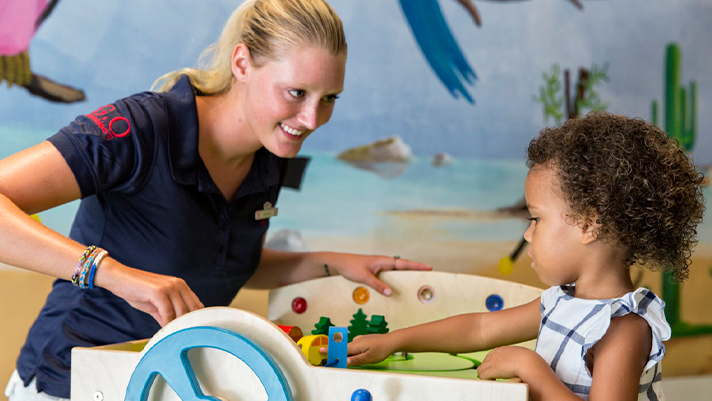 Children's Clubs are a great way to keep kids entertained while parents get a moment to relax themselves. Petit Club Med® is for toddlers aged 2 and 3. Mini-Club Med® is for children aged 4 to 10, and Club Med Passworld® is dedicated to teens and preteens aged 11 to 17.
Children participating in Mini-Club Med® can take flying trapeze group lessons or snorkeling group classes. They can also take part in talent shows. At Club Med Passworld®, teens can make new friends while slacklining, soaring above it all with a flying trapeze lesson, or stretching out at a yoga class. After a group class, teens can kick back and lounge in the dedicated teen area.
Club Med Cancún offers a tailor-made program for the entire family too. With treasure hunts and water-based activities, kids and adults can enjoy fun experiences and create new memories together.
Exciting Excursions
The fun doesn't end at the resort. You can book unique excursions at the receptionist desk to experience the world and culture outside the resort.
Snorkel alongside sea turtles in the clear waters of Akumal. Don your spirit of adventure and explore the ancient Mayan ruins of Chichen Itza. Go deep-sea fishing or set sail on your own private charter boat with friends and family. Spend a day at sea and learn how to scuba dive, explore a shipwreck, or go cenote diving.
Whichever off-site excursions are picked, everyone will enjoy memories that will last a lifetime.
Luxurious Accommodations and Indulgent Treatments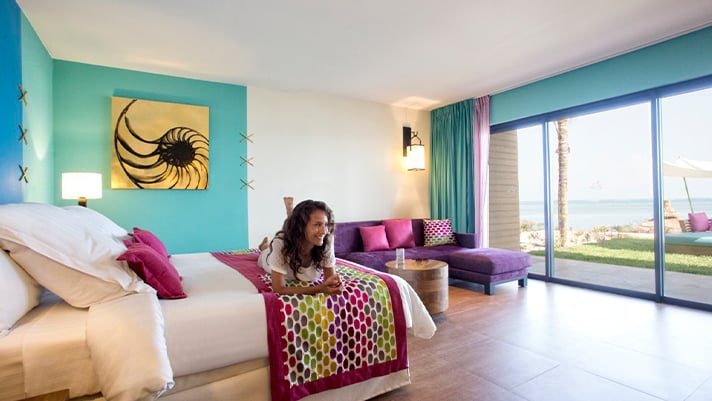 Choose from superior rooms, with options suitable for up to four people, and deluxe rooms, with options suitable for up to five people. Rooms come with a lounge area and essential amenities included, like shampoo and shower gel, as well as items like tea kettles and hair dryers. Baby beds and welcome packs are available upon request for families traveling with infants.
Staying in the Exclusive Collection provides guests access to a more intimate retreat in luxury rooms and suites. Other perks include access to an infinity pool that overlooks the ocean, an exclusive lounge bar, and a dedicated concierge service. Enjoy private transfers to and from the resort, a daily champagne service, and spacious accommodations.
Club Med Spa by L'Occitane offers adults the perfect mini-retreat with on-site spa therapy treatments. Let your cares drift away with a facial treatment or massage. Enjoy a mani-pedi or soak in your own private whirlpool bath. With a hair salon, barber shop, and a dedicated relaxation area, there's plenty of pampering to be had at the spa.
Why Club Med Cancún Is Great for a Family Getaway
In addition to Children's Clubs and kid-friendly fare, families will find even more to love at this resort. In 2017, Club Med Cancún expanded Aguamarina, its family-oriented area. This area boasts 60 oceanfront family rooms and 120 family-sized accommodations in total.
With its own dedicated family pool, as well as lounge areas, and La Marina, a family-friendly bar with kid-approved drink and snack options, everyone is sure to enjoy a stay at Aguamarina.
Plan Your Next Family Vacation with Avoya Travel
Ready to head to Club Med Cancún with the whole family? Contact Avoya Travel's Independent Travel Advisors, who will be happy to guide you through the booking process from start to finish and ensure you get the best deal available.
Call the number at the top of this page to be connected with a Travel Advisor in the Avoya Travel NetworkTM who can help you get the best price, and answer any questions you have about Club Med's All-Inclusive Resorts.