As part of Playa Hotels & Resorts, Hilton All-Inclusive Resorts are renowned for upscale hospitality and exquisitely curated experiences. Best of all, travelers looking to get away from it all have an array of Hilton destinations to choose from, each more alluring than the last.
Nestled within the enchanting landscapes of Jamaica, Mexico, and the Dominican Republic, Hilton All-Inclusive Resorts promise an unrivaled collaboration of destination-driven charm and top-tier opulence. Each resort provides guests with a comprehensive vacation, where accommodations, dining, entertainment, and other amenities are all included in the package.
Contact a Travel Advisor in the Avoya Travel NetworkTM or browse here to see everything Hilton All-Inclusive Resorts have to offer for your next vacation.
Hilton All-Inclusive Resorts in Jamaica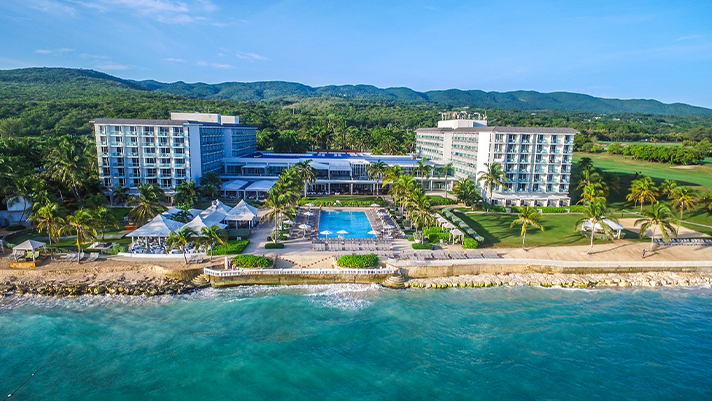 Hilton Rose Hall Resort in Jamaica
Unearth the vibrancy of Jamaica at Hilton Rose Hall resort, where the soothing rhythm of reggae harmonizes with the gentle lullaby of the waves. In the heart of Montego Bay on the coast of the Caribbean, this 400-acre tropical resort provides world-class accommodations from which to immerse yourself in the warmth of the Jamaican culture.
The Hilton All-Inclusive Resort in Jamaica offers a selection of elegantly appointed rooms and suites designed with the utmost rejuvenation in mind. Each accommodation option is a private sanctuary boasting modern amenities, tastefully selected furniture, and breathtaking views of the shimmering Caribbean Sea. The resort caters to both couples on a romantic getaway and families. Children 2 and under are welcome to stay for free, and kids/teens clubs are also available.
But the Hilton advantage includes more than incredible accommodations. Guests are also invited to engage in a multitude of entertaining activities that celebrate the vibrant spirit of Jamaica. Cool off at the water park, go for an invigorating session of golf, or let the island's flavors entice you in the exquisite dining establishments serving authentic Jamaican delicacies. From leisurely sunbathing on the pristine beaches to joining in lively poolside activities or indulging in a rejuvenating spa treatment, the possibilities for enjoyment are boundless.
Hilton All-Inclusive Resorts in Mexico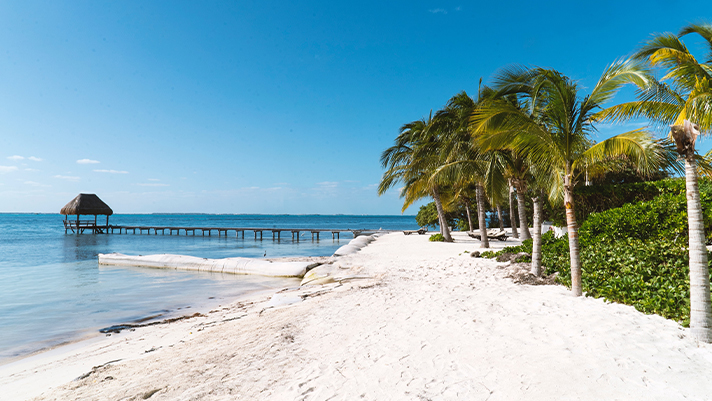 Relax on the beaches in Mexico at a Hilton All-Inclusive Resort
Immerse yourself in the rich tapestry of Mexico with Hilton All-Inclusive Resorts, a perfect mix of comfort, luxury, and cultural intrigue. Hilton operates all-inclusive resorts in some of the country's most high-demand destinations, including Playa del Carmen, Vallarta Riviera, Tulum, Riviera Maya, and Cancun. Each resort, whether the adults-only Hilton Playa del Carmen or the family-friendly Hilton Cancun, is characterized by sophistication. The tastefully designed rooms and suites boast modern amenities, refined furnishings, and enchanting views. Private balconies offer an ideal vantage point to soak in stunning landscapes.
For the culinary enthusiast, the resorts house a variety of restaurants that offer an epicurean journey through Mexican cuisine and beyond, including Mediterranean and Asian fusion. From local specialties to international delights, the culinary fare at Hilton All-Inclusive Resorts in Mexico is a gastronomic adventure in its own right.
At Hilton resorts in Mexico, a wealth of entertaining activities awaits you. Venture out to explore the historic ruins of ancient civilizations or dive into the azure waters for an exciting snorkeling adventure. If you're seeking relaxation, unwind on the sun-kissed beaches or pamper yourself with a session at the Hilton's state-of-the-art wellness centers.
Hilton All-Inclusive Resorts in the Dominican Republic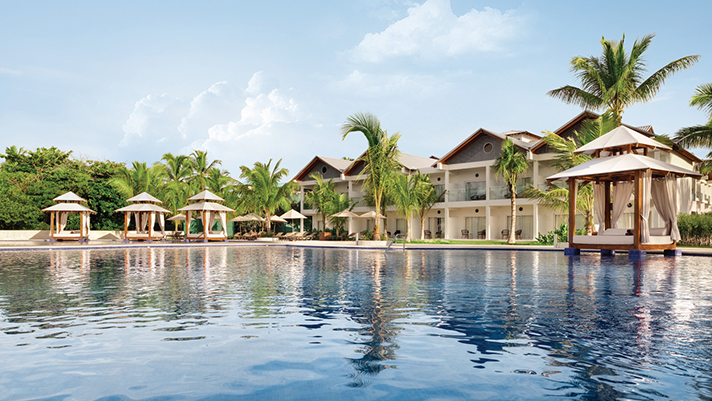 Hilton La Romana in the Dominican Republic
Experience the allure of the Caribbean at Hilton All-Inclusive Resorts in the Dominican Republic. Sprawling along the pristine beaches of La Romana, these resorts offer an inviting mix of tropical beauty and Hilton's signature luxury.
Accommodations at Hilton La Romana Resort envelop guests in a relaxing sanctuary. The resort caters to all guests, with separate sections for families and adults. Whether you choose a family-friendly suite or an adults-only room, you can look forward to tasteful décor, contemporary amenities, and stunning sea views from your private balcony. The resort's design and décor reflect a balance between modern elegance and tropical warmth, creating a tranquil and sophisticated retreat.
In addition to the luxurious accommodations, the Dominican Republic's enchanting charm resonates through the myriad of entertainment options at the resort. Discover sea life at the Dive Center, try your luck at the casino, or engage in an invigorating game of beach volleyball. The resort also includes a state-of-the-art fitness center and rejuvenating spa, allowing guests to maintain their wellness routine amid the holiday indulgence.
Evenings at Hilton La Romana are characterized by live performances that showcase the rich local culture. And for those with a penchant for gastronomic exploration, the resort's diverse restaurants serve an array of cuisines ranging from traditional Dominican fare to international delicacies.
Make the Most of Your Vacation by Booking With Avoya
To streamline your journey to these paradisiacal Hilton resort escapes, Avoya Travel offers a seamless booking process. With an Avoya Independent Travel Advisor, you can gain access to exclusive deals and benefits that elevate your vacation.
Plus, enjoy personalized service that caters to your specific needs, ensuring every facet of your vacation is curated to perfection. The goal is to not only provide you with a memorable getaway but absolute peace of mind. Start your adventure by talking to an Avoya Independent Travel Advisor today.
Call the number at the top of this page to be connected with a Travel Advisor in the Avoya Travel NetworkTM who can help you get the best price, and answer any questions you have about Hilton's All-Inclusive Resorts.