The Mediterranean is a popular destination among travelers around the world. With its balmy weather, breathtaking landscapes, and rich history, it is easy to see why many are drawn to the area. And what better way to experience this dreamy destination than onboard a Princess cruise?
On a Mediterranean cruise with Princess, you can explore stunning and picturesque ports of call along the idyllic coast and experience the local culture through the immersive Local Connections program. Plus, you can make your vacation even more special and memorable by expanding it into a cruisetour.
Read on to discover all you can experience onboard a Princess cruise to the Mediterranean and why it is the perfect getaway.
Contact an Independent Travel Advisor in the Avoya Travel NetworkTM or browse here to see everything Princess Cruises has to offer for your next vacation.
Visit the Mediterranean's Famous Ports of Call
Discover the iconic white-washed buildings that cascade the hills of Santorini, Greece.
A Princess cruise to the Mediterranean takes its passengers to world-renowned destinations and iconic landmarks that will leave you in awe. The largest port that Princess visits is legendary Marseille, where you can roam the city and visit Notre Dame de la Garde or spend the day exploring the gorgeous sites of Arles, which inspired the famous work of Van Gogh.
Choose an itinerary with a port stop in Athens and experience the past come alive with a visit to the Acropolis and the Acropolis Museum. Then, return to modern times with dinner at a lively taverna.
You can also enjoy visits to other gorgeous Greek destinations, including Mykonos with its stunning beaches, Santorini with its striking whitewashed buildings, and Corfu, one of its greenest islands. Cruises to Greece also include Kotor in Boka Bay for Venetian art and Montenegrin cuisine.
If iconic sights are what you are after, where else to go but Rome? The Eternal City is home to landmarks like the Colosseum, St. Peter's Square, and the Trevi Fountain. You can also choose a Princess cruise through Italy that takes you to Florence and Pisa to see landmarks like the Florence Cathedral and the Leaning Tower of Pisa.
Another popular port of call where you can soak up the sun in Barcelona. Home to art, architecture, and awe-inspiring landscapes, Barcelona is a must-experience destination.
Dreamy Mediterranean Cruise Itineraries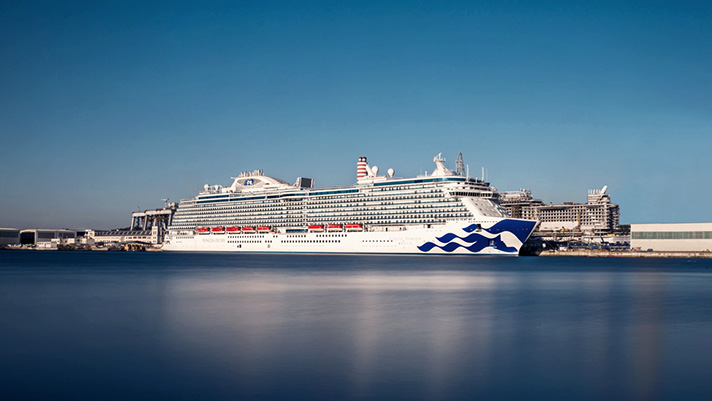 Princess offers three main Mediterranean cruise itineraries that travelers can further customize by length and ports of call.
The first is from Barcelona, which makes its way from Spain to Italy. Travelers can choose from 7-night cruises that end in Rome, 21-night roundtrip Mediterranean adventures that visit stunning Greek Islands along the way, and cruises of every length in between. Other ports of call, depending on your itinerary, include Marseille, Kotor, Florence/Pisa, and Athens.
The second option is the Mediterranean & Aegean cruise departing from Rome. Experience the wonders of the coasts of Italy and Greece with stops in Montenegro and Mykonos. Explore the ruins of Pompeii and Athens paired with sunsets along the Amalfi coast. From 7-night voyages to epic 21-night journeys, there will surely be a cruise for you.
Travelers can also depart from Athens on a Mediterranean & Adriatic tour to Barcelona or Rome. Cruise through the Adriatic on your way to Italy, stopping at the black-sand beaches of Santorini. Whether you opt for a 7-night Mediterranean adventure through the Greek Isles or a 14-night journey that combines Greece, France, and Italy, each cruise is as magical as the last.
Broaden Your Horizons With a Princess Cruisetour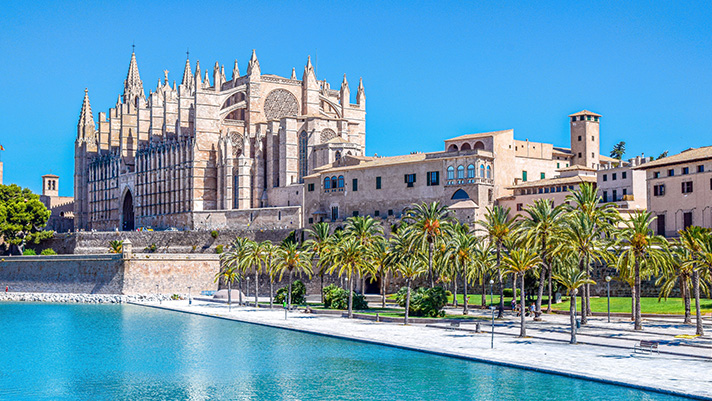 Explore awe-inspiring landmarks including the Palma Cathedral.
A Princess cruisetour is a unique travel experience that combines a cruise with a land tour. The cruisetour allows passengers to extend their vacation beyond the cruise portion of the trip and explore the inland destinations of their cruise itinerary.
Cruisetours typically include a combination of transportation, lodging, and guided tours to popular attractions and scenic sites. They allow passengers to experience more of the Mediterranean's rich history, culture, and cuisine, while still enjoying the convenience and comfort of a Princess cruise vacation.
Princess offers several Mediterranean cruisetours that allow passengers to explore the region in more depth before or after their cruise. These tours range from 10 to 31 nights and are designed to complement Princess's Mediterranean itineraries.
Depending on which region of the Mediterranean you want to explore, travelers can choose from the Highlights of Spain Cruisetour, Classic Italy Cruisetour, and Best of Greece Cruisetour.
Immerse Yourself in Mediterranean Culture With Local Connections
Immerse yourself in the culture with the Local Connections program.
Princess's Local Connections program offers passengers the opportunity for meaningful, authentic, personal, and exclusive experiences crafted and hosted by local experts.
Meet chefs, mixologists, artists, and guides who are ready and eager to share their passions with visitors and embark on excursions tailored to your interests. From food to art, experience the culture like a local with the help of people who call these unique destinations home.
Dive deeper into Athens with a guided visit to the cafes of the Plaka District and the shops of Omonia Square. Princess's partner experts are also ready to show you must-see sites in Barcelona, including the many architectural marvels of Antoni Gaudi and Las Ramblas, the beating heart of the city. And, when in Rome, accompany the passionate experts to such historical sites as the Roman Forum and the Pantheon.
Plan Your Mediterranean Getaway
Experience everything that the Mediterranean has to offer by planning your Princess cruise with the help of an Avoya Travel Independent Travel Advisor. Start your search with our easy online engine and then personalize your plans with a human touch. Our knowledge and experience will help you secure the vacation of your dreams at an incredible value. Don't wait, the Mediterranean cruise of your dreams is just a click away!
Call the number at the top of this page to be connected with an Independent Travel Advisor in the Avoya Travel NetworkTM who can help you get the best price and answer any questions you have about Princess Cruises.