Crystal blue waters, breathtaking landscapes, and accommodating ocean-view suites are just the start of what's available at Secrets Cap Cana Resort & Spa. Situated on the shores of Playa Juanillo, this world-renowned resort offers complete privacy in the exclusive gated community of Punta Cana's luxurious neighborhood, Cap Cana.
Secrets Cap Cana Resort & Spa is one of 21 mesmerizing properties belonging to AMR Collection's exclusive Secrets line of resorts. As an adults-only hideaway, this resort is the perfect couple's retreat complete with rejuvenating spa treatments, a world-class golf course, and astounding accommodations. Whether you're celebrating a honeymoon, anniversary, or are simply enjoying a romantic getaway, Secrets Cap Cana is an ideal destination to enjoy your one-on-one time away.
Need more convincing? Continue reading to discover why Secrets Cap Cana is one of the best adults-only, all-inclusive resorts.
Contact a Travel Advisor in the Avoya Travel NetworkTM or browse here to see everything Secrets Resorts & Spas has to offer for your next vacation.
Accommodating Suites & Rooms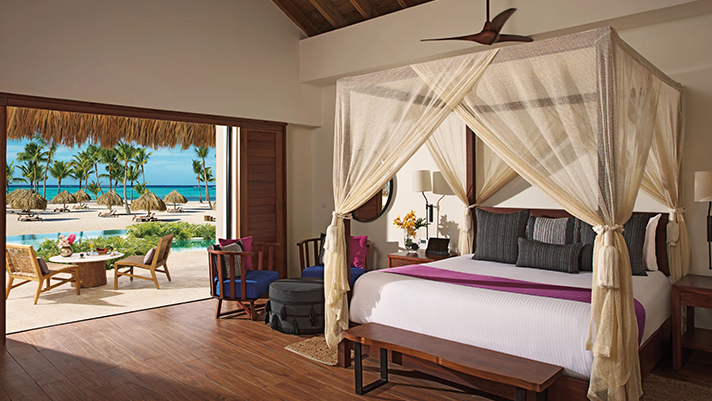 Unwind with luxurious amenities in a Secrets Cap Cana Suite.
Resting along the eastern coastline of the Dominican Republic, Secrets Cap Cana boasts 457 suites with stunning tropical views, exclusive swim-out suites, and impeccable 24-hour room service.
Treat yourself to the Junior Suite Swim Out and enjoy elegant Caribbean décor along with a fully furnished room and terrace. Complete with two pristine rain showers, a water closet, and a terrace with direct swim-out access to the pool, you and your loved one can step straight into serenity.
When it comes to Secrets Resorts & Spas, the best can always get better. Enhance your romantic getaway by enjoying a members-only suite along with exclusive perks and upgrades when you join The Preferred Club. Breathtaking suites – such as the Preferred Club Bungalow Master Suite Ocean Front – are only available to members and are often the best suites on the property. This casita-style suite is a spacious 769 square feet and is composed of a plunge pool, two rain showers, a water closet, and a fully furnished balcony overlooking the ocean.
Secrets Cap Cana also allows small dogs at their resort, offering themed dog beds and toys for your pampered pooch.
Exquisite Dining & Drinks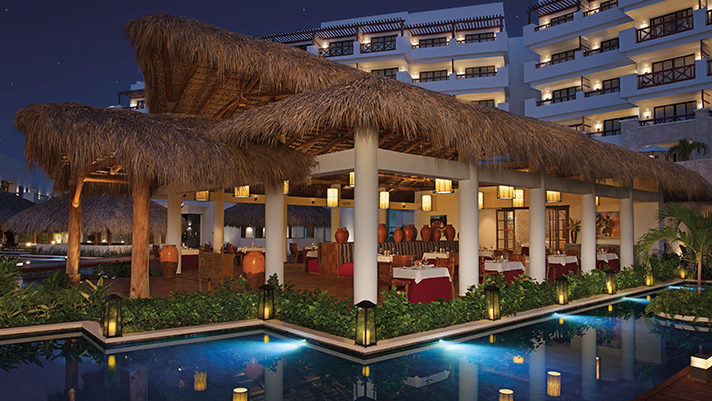 Indulge in a tantalizing meal at one of the many onsite restaurants.
After a fruitful day of lounging by the pool, sharing carefully prepared hors d'oeuvres, and basking in the luscious landscape of the Dominican Republic, head over to one of Secrets Cap Cana's nine gourmet restaurants for a lovely sunset-lit dinner.
From decadent Italian cuisine to casual-style grill options, Secrets is sure to satisfy your deepest culinary desires. Dress to the nines and experience delectable Italian fare at Portofino whilst watching the burnt orange sunset fade as you dine into the night. For a more intimate dining experience, you can even request a private dinner in the wine cellar.
But what's dinner without a show? Make your way to Showtime, a theater bar designed for couples to drink handmade cocktails and enjoy nightly entertainment put on by Punta Cana's finest performers. Or, take a late-night dip in the pool and enjoy Manatees, a swim-up bar featuring in-pool seating perfect for sipping underneath the stars.
A Couple's All-Inclusive Paradise
Play a round of golf at Punta Espada, Secrets' signature golf course.
In between adventures, be sure to soak in the awe-inspiring beauty of Punta Cana, Dominican Republic during your stay. Practice your swing at Punta Espada, Secrets' signature golf course and the first course ever built in Cap Cana. Rated the best golf course in the Caribbean and Mexico, this course features eight holes along the sea and is a perfect way to spend a sunny afternoon with your partner in Cap Cana.
Secrets Cap Cana Resort & Spa also offers a wide array of activities on the property, including introductory scuba lessons, dance lessons, ping pong tournaments, deep-sea fishing, plus much more. Complete with two outdoor whirlpools and an infinity pool, there's plenty to do each day at the resort.
Plus, you can even take advantage of the resort's copious activities and excursions, including a thrill-driven cave expedition to Iguabonita Cave. This spelunking excursion is perfect for adventurous travelers looking to truly experience all that Punta Cana has to offer. Located in Scape Park, you'll be guided through stunning underground rock formations where you can admire stalagmites that are thousands of years old. After your cave adventure, you'll be led to Hoyo Azul, a notorious sinkhole nestled into a rock formation in the park. Here you can enjoy the once-in-a-lifetime experience of swimming in the naturally turquoise waters before heading back to the resort.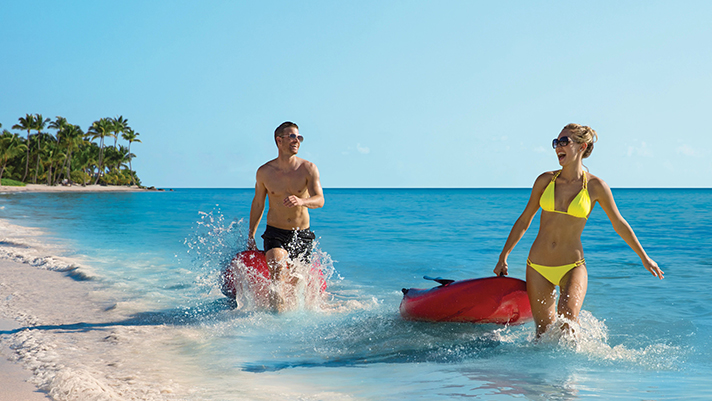 Enjoy fun-filled activities on the Preferred Club members private beach.
For luxury at its finest, Secrets Resorts & Spas offer their guests the chance to become members of the Preferred Club. As a member, you gain exclusive access to the highest-quality service and amenities at the resort, including personalized check in and check out, an upgraded mini bar, room service, special concierge service, daily continental breakfast, and more.
In addition to all of the personalized touches, Preferred Club members are welcome to stunning members-only facilities such as exclusive dining options, a private pool, a private beach area, and the private Preferred Club lounge. You also get your choice of Preferred Club rooms and suites, often complete with easy beach access or swim-up areas.
Surprisingly, that's not all Secrets has to offer. For couples seeking complete relaxation and peace of mind, Secrets offers Unlimited Luxury®, an all-inclusive package that features endless top-shelf spirits and soft drinks, unlimited day and night entertainment, pool and beach wait service, plus tons more – no wristbands required.
Travel Like an Expert
It's never too early to start planning your dream romantic getaway. Besides being a couple's paradise, this adults-only, all-inclusive resort is also a premier honeymoon and wedding destination resort that often offers exclusive packages on special occasions.
Plus, you don't have to plan it alone. Connect with one of Avoya Travel's Independent Travel Advisors who will walk you through the booking process, ensure all your needs are met, and may even score you exclusive savings on your Secrets Cap Cana Resort & Spa escape.
Call the number at the top of this page to be connected with a Travel Advisor in the Avoya Travel NetworkTM who can help you get the best price, navigate potential COVID-19 restrictions, and answer any questions you have about Secrets Resorts & Spas.